Polk State Chain of Lakes Graduate Returns to Campus to Warn Current Students About Dangers of Drunken Driving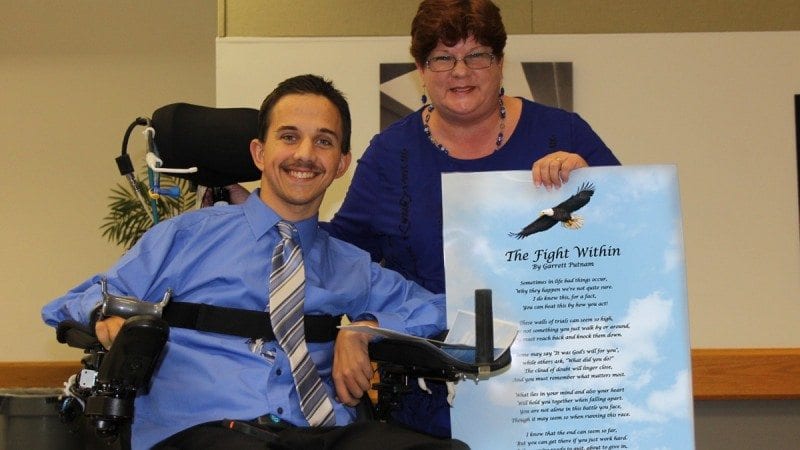 Polk State Chain of Lakes Collegiate High School graduate Garrett Putnam, whose life changed forever when a drunken driver slammed into his car in 2013, recently visited campus to share words of caution — and inspiration — with current students.
"It's important for everyone to realize how drunk driving affects people's lives. You never think something like this will happen to you, and I pray that it never does. I would never wish this on my worst enemy," said Putnam, one of the featured speakers at last month's Criminal Justice Teach-In at Polk State Winter Haven.
After graduating from Polk State Chain of Lakes in 2009, Putnam studied to become a certified insurance agent. On the day of the Feb. 19, 2013 car crash, Putnam was to sign the papers that would allow him to open his own insurance agency.
All his plans changed in an instant, however, when around 3 a.m. that morning, as he was driving home from a friend's house, a drunken driver slammed into his Chevrolet Camaro. The crash happened at a familiar location: on U.S. 98, just outside the entrance to Polk State Lakeland.
The driver who hit Putnam, according to news reports of the accident, had a blood alcohol level almost twice the legal limit. The driver was ultimately sentenced to seven years in prison.
Putnam, meanwhile, will never lead the life he had planned. By now he thought he would be an entrepreneur, not a quadriplegic. By now he thought he'd be supporting his parents in their retirement, instead he is completely dependent on others' help, for everything from transportation to getting dressed and using the bathroom.
"It's a day-to-day struggle. The hardest part is not sitting in this chair. It's having my future stripped from me," he said.
For all that he's endured, and for all that he's lost, Putnam has refused to let the car crash become his life's story. With intense rehabilitation, he now has limited use of his arms, and he's also making plans to re-enter the workforce. This fall, he will return to Polk State to finish his Associate in Arts degree.
Putnam also takes every chance he gets to speak out about drunken driving. At just 24, he wields a special kind of influence over teens and young adults. They can relate to him, and based on the rapt attention he received at the Teach-In, they heed his warnings about drinking and driving.
"This could have been prevented. Someone else's decision changed my life in the most drastic ways," he said.
"The next time you think about drinking and driving, just don't. Call a cab, call a friend, call me and I'll come pick you up. You are smarter than that. You deserve better than that. The people you will put in jeopardy deserve better than that."
Putnam also implored his Teach-In listeners to be the ones who take the keys from their drunken friends.
"You can change their minds," he said. "You can save a life."
Putnam ended his Polk State visit with a poem he's written about his experiences. He wrote the poem, he said, as a reminder that, even though he may never walk again, that doesn't mean he can't move beyond the car crash.
He titled his poem, "The Fight Within."
"The Fight Within"
Sometimes in life bad things occur,
Why they happen we're not quite sure.
I do know this, for a fact,
You can beat this by how you act!
These walls of trials can seem so high,
They're not something you just walk by or around,
You must reach back and knock them down.
Some may say "It was God's will for you",
While others ask, "What did you do?"
The cloud of doubt will linger close,
And you must remember what matters most.
What lies in your mind and also your heart
Will hold you together when falling apart.
You are not alone in this battle you face,
Though it may seem so when running this race.
I know that the end can seem so far,
But you can get there if you just work hard.
When you're ready to quit, about to give in,
Please reach down deep for the fight within!!
Polk State College operates three public charter high schools, including Polk State Chain of Lakes Collegiate in Winter Haven, Polk State Lakeland Gateway to College Collegiate, and Polk State Lakeland Collegiate. All three high schools allow students to fulfill requirements for their diplomas while also earning college credits.
Polk State Public Safety includes associate's and bachelor's degrees in Criminal Justice, degrees and training in Emergency Medical Services and Fire Science Technology, and the CALEA with Excellence-accredited Polk State Kenneth C. Thompson Institute of Public Safety.