Polk State Chain of Lakes Collegiate student: Get the best parts of high school and a college degree at COL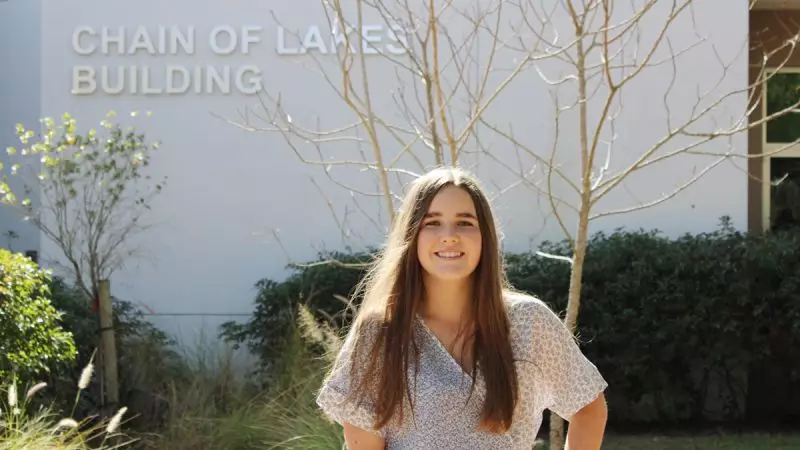 Jenna Webb always anticipated going to Polk State Chain of Lakes Collegiate High School as her brother and sister did, and as a lifelong accelerated learner herself, having attended Berkley Accelerated Middle School and Polk Pre-Collegiate Academy.
Now she is on the fast track to achieving both her high school diploma and Polk State Associate in Arts degree in May 2021. In fact, she completed her high school requirements last year and is fully enrolled in college courses.
"I really encourage students to take advantage of all the opportunities here," Webb said. "At COL, we get all the good parts of the high school experience and the opportunity to achieve our college degrees."
Webb is no stranger to seizing opportunities.
Through hard work and dedication to her education, she has already received a variety of scholarship offers. Graduates across Polk State's three collegiate high schools accrued more than $9.5 million in scholarships in 2020.
Polk State's charter high schools allow students to complete requirements for their high school diplomas while earning college credits at no cost to them. Polk State Chain of Lakes Collegiate, Polk State Lakeland Collegiate, and Polk State Lakeland Gateway to College Collegiate all boast 100 percent graduation rates, and most graduates achieve their Polk State Associate in Arts degrees.
"COL prepares us with harder classes, smaller class sizes, college readiness prep, and networking," Webb explained. "We have had ACT and SAT prep, different colleges talk to us about the admissions process and scholarships, and different companies talk to us about internship and career opportunities. They bring everything here to us."
Webb and her peers commended Principal Keith Bonney, staff, and professors for continuing to provide excellent levels of support, guidance, and information about opportunities including college prep, scholarships, and internships through the pandemic, which caused the College to move many classes and activities to virtual platforms for the health and safety of students, faculty, and staff.
"The staff and teachers really keep us informed," she said. "It's hard with COVID-19, but Dr. Bonney has remained enthusiastic, our guidance counselors continue to help us virtually, and we were able to provide a virtual tour for our incoming juniors this year so that they could see the school and meet the teachers."
Between playing on varsity and competitive soccer teams and working as a babysitter, Webb also finds time to get involved at Polk State Chain of Lakes Collegiate. She is a senior representative for the National Honor Society, the historian for Health Occupations Students of America (HOSA), a member of the Key Club, and a Senior Ambassador.
She plans to attend either the University of Florida or the University of South Florida to study biology and aspires to become an anesthesiologist.
Webb shared that Polk State Chain of Lakes Collegiate has taught her the importance of responsibility and time management – skills that will further support her success as she pursues her higher education and career goals.
"My favorite thing about COL is that the teachers give us freedom. They treat us like adults," she said, shouting out professors Laura Abercrombie, Alric Fischle, and Suzanne Halverson. "The support is here to help not only with school but also with life."
Polk State Lakeland Collegiate High School and Polk State Chain of Lakes Collegiate High School will host information sessions in February for students interested in attending for the 2021-2022 Academic Year. More information is available here: www.polk.edu/news/polk-state-collegiate-high-schools-will-hold-info-sessions-in-february.