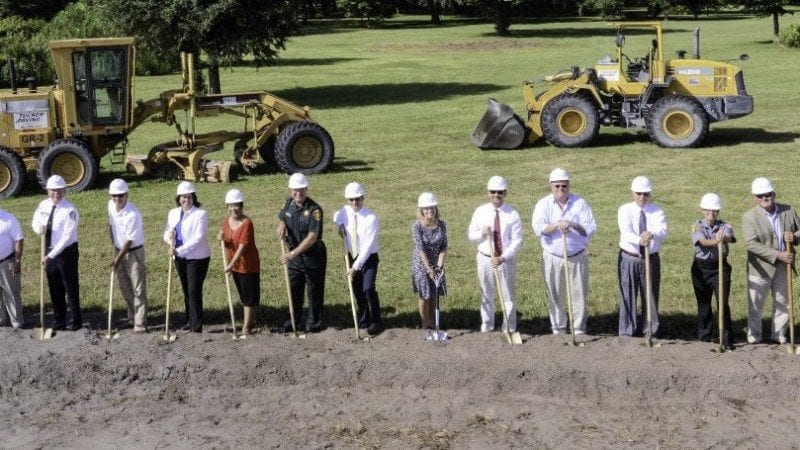 The ground has been broken and Polk State's Center for Public Safety is officially underway.
Polk State hosted the groundbreaking event for the new location Thursday morning. More than 300 local and state officials, alumni, students, employees, and supporters of the College attended.
The Polk State Center for Public Safety will be located at 1251 Jim Keene Blvd. in Winter Haven, adjacent to the Polk County Sheriff's Office Operations Center.
Construction is set to begin in the last week of August, with completion planned for Jan. 2016. The building will house the College's programs in Criminal Justice, Emergency Medical Services, Fire Science Technology, and the CALEA-accredited Polk State Kenneth C. Thompson Institute of Public Safety.
Thursday's event, aside from churning the first shovelfuls of dirt, was about thanking key people who have helped the Polk State Center for Public Safety go from "dream" to "reality."
In her remarks, Polk State President Eileen Holden extended special gratitude to Polk County Sheriff Grady Judd, for his support and collaboration, Former State Sen. JD Alexander and Rep. Seth McKeel for their work in securing funding for the project, and the Polk County Board of County Commissioners for its 10-acre land donation.
The Polk State Center for Public Safety will cost $30 million. The College has so far received $27 million in state funding and hopes to receive the remaining $3 million in the upcoming legislative session.
"I know you all will continue working hard for the last $3 million we need — right?" Holden quipped as she recognized McKeel and other members of the Polk County legislative delegation.
Holden went on to describe the asset the Polk State Center for Public Safety will be not just for the College, but indeed for the entire county.
"Here, the police officers who keep our neighborhoods safe, the firefighters who risk their lives for others, the paramedics who make every second count, will receive cutting-edge, in-demand training," Holden said.
"They will use that training to serve you, me, and all the people of Polk County."
Polk State District Board of Trustees Chair Linda Pilkington followed up on Holden's remarks by emphasizing the multidisciplinary nature of the instruction that will happen in the new building.
"Here, under a single roof, Polk State's Criminal Justice, Emergency Medical Services, and Fire Science Technology programs, as well as the Polk State Kenneth C. Thompson Institute for Public Safety, will grow, collaborate, share resources, and train a cutting-edge public-safety workforce," she said.
Alexander shared the story of a personal friend who worked as a police officer and was shot while on duty. Public-safety professionals — like his friend — can face life-and-death decisions on any given day, Alexander said.
"This building is about giving you all the tools we can so that you can protect yourselves and our community," he said.
McKeel said he was honored to be included in the groundbreaking event, and even more honored to play a part in helping the Polk State Center for Public Safety come to fruition.
"This building, and the partnerships that have made it happen, are a model for the nation," he said.
"I couldn't be more proud of this expenditure, not just for my community, but for the entire state."
Polk County Board of County Commissioners Chairman Todd Dantzler described the Polk State Center for Public Safety as a continuation of the College's half-century of service to Polk County.
"Polk State College has a 50-year tradition of strengthening our community by providing graduates who are amply prepared for the workforce," he said.
Following Dantzler to the speaker's podium was Judd, a Polk State Distinguished Alumnus and avid proponent of higher education.
"This is where the men and women who are our future leaders will get a quality education," Judd said.
"This project is about protecting the people of Polk County and making sure they get the highest quality of service."
Lakeland Fire Department Chief Gary Ballard, also a Polk State alumnus, said that half his department's paramedics came through Polk State's EMS training program, and he looks forward the opportunities the Polk State Center for Public Safety will bring.
"I'm excited about this building and our deepened and continued involvement with Polk State College," he said.
Polk State student Stephanie Zimmerman, who is training in the Polk State Kenneth C. Thompson Institute of Public Safety, shared with the audience that what attracted her to the Institute was the sense of camaraderie that recruits develop during their training. The new building, she said, will be a place where aspiring public-safety professionals "prove themselves, build their own stories, and build their own family units."
Polk State District Board of Trustees Vice Chair Dan Dorrell, a member of Polk's first graduating class, concluded the morning's comments by reflecting on the College's humble beginnings in 1964 at the Bartow Air Base. Back then, a lot of classrooms didn't even have air-conditioning. Nonetheless, more than 1,200 students enrolled that first semester, more than twice the number expected.
"That showed that there was certainly a gigantic need for this type of education in Polk County, and that continues to be the case," Dorrell said.
"The individuals who will train in this facility will help the members of our community feel safe when they lay down in our beds at night."
Polk State College has contracted with Lakeland-based Furr & Wegman Architects, P.A. and Tampa-based A.D. Morgan Corp. for design and construction of the building.
This is the second major facilities event of the year for Polk State. In January, it celebrated the grand opening of its Polk State Clear Springs Advanced Technology Center in Bartow.
Polk State's other locations include campuses in Lakeland and Winter Haven, the Polk State Airside Center in South Lakeland, and the Polk State JD Alexander Center and Polk State Lake Wales Arts Center, both in Lake Wales. The College also holds classes at Ridge Community High School in Davenport.
Polk State College, established in 1964, is a multi-campus institution serving over 20,000 students with Bachelor of Applied Science, Bachelor of Science, Associate in Arts and Associate in Science degrees, as well as a wide range of certificate and workforce training options. The College also offers three charter high schools.