Polk State Again Named a Best Workplace for Commuters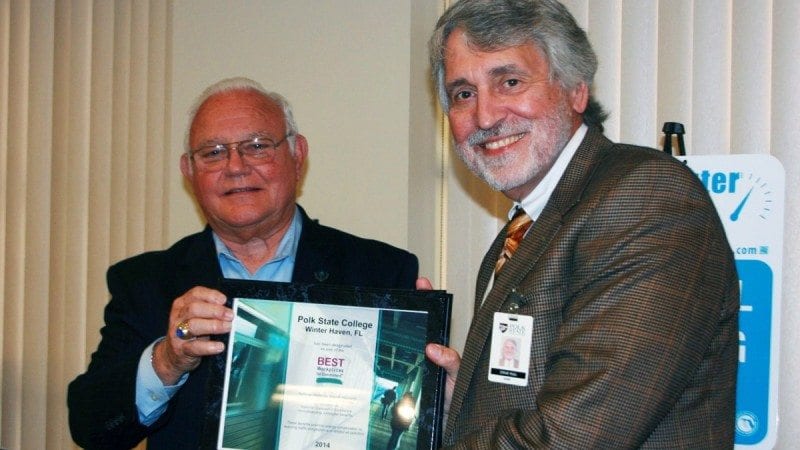 Universal access to public transit, parking spots especially for carpoolers, and programs that encourage biking and walking have earned Polk State its second consecutive Best Workplaces for Commuters award.
The College received the national recognition during a presentation Tuesday at the Polk State Lakeland Student Center.
The Best Workplaces for Commuters Award is a program of the National Center for Transit Research at the University of South Florida. The award is reserved for organizations that take exemplary steps to offer transportation options.
"Polk State is leading the way in biking, carpooling and using public transit," said Christine Diaz-Pagan, Commuter Services Program director at the Florida Department of Transportation, to a crowd of more than 50 students and College employees Tuesday.
"You all are among the lucky, chosen few who have free access to public transit."
Polk State first received the two-year Best Workplaces for Commuters designation in 2012 after announcing a partnership with the Polk Transit Authority that allows all College students and employees to ride any bus route for free.
Ridership through the universal-access partnership continues to increase. According to the Polk Transit Authority, Polk State had nearly 8,000 riders in March, more than twice the number in the first month of the agreement.
The College earned the 2014 award for a variety of other transit-related efforts, including hosting wellness initiatives to encourage walking and biking, and providing bike racks and shower facilities for bicyclists. The College also partners with the FDOT to provide free emergency rides from campus.
Also on Tuesday, the Polk State Lakeland Student Government Association announced a new initiative to encourage carpooling. Three parking spots on campus will be designated for carpoolers. Students and employees who are interested in participating in the program should visit the Polk State Lakeland SALO office for more information.
After remarks in which he said that as Polk County grows it must encourage alternative forms of transportation, Polk County Commissioner Edwin Smith presented the Best Workplaces for Commuters Award to Polk State Lakeland Provost Steve Hull.
Hull said that providing transportation options to students is part of the College's commitment to making education accessible to anyone who seeks it.  
Polk State is one of only four colleges and universities in the state to receive the Best Workplaces for Commuters Award. The others include the University of South Florida in Lakeland, which shares the 2014 award, USF  and the University of Florida.
Tuesday's presentation complemented the College's Earth Day activities at both campuses, as well as its participation in FDOT's regional Go Green, Save Green campaign to encourage alternatives to driving.
Polk State will be formally recognized as a Best Workplace for Commuters at the May 6 meeting of the Polk County Board of County Commissioners meeting.