Polk Nursing Student Published in First-Of-Its-Kind Textbook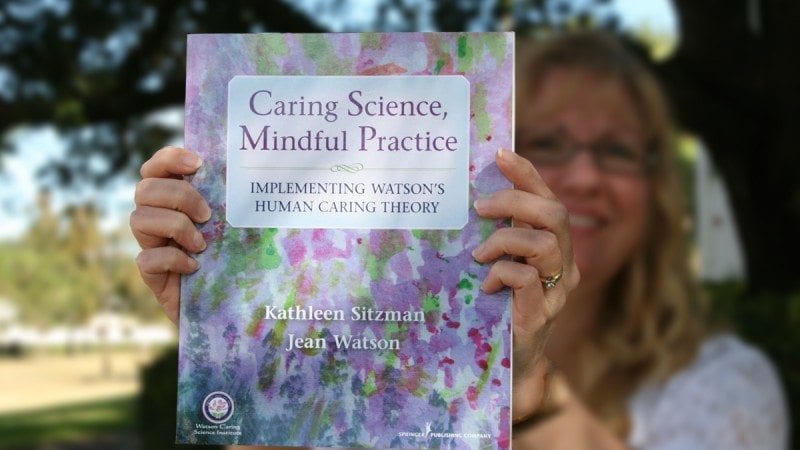 A Polk State student's work is included in a recently published textbook by two leading nursing theorists.
Tamara King, a Lakeland resident studying toward her Bachelor of Science in Nursing, is among the contributors to Caring Science, Mindful Practice: Implementing Watson's Human Caring Theory, published in 2013.
The textbook was co-authored by Jean Watson, a distinguished professor emerita and dean emerita at the University of Colorado School of Nursing. Watson has dedicated her more than 40-year career to researching the concept of caring and its role in healthcare. She founded the nonprofit Watson Caring Science Institute and International Caritas Consortium in Boulder, Colo., to further her research, which is sought by healthcare providers — both individuals and entire organizations — across the country.
Watson's co-author for Caring Science, Mindful Practice was Kathleen Sitzman, a professor and associate dean of Undergraduate Nursing Science at Eastern Carolina University who has received numerous awards and published more than 100 peer-reviewed articles.
Caring Science, Mindful Practice is a first-of-its-kind textbook to help nurses more fully understand and implement Watson's caring theory.
King works as a supervisor at Winter Haven Hospital's Center for Psychiatry. Winter Haven Hospital is a Watson Caring Science Institute affiliate organization, according to watsoncaringscience.org, meaning it bases patient care in Watson's caring science research.
King is also a certified Caritas Coach. The Caritas Coach Education Program is an education program offered through the Watson Caring Science Institute and accredited by the American Nurses Credentialing Center. Caritas coaches help implement caring science in various settings and roles.
To write her contribution to Caring Science, Mindful Practice, King conducted — and is still conducting — a years-long project in which she spends time in every department of Winter Haven Hospital, giving them hand massages and encouraging them to take daily moments to de-stress.
The project, Healing Hands, Caring Hearts, follows the Caritas principle of showing kindness to one's self and others.
"If I'm taking care of myself and I'm calm, centered and balanced, when I come to my patient, I have something to give," King said.
"Taking just three to five minute can improve my health and stress, and the care I give to my patients. Through this project, I'm reminding others that they have to take care of themselves to take good care of others.
"When we don't eat or don't even take time to go to the bathroom, when we haven't cared for ourselves, we get snippy and short and it affects patient care."
King said she is grateful for support her Polk State professors have shown as she works to further her career and expand her knowledge of nursing theory.
"I'm blessed with being a student at Polk State," she said.
This is the first time King has been published. She plans to continue beyond her BSN and become a nursing educator.
Polk State's Nursing Program is one of several Health Sciences programs offered by the College. The Nursing Program offers Associate in Science and Bachelor of Science degrees. Other Polk State Health Sciences programs include Cardiovascular Technology, Diagnostic Medical Sonography, Emergency Medical Services, Occupational Therapy Assistant, Physical Therapist Assistant, Radiography and Respiratory Care.