Meet the Officers: Polk State Winter Haven's Student Activities Board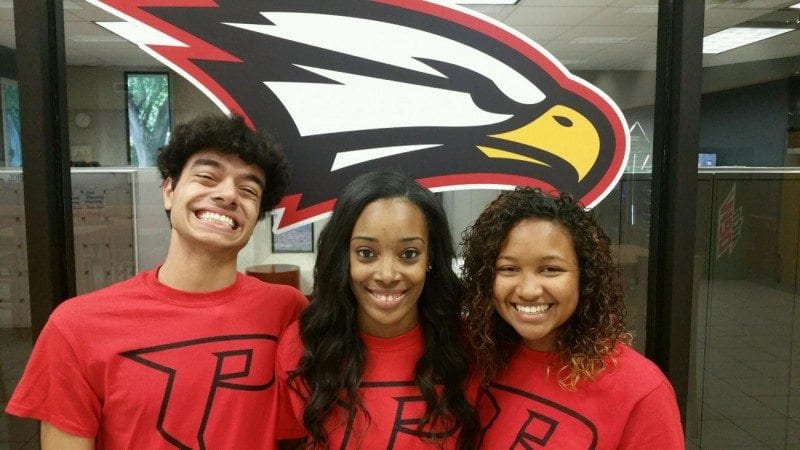 The Student Activities Board (SAB) is a student-led organization funded through student activities and services fees. The SAB is in charge of planning campus events to encourage social engagement and multicultural awareness. The Lakeland and Winter Haven campuses, as well as the Polk State JD Alexander Center, each have their own SAB. An SAB will be established at the Polk State Airside Center in September. SAB officers are elected in April and take office in May. Here, News@Polk introduces Polk State Winter Haven's SAB officers.
Polk State Winter Haven SAB President Eric Ardito
 Eric Ardito knows the "college experience" happens outside the classroom, when friends gather, have fun, and make memories that will last long after graduation.
As president of the Polk State Winter Haven Student Activities Board, it's Ardito's job to create that "college experience" on campus.
"SAB gives me the chance to be a major part of bringing quality events to campus to enhance the student experience," said Ardito, a Winter Haven resident who is pursuing his Associate in Arts degree.
"My top priority in the coming year is to have great events that a majority of the student body can participate in, enjoy, and come away from with a positive experience."
The whole point of having a Student Activities Board, of course, is to get student input into the kinds of events that happen on campus, and Ardito hopes his fellow students will stop him on campus, chat, and give him suggestions for improving campus life.
"I would like them to know that they can come up to me and feel free to ask me for help, whether it's with getting around campus or with information on how to get involved in student organizations," he said. "SAB is here to make things better for the students of Polk State."
For his part, SAB is not just a college activity. Ardito plans to get a bachelor's degree in public relations and ultimately work in student life professionally. His time with the Polk State SAB is preparation for his future.
"I hope to be a leader that is open to new ideas and encourage anyone who is interested in getting involved to join SAB and help make the campus a better place for the entire Polk State community," he said.
Polk State Winter Haven SAB Vice President Jamecia May
Jamecia May knows college — and high school — students work really, really hard, and she wants to play a part in providing them some much-needed fun.
May is a Winter Haven resident and senior at Polk State Chain of Lakes Collegiate High School. In her role as vice president of the Polk State Winter Haven SAB, she wants to make sure all Polk State students enjoy a vibrant campus life.
"I want to make every event on campus as fun as possible, not only for Polk State College students, but for the Polk State Chain of Lakes Collegiate students as well," she said.
"SAB is a group of individuals who work together to ensure that every event we host on campus is a great one! Through careful planning, and with amazing ideas contributed from everyone involved, we're here to make Polk State fun for everyone."
Like Ardito, May said the Polk State Winter Haven SAB thrives on student input. If you see her on campus, stop and talk.
"I aspire to be a leader that any student can come and talk to if he or she has any issues or ideas pertaining to what SAB does on campus," she said. "I want students to know that I'm a very cool person. I'm really outgoing and friendly, and I'm here to talk anytime … except during class."
Polk State Winter Haven SAB Secretary Iris Wilson
Iris Wilson, secretary, said:
"Our goal in SAB is to get students involved and excited to come to school. Our purpose is to create an environment everyone enjoys," she said.
Wilson lives in Lake Wales and already has her Associate in Arts degree from Polk State. This fall, she will be starting her Bachelor of Science in Criminal Justice.
Wilson said she is diversity-minded, and will work to ensure that Polk State's campus life has something to offer everyone.
As for what her fellow students should know about her, Wilson said:
"I aspire to be a leader that will teach, train and develop other students," she said. "I would like for them to know that I am a leader with integrity."
During the summer, the Polk State Winter Haven SAB meets at 3 p.m. on Mondays at the SALO offices. Meetings are open to all students. SAB may also be contacted at salo@polk.edu.