Meet the Officers: Polk State Lakeland SGA President Chris Ly, VP Otis Wilson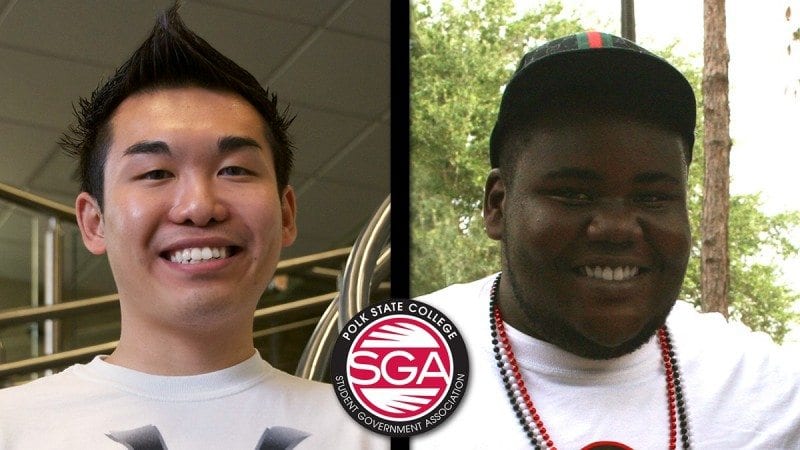 The Student Government Association is the official representative of Polk State College students. The SGA acts as a liaison between students and administrators, organizes campus activities, and represents students in statewide organizations and legislative issues on a statewide and national basis. In recent years, the Polk State SGA has been the driving force behind a campus-wide recycling program and the removal of smoking from campus grounds. Officers are elected during the spring semester and serve one-year terms. Here, News@Polk introduces Polk State Lakeland SGA President Chris Ly and Vice President Otis Wilson.
Polk State Lakeland SGA President Chris Ly
Polk State Lakeland SGA President Chris Ly, a Lakeland resident who graduated in 2010 from Kathleen High School, completed his Associate in Arts degree at Polk State in May. Now, he's studying toward his Bachelor of Applied Science in Supervision and Management.
"The biggest thing for me about Polk State, and why I decided to continue here for my bachelor's degree, is that it's affordable. I'm going to graduate debt-free," he said.
"The classes are also really small and there are lots of opportunities to get involved on campus. You can have that 'real college' experience."
Ultimately, Ly plans to hold a management position, perhaps in marketing, and own his own business.
He previously served as parliamentarian and secretary of the Polk State Lakeland SGA.
Now as president, Ly will lead the SGA through an agenda that includes boosting interest in local politics by hosting mayors and city managers for speaking engagements and partnering with the Lakeland Area Chamber of Commerce and other Polk County colleges for a welcome-back event in September.
More generally, Ly aims to increase interaction among the more than 20 Polk State Lakeland-based clubs.
"Through better communication and more collaboration, we can create better events for our students," said Ly, who in addition to SGA is also involved in the Student Activities Board, which plans campus events, and the Black student Union.
Ly and his fellow officers are also planning several Open House events for the fall, and are also having several comment boxes installed around campus to make it easier for students to express their concerns or opinions.
"We're here to help with anything. Whether it's problems with one class or representing students in legislative issues. Our job as the Student Government Association is to direct and guide students toward success.
"My door is always open for questions, comments on how the College can be improved, or anything the students need."
Polk State Lakeland Vice President Otis Wilson
Otis Wilson, a Lakeland resident, will finish his Associate in Arts degree in December. Then he plans on entering Polk State's Bachelor of Applied Science in Supervision and Management program.
One day, he plans to start an investment company to help entrepreneurs start their new ventures.
Wilson is also involved with the Student Activities Board and previously served as sergeant at arms of the SGA.
For students who may not quite understand what the SGA does for them, Wilson is ready with the answer:
"We are here to take any complaints students may have, whether it's the food in the Student Center or parking, whatever it is, we're charged with getting answers and working for change," Wilson said.
Wilson is particularly interested in making sure campus-life opportunities are designed for maximum student engagement. He plans to survey students about various events to gauge opportunities for improvement.
"I want to make sure we're promoting clubs properly so students are aware of all that's here for them," he said. "When it comes to events, I want to make sure we're planning them so that students are able to attend and participate."
Come fall, when the campus is bustling with students, Wilson hopes his constituents will feel free to stop him in the halls to talk about whatever is on their minds.
"Stop and talk to me, or just hand me a note, or drop one in the comment boxes, or come to the SGA office," he said. "We're here to make the college experience better for students, and to do that, we need to hear from them."
The Polk State Lakeland SGA office is located in LAC 1131. The office is open Monday-Thursday from 8 a.m. to 7 p.m., and Friday from 8 a.m. to noon. The SGA posts information about its meetings and other events outside its office. Students may also get information about the SGA from its Facebook page, facebook.com/Polk StateSGA.
SGA is one of more than 50 clubs and organizations offered through the College's SALO (Student Activities and Leadership Office).