Manufacturing Day Introduces Students to Polk State's Career Pathways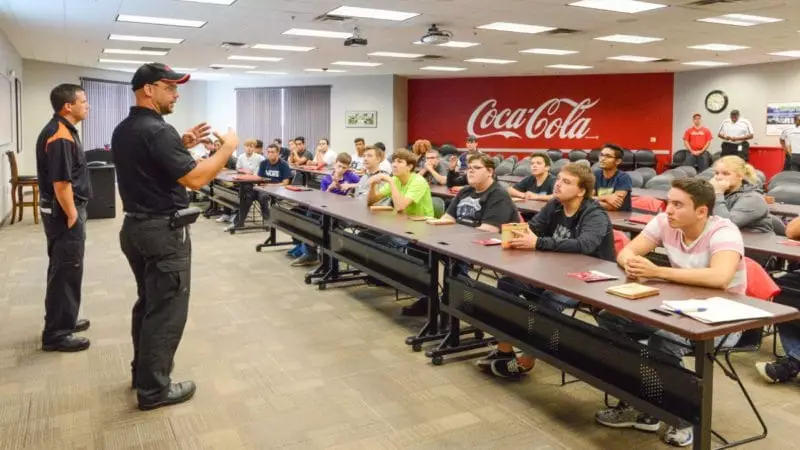 More than 300 students from Polk County Public Schools toured local manufacturers last week as part of Polk County Manufacturing Day, which introduces high school students to careers and the degree and certification pathways required to access those careers. Polk State College partners with Polk County Public Schools to showcase degree and certification options that are offered close to home.
Manufacturing Day is a national effort to address the skilled labor shortage the industry faces by introducing the younger generation to manufacturing and dispelling misconceptions about the field. This effort aligns with Polk State Corporate College's mission to train a skilled workforce in areas needed by local and regional employers.
"These students are getting first-hand, real-life exposure to manufacturing," said Karyn Lindsay, Corporate College program manager. "It shows them what manufacturing is all about, can help them decide if they want to go into manufacturing, and what area they'd be most interested in."
Lindsay and Mary Beth Shapiro, coordinator of Corporate College programs, led a group of 25 students from Ridge Community High School at Coca-Cola in Auburndale.
"This experience aligns with many of the programs we offer at Polk State Corporate College, from Industrial Maintenance and Machining to Advanced Manufacturing," Shapiro said.
Mike Sargent, the lead teacher of Ridge Community's Engineering Technology Career Academy, echoed a sentiment similar to Lindsay.
"They're seeing things that we didn't see until our senior year of engineering school," Sargent said. "This is an extremely valuable experience for the students, not only because it's related to what they're learning in the classroom, but also because it opens their minds to the certification and degree options they have to pursue careers in the manufacturing industry."
Students toured Coca-Cola's largest plant in the U.S., which is nearly 1 million square feet and sits on 81 acres. It has nine production lines that produce 170 different products – from popular juices to iced teas. The plant employs 600 associates.
They viewed a presentation from the plant's production managers on the manufacturing process, as well as career development within the company.
Then came the fun stuff.
Students toured the production lines, storage warehouse, and the maintenance and rebuild shops. They learned about conveyors, gear boxes, pneumatic valves, and sensors.
The experience will come in handy when the students build an automatic can crusher for their class project.
"They're going to develop it from scratch – wire it, program it, and process it to dispose of the cans," Sargent said.
Brianna Samaroo, a sophomore, appreciated the opportunity to get a first-hand look at the Coca-Cola facility.
The most interesting part of the tour to her was "how cold and massive the storage room was."
She wants to be an electrical engineer and design rollercoasters when she grows up.
"I've already received a scholarship from a school in California, but I want to stay closer to home," said Samaroo, adding that she may consider continuing her education at Polk State.
Coca-Cola General Manager Vinko Kozul asked the students at the end of their tour if they are thinking about going to college.
They all raised their hands.
He asked how many wanted to go into engineering, and most of their hands stayed in the air.
"There are so many opportunities in engineering and manufacturing," he said. "Some of those opportunities are right here in your backyard."
Polk State also teamed up with the following manufacturers, which provided tours to students from other Polk schools: Createch Machine and Design, Packaging Corporation of America, Givaudan Flavors Corporation, Sofidel America, MaxPak, JC Machine, ITW Professional Brands, Kegel, Florida's Natural Growers, Publix, Pepperidge Farm, and Key Safety Systems.
Polk State Corporate College provides customized workforce training through eight institutes, including the Advanced Manufacturing Institute, Child Care Training Institute, Contractor Safety Training Institute, Insurance Institute, IT/Computer Institute, Professional Development Institute, Real Estate Institute, and Supply Chain Management Institute. For more information, visit Polk State Corporate College's page.
The Coca-Cola Company (NYSE: KO) is the world's largest beverage company, refreshing consumers with more than 500 sparkling and still brands and nearly 3,900 beverage choices. Led by Coca-Cola, one of the world's most valuable and recognizable brands, our company's portfolio features 21 billion-dollar brands, 19 of which are available in reduced-, low- or no-calorie options. These brands include Diet Coke, Coca-Cola Zero, Fanta, Sprite, Dasani, vitaminwater, Powerade, Minute Maid, Simply, Del Valle, Georgia and Gold Peak. Through the world's largest beverage distribution system, we are the No. 1 provider of both sparkling and still beverages. More than 1.9 billion servings of our beverages are enjoyed by consumers in more than 200 countries each day. With an enduring commitment to building sustainable communities, our company is focused on initiatives that reduce our environmental footprint, create a safe, inclusive work environment for our associates, and enhance the economic development of the communities where we operate. Together with our bottling partners, we rank among the world's top 10 private employers with more than 700,000 system associates. For more information, visit Coca-Cola Journey at http://www.coca-colacompany.com/, follow us on Twitter at twitter.com/CocaColaCo, visit our blog, Coca-Cola Unbottled, at http://www.coca-colablog.com or find us on LinkedIn at https://www.linkedin.com/company/the-coca-cola-company.