LEGOLAND® Florida Resort celebrates employees, recent Polk State grads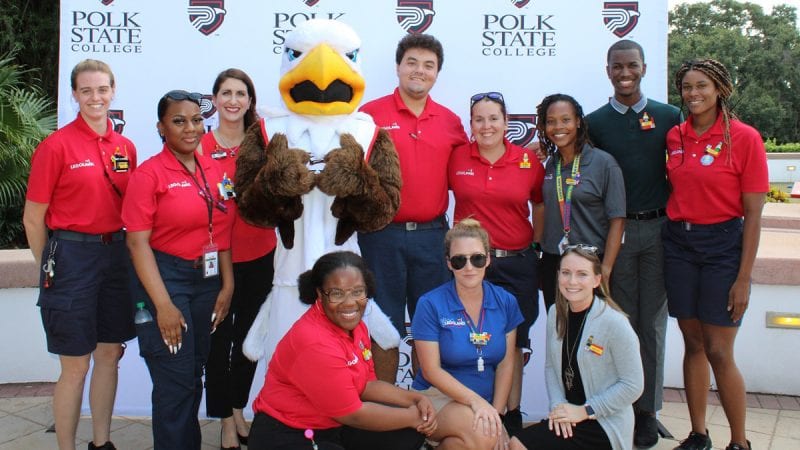 LEGOLAND® Florida Resort recently held its second Polk State College Network event for employees who are students and alumni, and this time a handful of graduates were recognized for their achievements academically and as Model Citizens.
LEGOLAND® Florida Resort General Manager Rex Jackson presented Model Citizens (employees) who recently graduated with LEGO® graduation caps and diplomas alongside Polk State President Angela Garcia Falconetti.
"This is a celebration of graduation and employment – two momentous accomplishments that our Model Citizens should be so proud of," Jackson shared with an audience of LEGOLAND® Florida Resort staff; Polk State students, faculty, staff, and alumni; as well as members from the community. "The support Polk State provides us as a resort and to our employees as students and alumni is incredibly valuable and we could not be more thankful for this partnership. We will continue to invest in this relationship and grow the ranks of our employees through quality higher education."
LEGOLAND® Florida Resort launched the Polk State College Network in October 2018 to create connections and foster mentorship among employees who are Polk State students and alumni.
Of the resort's 1,800 employees, more than 100 identify as Polk State students or alumni. Model Citizens wear Polk State shields on their brick badges to identify that they're an Eagle.
"It is a blessing for our students that we have an international company right here in Polk County that is dedicated to recruiting talent from our community," Falconetti said. "It is remarkable that we have such a strong figure that cares for the College and our students."
Polk State and LEGOLAND® Florida Resort have enjoyed a longstanding partnership that includes the Polk State College LEGOLAND® Florida Resort Internship Program. Since the program's inception in 2015, more than 60 students have participated, earning college credit while receiving hands-on experience as resort ambassadors and in specific departments including finance, marketing, and waste and environmental.
Additionally, internships and degrees have led to employment and promotions for LEGOLAND® Florida Resort employees, signifying the company's value of a Polk State education.
Altoniece Smith started her job at LEGOLAND® Florida Resort seven years ago, achieving her Polk State Associate in Arts degree in 2012 and her Polk State Bachelor of Applied Science in Supervision and Management with a concentration in Business Administration in 2018.
"The education I received at Polk State has allowed me to succeed at LEGOLAND® Florida Resort," said Smith, who benefited from the flexibility of online and night classes that allowed her to balance college with her job and being a mother. "I started off as a frontline employee and with the education I received at Polk State, I have worked my way up to a managerial role."
Nubianna Boyd, a Model Citizen who was also recognized during the event for achieving her Polk State Associate in Arts degree, started her job at LEGOLAND® Florida Resort after successfully participating in the internship program. She recently received a promotion in the resort's planning department.
"The classes I took and the experiences I've had help me tremendously in my job," Boyd said. "I've received amazing opportunities with this company that, without Polk State, I would not have."
She added that the Polk State College Network at LEGOLAND® Florida Resort shows her and her peers that the company and higher education institution truly care about their employees, students, and alumni.
"It's great to know that they support us fully," she said.