Heartland Consortium Students Visit Clear Springs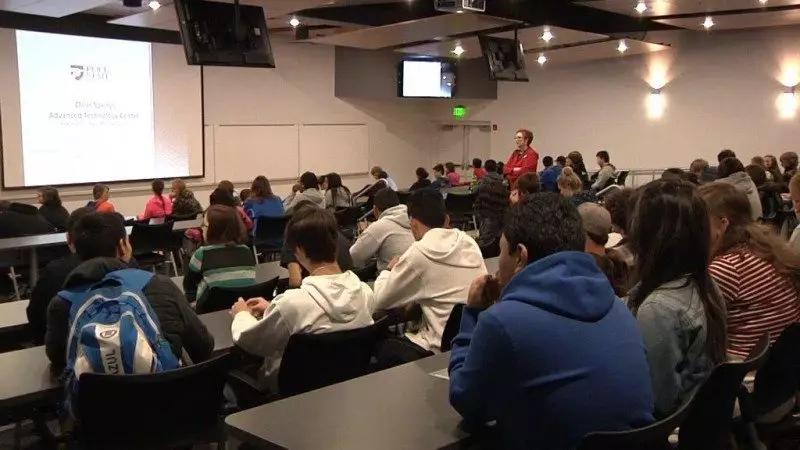 Instead of sleeping late or playing video games — the sort of weekend things kids their age usually do — 100 students from the Heartland Educational Consortium spent Saturday visiting Polk State's newest center and learning about STEM careers.
The Heartland Educational Consortium is a regional, nonprofit educational service agency that spans six counties, including DeSoto, Glades, Hardee, Hendry, Highlands and Okeechobee. Through the Consortium, the school districts of these six counties share ideas and resources to enhance student instruction.
In partnership with the Panhandle Area Educational Consortium and North East Florida Educational Consortium, the Heartland Educational Consortium has implemented the FloridaLearns STEM Scholars program. STEM stands for science, technology, engineering and math.
Through the STEM program, gifted high school students receive individualized instruction, career information, and the chance to explore STEM programs at colleges around the state. This was the first time Heartland Consortium students had visited Polk State. They had previously visited institutions such as the Florida Gulf Coast University, the University of Florida, Edison College, Indian River State College, and South Florida State College.
On Saturday, students — mostly sophomores and juniors — from the Heartland Educational Consortium traveled to the Polk State Clear Springs Advanced Technology Center. Located at 310 Technology Drive in Bartow, the Center houses the Polk State Corporate College and high-tech degree programs.
During their time at the Center, the students learned about the College's degrees in Computer Network Engineering Technology, Engineering Technology, and Supply Chain Management. Highlights of the day included an introduction to the College's $1-million process training unit, one of only four PTUs of its kind in the country. The massive machine is exactly the same as what is used in plants that process liquids, from orange juice to wastewater.
Students also got to check out the Center's ammonia cooling and robotics equipment, and state-of-the-art supply chain management simulation lab.
All of it made for an eye-opening, inspiring day, said John Varady, FloridaLearns Stem Scholars Program coordinator for the Heartland Consortium.
"Visits like the one to Polk State College build awareness that there is high-tech stuff not far from home," he said. "It opened their eyes to career fields and to the course of study they'll need to follow to enter those careers."
Through its Career Pathways program, Polk State College regularly hosts high school students on campus, introducing them to degree and career options to help them make more informed decisions as they prepare for graduation.