Gonzalo Gutierrez named Florida College System SGA President of the Year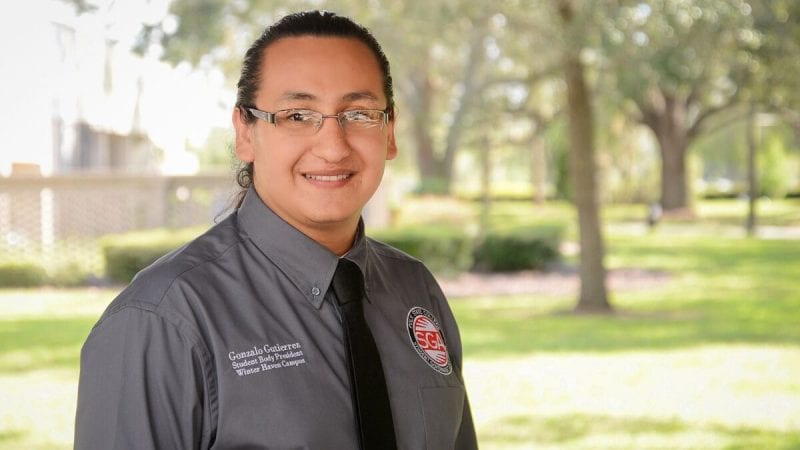 The Florida College System Student Government Association (FCSSGA) has named Polk State College Winter Haven SGA President, Gonzalo Gutierrez, President of the Year.
Gutierrez, who is working on a Bachelor of Applied Science in Supervision and Management with a concentration in Business Administration, recently received the FCSSGA President's Award, which is given to one president in the Florida College System who has exhibited distinguished service to his or her campus student government by providing support, opportunities, and leadership to fellow students.
Gutierrez is a first-generation-in-college, Mexican-American student who graduated from Polk State Chain of Lakes Collegiate High School in 2015 with his high school diploma and Associate in Arts degree.
As a high school student, Gutierrez saw the need for more student involvement on campus. His plan to pursue a career in higher education administration also motivated him to join SGA.
"I like seeing students succeed," he said. "SGA is here to listen to students and provide them with resources."
Gutierrez's award is a testament to SGA's ability to enhance the Polk State experience for students under his leadership during his two terms.
Gutierrez explained that by listening to peers and serving as a voice for the student body, SGA helps students discover what they are passionate about and how to be successful in not only college, but also in the community as service leaders.
"Our goal is to make students more comfortable talking to administrators and leaders in the community," he said. "We're here to offer assistance to anyone who wants to express their thoughts and feelings."
SGA provides Polk State College students with an active role in administrative and legislative matters concerning the student body, and serves as the liaison between students and administrators. SGA organizes campus activities, represents students in state and national organizations, and provides advocacy on legislative issues.
Officers are elected during the spring semesters and serve one-year terms.
Gutierrez, who participated in Polk State's 117th commencement ceremony in December 2017, will complete his bachelor's degree this semester. Kieran Sequin, who is working on an Associate in Arts degree and serving as SGA Winter Haven's secretary for the 2017-2018 academic year, will be SGA Winter Haven's president for 2018-2019.