Enroll now for fall 2020 classes that start August 17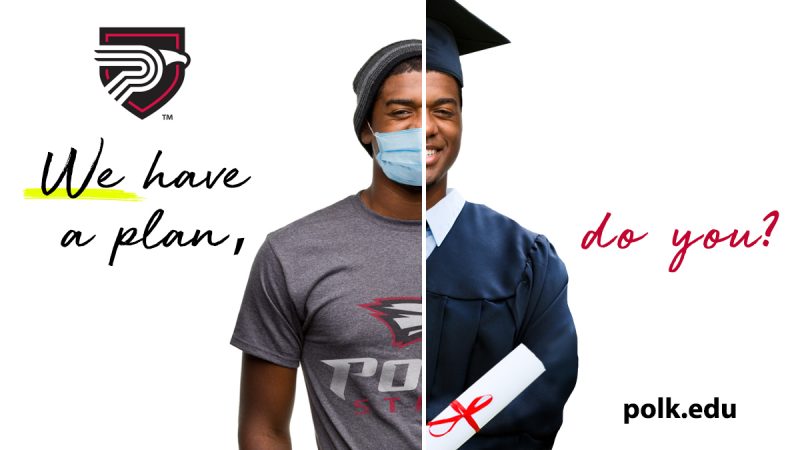 JULY 27, 2020 UPDATE: Polk State College has delayed Phase II of its Return to Campus Plan from August 3 to August 17, 2020. Please visit the College's COVID-19 page for more information and future updates.
Enrollment is open for the Fall 2020 Semester, classes will start on August 17, and Be the Solution: Polk State College's Return to Campus Plan provides guidelines to ensure the safety of students, faculty, and staff as the College continues to respond to the public health emergency.
We have a plan, do you?
"Don't delay your education – persevere on your path toward your academic and career goals," President Angela Garcia Falconetti said. "We have the guidelines in place to ensure the classes and services students need are available in the healthiest and safest environment possible."
Students should note that the majority of classes will be online for the fall semester. Polk State has a variety of virtual class options, including asynchronous courses that can be completed on your own schedule, and synchronous courses that happen in real-time with live-streamed lessons, resembling the face-to-face classroom experience in the online learning environment. When signing up for courses in Passport, students should check the course notes to ensure that they understand the course format and how online instruction will take place.
Students currently enrolled at Polk State may register for classes through their Passport accounts. Dual enrollment students should work with their guidance counselors and email DEregistration@polk.edu for assistance with registration.
Prospective students must submit a free online application to the College at www.polk.edu. More information about the application, orientation, and registration is available online at www.polk.edu/admission-aid/admissionsteps.
The College is currently in Phase I of its Return to Campus Plan with the majority of operations taking place remotely. Campuses and centers are closed to students and visitors, but advisors are serving students remotely with setting their academic goals, accessing information and services, and making responsible decisions consistent with their goals and degree requirements. Students and prospective students may email registrar@polk.edu or call 863.297.1000 for assistance with registration and advising.
Students are also encouraged to begin the financial aid process as soon as possible. The first step is to complete the Free Application for Federal Student Aid (FAFSA) online at studentaid.gov. Students may email financialaid@polk.edu, call 863.297.1004, or view the College's online FAFSA tutorial at www.polk.edu/admission-aid/financial-aid for assistance with financial aid.
Students may also call the Academic Support Line at 863.669.2833 to receive assistance with technological needs.
Throughout the application, registration, and financial aid processes, students should monitor their Polk State emails and accounts for important information about registration and financial aid. Students should also visit www.polk.edu and the College's social media for the latest news and additional resources as they become available.
The College will enter Phase II of its Return to Campus Plan on August 17, with some essential functions returning to campus and most operations occurring remotely. The Lakeland Technology Building (LTB) on the Lakeland Campus and the Winter Haven Administration Building (WAD) on the Winter Haven Campus will be open to students and visitors to access Student Services; however, the College encourages students to access services remotely when possible.
During Phase II, cloth face coverings are required to be worn by all students, faculty, staff, and visitors while on campus. Students are encouraged to review the full Return to Campus Plan prior to visiting campus and expected to practice Centers for Disease Control and Prevention guidelines.
The College understands that the public health situation continues to evolve, and the Return to Campus Plan will be modified if needed. The College follows recommendations from the Centers for Disease Control and Prevention, the Florida Department of Health, and the Florida Department of Education.
The College also understands that students may be apprehensive about enrolling in online classes. Faculty and staff continue to provide exceptional instruction and support to ensure student success.
The Student Activities and Leadership Office launched its Virtual Student Center, for example, to foster student engagement through online events and student life opportunities, and faculty continue to be innovative in their approach to online instruction.
"The learning environment may have changed, but the learning objectives remain the same," said Niqui Young-Pringle-Brown, Professor of College Success and Developmental Reading and Writing. "I am creating lots of ways for students to collaborate, work in groups, and discuss course content while still practicing social distancing. I'm preparing students to attend synchronous classes, embedding librarians and tutors into my classes, and working with colleagues to get materials and lectures ready."
Colleagues echoed similar sentiments.
"If students have issues with assignments or due dates because of the coronavirus, we want them to know we are here for them," Professor of Nursing Joan Connors said.
"Students – please know that we will work with you and, together, we will make it through," said Sgt. Chris Shea, Director and Professor of Criminal Justice.