Virtual Student Center kicks off summer activities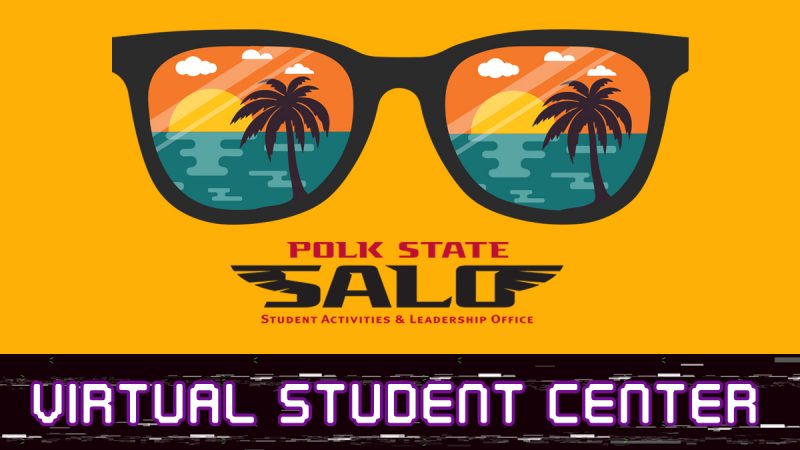 While Polk State College's classes remain online due to the public health emergency, opportunities still abound for students to connect through the Student Activities and Leadership Office's (SALO) Virtual Student Center which has kicked off its summer calendar.
To participate in activities, follow Polk State College SALO on Facebook, and enroll in the SALO Canvas course at canvas.polk.edu/enroll/M3NAHT. Don't worry – the "course" does not have assignments, deadlines, or grades! Enrolling in the "course" is free and allows students to receive information and notifications about Virtual Student Center events. Following on Facebook and enrolling in the Canvas course also automatically enters students into weekly giveaways.
This semester, students have already enjoyed a leadership series, a face-mask design session, and more. The next event is scheduled for Wednesday, June 3, with the opportunity for students to have their caricatures drawn by an artist – an activity that is traditionally popular at campus events that will take place this semester via Zoom. Morning and evening Career Services sessions will also take place throughout the summer months.
A full list of Virtual Student Center events for the Summer 2020 Semester is below.
June 3 | 2 p.m. | ZoomToons
They are amazing! Jeff draws everything in color digitally on his computer and makes it available immediately to download from his website. The participants join the Zoom meeting to watch and interact with Jeff and members of the community. Within minutes, you have a custom caricature ready to download and use as you wish.
June 11 | 7 p.m. | Divine AF
This amazing group of LGBT musicians is loud, proud, and ready to bring their stage experience into your living room! This all-female band has tight harmonies and amazing musicianship that will make you want to sing along and get up and dance! Q&A available after the show. Your LGBTQ+ students can ask questions about life, gay issues, community, and chosen families, and these women offer a safe space for dialogue.
June 16 | Noon | Pipis Asian Name
Experience this fascinating ancient art through Zoom. The artist uses authentic leather brushes and completes this creative keepsake in mere minutes. The result is a custom piece of art created by a master as you watch, and then shipped directly to your home!
June 18 | 7 p.m. | Open Mic
Join us for Pride is Poetry for an open mic night of poetry written about LGBT issues or by LGBT writers. Come and enjoy an evening of spoken word from new and established poets and writers. Please email prideispoetry@gmail.com to be added to the list of poets for the evening.
June 19  | 7 p.m.
Join us for a session with Wisdom, a speaker on self-care during hard times, breakups, motivation, and triumph from an LGBTQ perspective. Wisdom motivates, empowers, and inspires listeners to overcome hurt and build the lives they truly desire.
June 25 | 7 p.m. | Life is a Drag (Literally and Virtually!)
For these two men, Life is a Drag…literally!  They will both share their journey in drag, as well as tips and tricks they have learned through personal experience.  The educational elements of this program start with the history of drag and will take you all the way to the ever-popular RuPaul. Watching the transformation from "regular guy" to stage-ready "drag queen" is truly educational. An hour-long program that will keep you interested, engaged, and on the edge of your seat until you see the end result!
June 10, July 8 & July 22 | 11 a.m.
May 27, June 24 & July 15 | 6 p.m.
Interested in finding the career for you? Not sure which pathway to take? Still deciding on a transfer major? Our mission is to educate and create connections for Polk State students and alumni to facilitate the holistic career and professional development of students. Join Lakeland Career Development Services virtually this summer to explore careers and resources, and to get started on the pathway to a successful career. More information is available by emailing Stephanie Benton, Coordinator of Career Services, at sbenton@polk.edu