Criminal Justice student: Polk State saved my life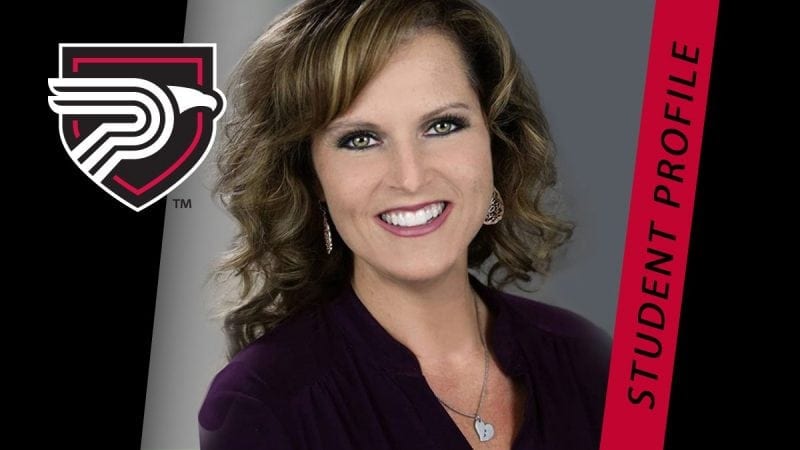 At Polk State College, Tanya Kozak has been told she can be anything she wants to be after years of being told she was nothing.
Kozak received her Polk State Associate in Arts degree in 2016 and is pursuing a Bachelor of Science in Criminal Justice at the College with plans to enroll in a combined graduate and doctoral program in psychology. She aspires to work with military members, as well as first responders, who helped her during recovery from a lifetime of abuse.
"I was abused as a child, by boyfriends, and by my husband who put me in the hospital and convinced me I was nothing," she said. "During all of this, my dad died, I had a miscarriage, and I was diagnosed with endometrial cancer. My life was a whirlwind and one summer night in 2016, I decided I was going to end it. I called my sister and she told me the voice in my head was not my voice, and I knew I had to do something."
Kozak was new to Lakeland, but recalled driving by Polk State.
"It may sound cliché, but Polk State saved my life," added Kozak, who wears a heart necklace with a semicolon in the center.  The semicolon is a universal symbol of suicide prevention. "Polk State gave me a new focus and a new outlook on life, and I could not be more grateful."
"It may sound cliché, but Polk State saved my life. Polk State gave me a new focus and a new outlook on life, and I could not be more grateful."
Kozak is a self-proclaimed life-long learner, returning to school after more than 20 years.
She began her higher education journey in 1991 when she enrolled at Washington State University.
"But I met a boy who wasn't very good for me and I dropped out of college," she said.
Kozak moved around over the years, working for the U.S. Postal Service in her native state of Louisiana, then as a certified nursing assistant (CNA) when she relocated to Lakeland in March 2016 with a boyfriend.
"Because I was abused as a child and got into abusive relationships, I unfortunately kept picking the wrong guys over and over," she explained. "I always wanted to continue my education, but the person I was with kept telling me I wasn't smart enough or good enough."
Two months after moving to Florida, Kozak faced homelessness when her boyfriend kicked her out. Paired with her low self-esteem caused by her abusers, Kozak wanted to give up.
"But Polk State gave me hope," she exclaimed. "The staff and faculty have removed every roadblock and it has been one blessing after another for me."
When Kozak didn't qualify for the University of South Florida FUSE program, which guarantees students with Polk State Associate in Arts degrees admittance into Psychology and Health Sciences baccalaureate programs at USF, Polk State advisors were there with a plan B.
Claudy Fenelon, Advising Senior Program Specialist, encouraged Kozak to continue her education at Polk State in the Bachelor of Science in Criminal Justice Program, which would keep her on a path to achieving higher degrees and her ultimate goal of a career in psychology. She takes her classes online, allowing her to maintain a full-time job as a medical assistant.
"I'm comfortable with medicine and psychology, but I thought criminal justice was out of my league," Kozak said. "Thanks to the professors and staff, I have continued to excel. The professors are experienced in the field and they care about their students, and even though I take my classes online, the program fosters powerful discussions and introduces real-world applications that allow students to receive a quality education."
"I have never met my professors face-to-face but I can't wait to shake their hands at graduation," she added.
Kozak plans to graduate with her bachelor's degree in May 2019.
Although she recently learned she is no longer eligible for a Pell Grant, Polk State staff continues to help Kozak in any way they can. Assistant Register Karen Walfall connected Kozak to the Polk State College Foundation to assist with expenses in her final semesters. Kozak also extended thanks to Financial Aid Assistant Joel Troche for his continued support.
"Polk State gave me hope. The staff and faculty have removed every roadblock and it has been one blessing after another for me."
"I'm so close to achieving my degree, I'm not going to stop despite any obstacles," Kozak exclaimed. "All of the things that have happened to me in my life, I could have stopped then, but I've persisted for a reason."
Her motivation is to one day help the people who helped her along her journey, such as the first responders who cared for Kozak when her husband abused her so badly that she was hospitalized.
Kozak has come a long way in her recovery. Today, she is working as a medical assistant, her endometrial cancer has been in remission for a year and she is in a happy, healthy relationship.
"Thanks to my family, my boyfriend, my professors, and the great people at Polk State, I'm able to keep going," she said.
Although some days are still a struggle, it's OK to take one step at a time, she said, just don't give up. Kozak wears her semicolon necklace to remind people of that very important message.
"When an author uses a semicolon, it means the continuation of a sentence when they could have ended it with a period. Polk State was the continuation of my story when I could have ended it," she explained. "I wear my necklace every day in case someone out there sees it and gets the motivation they need to continue. Even if my story helps only one person, it's worth it."
September is National Suicide Prevention Month. All month, mental health advocates, prevention organizations, survivors, allies, and community members unite to promote suicide prevention awareness.
The National Suicide Prevention Lifeline provides 24/7, free, and confidential support for people in distress. The Lifeline can be reached at 1-800-273-TALK (8255).
Polk State offers the BayCare Student Assistance Program (SAP), which gives students access to 24-7 assistance from a licensed counselor over the phone by calling 1.800.878.5470. Polk State students also have access to BayCare's Personal Advantage online resource. BayCare counselors are also available for face-to-face counseling on the Lakeland Campus on Tuesdays from 9 a.m. to 1 p.m. in LTB 1274 and on the Winter Haven Campus on Wednesdays from 1 p.m. to 5 p.m. in WLR 237A. To schedule an appointment, students may call 863.669.2309. Walk-ins are also welcome.
Polk State's Office of Disability Services also provides students with counseling services. Director of Disability and Counseling Services Kimberly Pearsall may be reached by calling 863.669.2309, emailing kpearsall@polk.edu, or visiting LTB 1273 on the Lakeland Campus.