Community Celebrates Opening of Center for Public Safety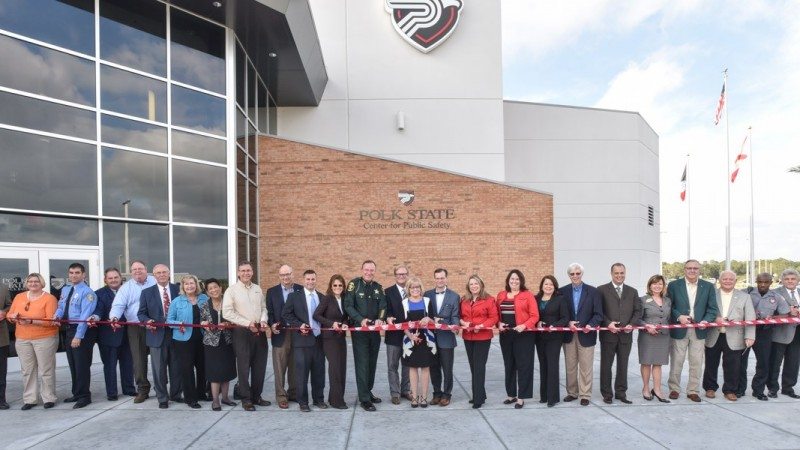 The ribbon has been cut and the Polk State Center for Public Safety is officially open for business.
Polk State celebrated the grand opening of the state-of-the-art, 101,450-square-foot facility with a ceremony on Friday, Jan. 8. Approximately 500 members of the community, including past and present members of Polk County's legislative delegation and numerous other local leaders, attended.
After brief welcoming remarks from Polk State District Board of Trustees Chair Teresa Martínez, Polk County Police Chiefs Association President Larry Holden addressed the crowd. Polk State already does a commendable job in training first responders, Holden said, and he expects the quality of preparation to intensify with the Polk State Center for Public Safety.
Holden reflected on the history of public safety training in Polk County. Students once had to travel to multiple locations to complete various training requirements.
"And we may have had the technology of a dry erase board," he said.
The consolidation of first-responder training in one technology-rich location is a remarkable improvement for the county.
"The future is now," Holden said.
Next up to the podium was Deputy County Manager of Public Safety Gary Hester, who described the building as a "Class A product that will make a difference for our citizens."
"The way (first responders) perform in the field has a direct correlation to how we train them," he said.
"This is an investment into our community and into improving the quality of life for our citizens … I look forward to the phenomenal things that are going to happen in this facility in the days ahead," he said.
In the portion of the program that represented the "reason we are in this business," Polk State President Eileen Holden introduced Polk State Kenneth C. Thompson Institute of Public Safety student Timothy Ephriam and Harvey Ries, a Polk State Emergency Medical Services Program alumnus who is now a firefighter/paramedic at the Lakeland Fire Department.
Ephriam expressed his gratitude for the opportunities Polk State has afforded him. Ries spoke about his training experience at Polk State. The EMS Program has high standards, he said, and it produces graduates who are well prepared for the work they will face in the field.
Ries recalled a comment he received from a nurse during his clinical training: "She said, 'I sure do like it when you Polk State students are here. You make our lives easier.'"
President Holden then took her turn at the podium. The grand opening of the Polk State Center for Public Safety, which will give students access to cutting-edge technology and immersive, integrated training experiences, fittingly enough, took place during the end of Florida's First Responder Appreciation Week, she said.
"To all public safety professionals — current or aspiring — gathered here today, we thank you, and even though we may not be beside you in the cruiser, engine, or ambulance, the Polk State Center for Public Safety is proof that we are, always, behind you," she said.
"In this new facility, you will have access to cutting-edge technology. You will have the space and equipment needed for reality-based scenario training. You will learn alongside your counterparts from other public safety fields. You will, in short, receive the very best preparation for saving lives — while also protecting your own."
Holden also recognized a handful of key individuals who supported the Polk State Center for Public Safety project, including:
Polk State's District Board of Trustees
Polk County's Board of County Commissioners, which donated the 10-acre site at 1251 Jim Keene Blvd. in Winter Haven.
Past and present members of the Polk County legislative delegation, including former Sen. JD Alexander, who in 2013 worked with Sen. Denise Grimsley to secure House and Senate approval for $13.7 million to start construction, and former Rep. Seth McKeel, who secured an additional $14 million to complete the building. Also influential were Sen. Kelli Stargel and Rep. Colleen Burton, who during the 2015 legislative session secured the final $3 million needed for equipment.
Polk County Sheriff Grady Judd for his advocacy of the project.
Furr & Wegman Architects and The A.D. Morgan Corporation, as well as their subcontractors and Polk State Project Manager Robbie Manikis, for constructing "a gem of a facility that will serve this community well for generations to come."
"Most of all, I want to thank the citizens of Polk County for entrusting Polk State College to produce highly trained first responders," President Holden said. "Be assured that within the walls of this building, every single day, we are working for you."
President Holden then welcomed Judd to the podium, who remarked on the widespread impact the facility will have on the residents of Polk County.
"The men and women we teach here are the same ones who are going to save your life and your loved one's lives one day," he said.
"This facility doesn't belong to Polk State, or the Polk County Sheriff's Office, or any of the police departments or other public safety agencies in the county. It belongs to the people in this community. We have a responsibility to stay true to the trust they have given us."
Judd then called Alexander and McKeel to the stage for the presentation of a plaque that will hang in the building in recognition of their leadership in bringing the project to fruition.
The Polk State Center for Public Safety will house the Polk State Kenneth C. Thompson Institute of Public Safety, and the College's degree programs in Criminal Justice, Emergency Medical Services and Fire Science Technology.
The building includes:
A full-scale, lifelike outdoor street scene, complete with mock storefronts, where aspiring first responders will train for scenarios they are likely to encounter in the field.
An indoor immersive training lab featuring a ceiling-mounted wall system. Walls can be slid into place to mimic the settings of real-life crimes, allowing trainees to prepare for situations they may encounter on the job.
10 standard classrooms
Three tiered classrooms
Computer labs and study areas
Defensive training space
Forensics crime scene lab
Firearms simulation space
EMS skills lab and simulation training lab
Fitness center
495-seat auditorium
For more information on Polk State's public safety programs, visit polk.edu/public-safety.