At Polk State, Ann Maggard Starts Over Again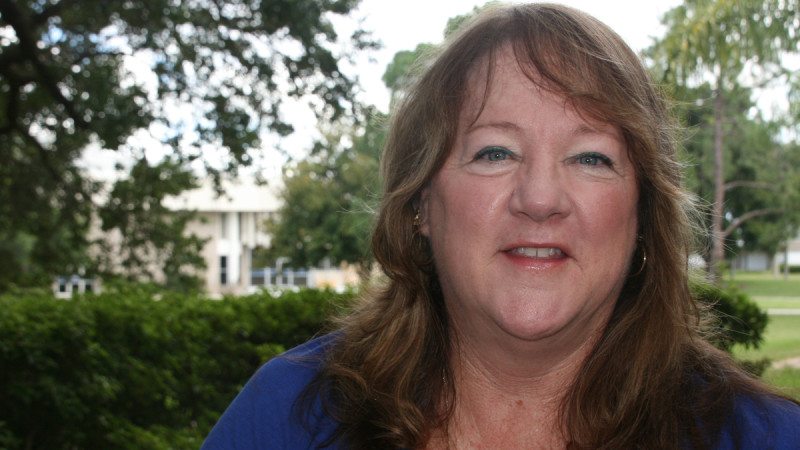 Tell Polk State student Ann Davant Maggard that she's an inspiration, and she'll shrug her shoulders, give a hearty laugh, and say that, nope, she's just doing what she has to do.
But that's not the case.
Really, she's doing what so many others dream of doing — but can't, or won't, or are too afraid to try.
After a slow, seven-year trod through her coursework, she's finishing her first college degree. She's also readying for the third major career change of her life.
She's following her interests, wherever they take her, never afraid to make a new start. And she's doing it all at 59 years old.
"All I can say is you have to find what makes you happy," she said.
"People think you have to pick one thing and stick with it. We're programmed that's how we're supposed to be. But you can always change your mind and try something new."
Maggard graduated from high school in 1972, but didn't want to go to college, instead opting to go straight into the workforce, dabbling in a variety of fields before she ended up in property management, managing hotels and eventually Section 8 housing; Section 8 is a federal assistance program.
Fifteen years in, however, she became a single mother and knew her career didn't match her new responsibilities. She often had to work late nights and over holidays, and the job wasn't worth the time she'd miss with her young son.
So, she quit, giving up the experience she'd gained, the relative seniority she'd achieved in the field, and a comfortable paycheck.
She jumped, and didn't know where exactly she would land.
After months of temp jobs, Maggard, a resident of Davenport, went to work as a paraprofessional at Boone Middle School in Haines City. She didn't know anything about education, but the job would allow her to keep the same schedule as her son.
She worked at Boone for five years. For the last seven, she's worked as a paraprofessional at Alta Vista Elementary School, also in Haines City.
"I run the computer lab and facilitate all the programs that students and teachers use in the lab," she said.
"The hardest part for me was starting over. When I was managing properties, I was the boss. Changing to the school system, I didn't know anything. I'm working alongside people with degrees and long careers in education. They're these mega-people and I'm at the bottom of the totem pole."
Perhaps it was because she was working with those who had attained higher degrees, or maybe it was because in her new line of work she was helping students advance educationally. Either way, Maggard began to think about going to college.
It took her two years of mulling the idea and mustering the courage, but by her early 50s, she had enrolled, signing up for one course her first semester, then another course in her second semester. In the terms since, she's kept a two-course pace, gradually accumulating credits — and confidence.
"I kept thinking I can't do this, that I'm not smart enough," she said. "I would get into a class, look at the syllabus, and not have any idea what the teacher was talking about. I just poured myself into it and did the best that I could."
Maggard's "best" is pretty darn good; her grade-point average is 3.7, she said, and she is a member of Polk State's chapter of Phi Theta Kappa, the international honor society for two-year-colleges.
Her whole life, even as she thrived at Polk, Maggard has been searching for an elusive "something" in her life. That feeling may have to do with her having been adopted as a young child — she's been trying to find where she belongs ever since, she said — but it may just be that, like so many of us, she hasn't yet found what she wants to do "when she grows up."
Which is why Maggard plans on continuing at Polk State even after she completes her AA in the fall to earn an Associate in Science degree in Supply Chain Management, the first step toward what will be her third career switch.
As a career-changer, Maggard is in good company at Polk State.
Kenneth Ross, vice president for academic and student services, said about two-third of the College's students are career-changers. Maybe they entered the workforce and realized their fields would lead to a dead end, or maybe, like Maggard, they just decided they wanted to do something different. Either way, they're in the classroom for a professional overhaul.
They come to Polk State, he said, because its degree offerings are closely tied to workforce needs.
"We have people with bachelor's and master's degrees who come to Polk State to train because they know there is a high likelihood that there will be a job waiting for them when they're finished with one of our workforce-based degrees," he said.
Ross referred to recent state data that showed Polk State ranks No. 1 among all public colleges for the rate at which graduates of its workforce-based programs get jobs; in 2010-11, the most current year available, 86 percent of Polk grads were employed within just months of graduation.
Polk State is particularly appealing for career-changers not only because of its wide variety of workforce-based degrees — from Nursing to Early Childhood Education to Supply Chain Management — but also because they're offered at the county's lowest price point.
"The vast majority of our students don't have to take out student loans," he said. "You can get a degree that will earn you money without having to take on that debt."
For Maggard, all of those factors played into her decision to pursue the Supply Chain Management degree.
She worked as a purchasing agent in a warehouse in the 1980s, a job she enjoyed and never quite put out of her head. A few years back, she was driving behind a semi-truck with the word "logistics" printed on its side, and she started researching the field. It's one, she found, rife with opportunity.
The Bureau of Labor Statistics pegs growth for positions in the field at anywhere from 7 percent to 29 percent through 2020. Here in Polk County, a regional hub for distributors and warehouse operations, supply chain management and logistics accounts for the second-fastest growing cluster of the economy, according to the Central Florida Development Council.
"This isn't going away. It's just going to get bigger and bigger — and it's something I know I'll enjoy doing," she said.
Maggard was pleased to learn that Polk State not only offered a degree in Supply Chain Management, but that during the process of earning the degree she could also complete workforce certificates, allowing her to enter the field before she graduates.
She'll chip away at her next degree like she did the first. It won't be quick or easy —as Maggard knows well, starting over never is — but in her pursuit of that elusive "something," any amount of time and effort is worth it.
"You can't live to please your parents or your girlfriend or your boyfriend. When all that falls apart, you're left with yourself and you have to find what makes you happy," she said.