Rich Thompson remembered for forging partnerships that make Polk State Corporate College what it is today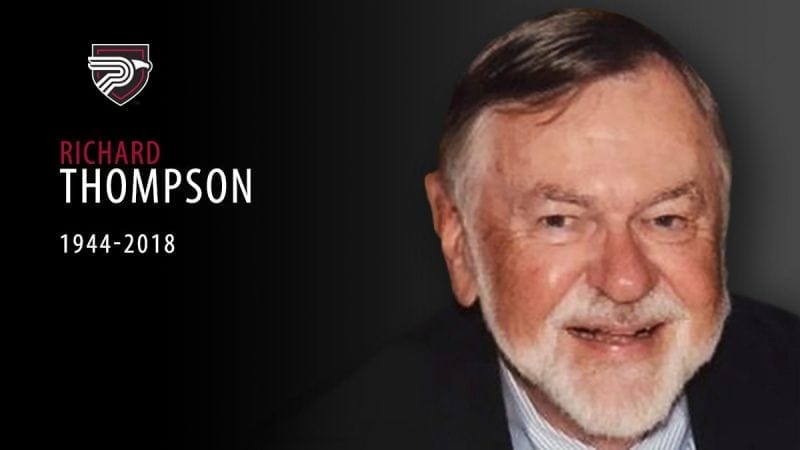 Many remember Richard Thompson for his phrase: "I'm Rich and I live on Easy Street."
He really did live on Easy Street in Lake Wales, and Thompson's favorite saying embodied his sense of humor, infectious smile, and natural ability to forge powerful, positive relationships that former colleagues at Polk State Corporate College remember fondly.
Thompson, who served as coordinator of Corporate College programs for more than a decade before retiring in 2011, passed away on June 5 at the age of 73.
"He was truly instrumental in creating what Corporate College is today," Provost and Vice President of Academic Affairs Steve Hull said. "He was a trusted colleague, a good friend, he knew everybody, and he was always a pleasure to be around – you couldn't help but feel better after talking to Rich."
Thompson was born August 25, 1944, to Lewis and Betty Thompson. He was raised in Mt. Pleasant, Ohio, received a degree from Muskingum University, and worked at Malone College before moving to Lake Wales in 1975 to become Director of Admissions at Webber University. He also worked in the trucking industry.
He served as a tireless volunteer and community advocate for more than 40 years, participating on numerous boards and committees, and serving two terms on the Lake Wales City Commission from 1980 to 1984. In 1983, he was mayor.
Hull recalled some apprehension about the College's ability to fill an auditorium for a community forum once, "but Rich assured us that it would be packed."
"And it was," he exclaimed. "It showed the great influence he had in the community."
David Woodward, Contractor Safety Institute Program Coordinator, said Thompson's decade of experience working in the trucking industry opened up a lot of doors for Corporate College.
"Together with Dr. Larry Durrence and Steve Hull, Rich moved the Corporate College from continuing education to providing the training that businesses want and need," Woodward explained.
As office neighbors, Woodward overheard many phone calls Thompson received from an old boss in the trucking industry who was persistent in his pleas for a logistics degree program at Polk State.
"He listened," Woodward said. "He always listened to the community."
In addition to his service on the Lake Wales City Commission, Thompson was involved with the Lake Wales Depot Museum Task Force, Lake Wales Museum Association, and Lake Wales Amphitheater Board of Directors, among other organizations.
Ruthanne Stonewall, Ridge League & Industry Community Advisory Panel (ICAP) Executive Director, noted Thompson's ability to facilitate positive, productive meetings with local partners and stakeholder.
"He was an outgoing, personable individual who made people feel comfortable and welcomed," she said. "He was instrumental in building the ICAP, bringing together three cities and several businesses," Stonewall explained of the advisory panel, which includes Bartow, Fort, Meade, Mulberry, and partners in the phosphate industry.
Former colleagues echoed similar sentiments.
"When Rich was (with) a prospective client, I was sure every time we left the meeting that the client was sad to see him go," said Robert Clancey, who was Director of Corporate College during Thompson's tenure. "Rich was a great listener who only made his voice heard in a constructive way."
"Rich was one of those people you could never walk away from without a smile on your face," Woodward shared.
"He was a gentle giant known for his smile and sense of humor," Certification Training Specialist Dana Michael said.
"When he walked in, the room would change," Corporate College Coordinator Mary Beth Shapiro shared. "He was always super nice and welcoming."
Stonewall added that Thompson was a family man who often doted on his grandchildren.
He is survived by his wife, Emmy; brother, Curt Thompson; daughters, Shelley Bowlin, Krista Thompson, and Tammy Riner; daughter-in-law, Samantha Bair-Martin; and six grandchildren: Levi Bowlin, Becca Bowlin, Abby Kemick, Cameron Riner, Daniel Bair, and Blake Bair.
"He will be missed by many," Hull said. "Polk State College was a better place because of Rich."