20 and Getting Her Master's Degree: Head Start at Polk State Set Alumna Up for Early Success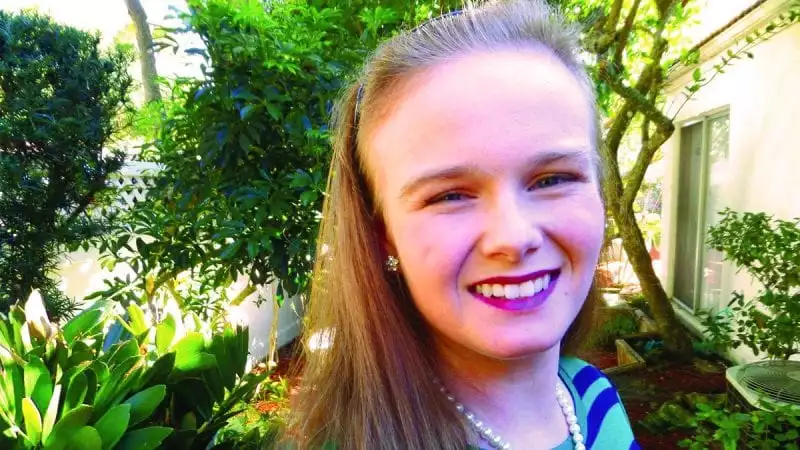 At age 20, when a lot of students are still trying to decide on an undergraduate major, Rosemary Reynolds is working in her career of choice and is halfway through her master's degree at the University of Florida.
And it's all because, several years ago, she decided to get a head start on her education at Polk State College.
"Besides being a major cornerstone in the local community, I believe that Polk State College was the absolute perfect place to begin my experience in higher education. My positive experiences at Polk State have enabled me to pursue my passion for the field of educational technology at UF," she said.
A Winter Haven native, Polk State's Winter Haven campus has been part of Reynolds' life for as long as she can remember. Her mother used to push her in a stroller across campus. She learned to ride her bike on the sidewalks near the soccer fields. Her dad taught her to drive in the parking lots.
Perhaps because of that familiarity, Reynolds became a Polk State student as soon as she could, dual enrolling at the College at age 15. Dual enrollment is a program that allows high school students to simultaneously complete requirements for their diplomas while earning college credits.
"Dual enrollment allowed me to steadily become accustomed to face-to-face classes and develop insightful connections with faculty and fellow students," she said.
From that point on, Reynolds was off and running in higher education — and years ahead of most students her age.
In 2013, at 18, she graduated with her Associate in Arts degree. In 2015, at 19, she completed her Bachelor of Applied Science in Supervision and Management.
The decision to continue at Polk State to achieve the highest level of education she could, Reynolds said, was easy.
"I never considered transferring to another college or university for my BAS for several reasons. Of course, at the time, I lived extremely close to the Winter Haven campus, which was very convenient. Also, the low tuition rates, small classes, and my personal history with the College made it the perfect place to continue my undergraduate education beyond the AA," she said.
In 2016, Reynolds completed the College's Educator Preparation Institute, an accelerated training program for aspiring teachers who hold non-education baccalaureate degrees. The daughter of educators, Reynolds has long dreamed of going into the field herself.
While at Polk State, Reynolds was also involved in student life, including serving as secretary and president of the Winter Haven Honors Program Student Council.
"The Honors Program was a huge part of my Polk State experience," she said. "It offered plenty of leadership and learning opportunities."
Today, Reynolds is teaching web design and computer science at Lake Region High School, and completing her Master of Education in Curriculum and Instruction with a concentration in Educational Technology at UF. She expects to graduate in summer 2017.
Reynolds plans to continue her education to earn a doctoral degree in Educational Technology from UF. She'd also like to write a book one day. At this rate, she'll have time for all that — and much more.
Polk State, she said, offers opportunities that can change lives and accelerate dreams — all students have to do is take advantage of them.
"Know what you want to do and go and do it as quickly as possible," Reynolds said, in a bit of advice to incoming Polk State students. "Start off with having your end goal in mind and work to make that your career."
Polk State College's education programs include bachelor's degrees in Early Childhood Education and Elementary Education, an associate's degree in Early Childhood Education and Management, and the Educator Preparation Institute, an accelerated training option for anyone who has a non-education bachelor's degree and wants to become a teacher.
Polk State College's history is rich with stories of alumni who have gone on to make impacts, whether in the classrooms and laboratories of prestigious universities, the rough and tumble of commerce, or the halls of political power. Over the years, thousands of Polk State graduates have leveraged their education and experiences at Polk to transform their own lives and the lives of others. This transformation is the essence of what it means to "be Polk." Whether in big ways or small ways, Polk State alumni embrace the challenge of living lives that matter. News@polk regularly profiles these alumni. Their story is the story of Polk. They are The Pride of Polk.