Show Program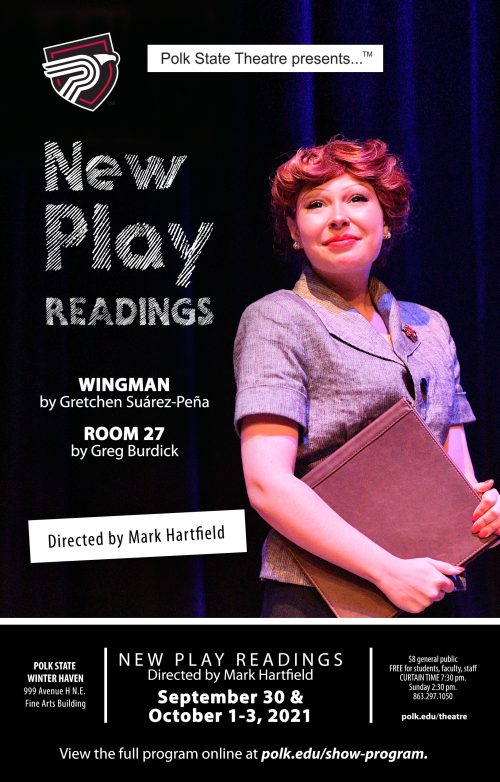 A Note from Mark Hartfield, Polk State Theatre Program Director:
We're slowly starting to come out of the dark. Theatre and all performing arts have had a very rough time, but we are starting to recover. Last season we worked to weigh the benefits of telling stories and performing music and dance that might be uplifting and instructive against the dangers of spreading the virus. As educators, we tried to continue to educate and train our students so that their journeys were not stopped by our current circumstances. So, we offered them the opportunity to perform – in front of live audiences. We instituted a safety plan that worked then and we are adjusting it this season to work with our changing circumstances. It still involves cooperation from everyone involved, from the actors and director to the stage manager and technicians. It includes our college security and maintenance personnel, and our faculty and administrators. And it includes our audience. Our success relies on everyone doing their part. It is important to continue to practice social distancing where possible and it is strongly recommended for all people to continue to wear masks inside the building to ensure the safety of everyone sharing the space. Also, please follow any instructions for entering and exiting the theatre. If everyone does their part, we will continue to present live theatre, to train our students, and to provide an escape and maybe even a little hope for everyone. Thank you for coming. Thank you for understanding. Enjoy the show.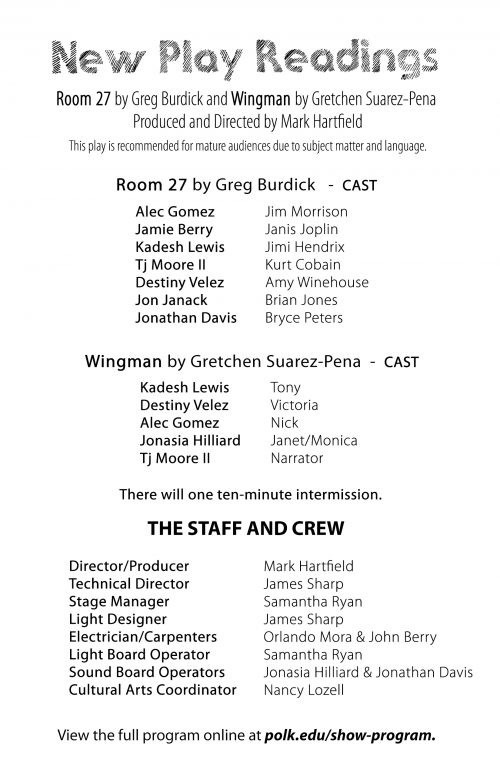 Special Thanks To:
Gretchen Suarez-Pena, Greg Burdick, Thom Altman and Dan Chesnicka at Theatre Winter Haven and the Polk State College leadership for their support.
Technical Theatre Class: Berenise Dominguez, Hailee Galentine, Jonasia Hilliard, Madisen Rivera, Amber Rosever, and Kristy Santiago.