Show Program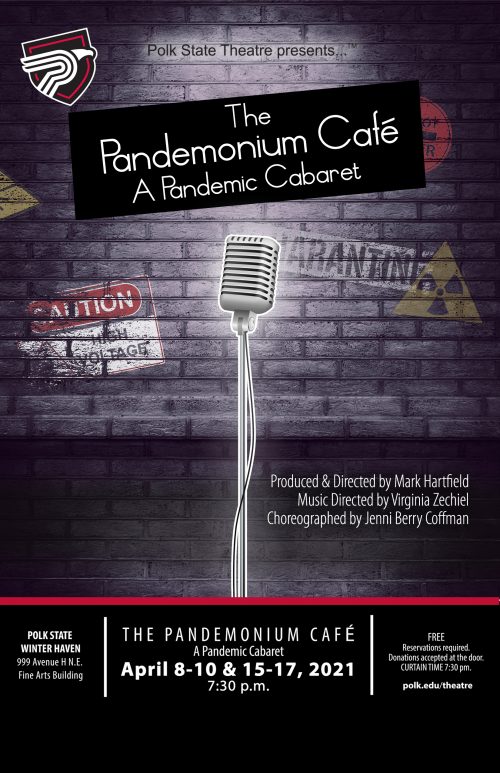 A Note from Mark Hartfield, Polk State Theatre Program Director:
We're slowly starting to come out of the dark.  Theatre and all performing arts have had a very rough time and it will take a while to recover.  Over the past year we worked to weigh the benefits of telling stories and performing music and dance that might be uplifting and instructive against the dangers of spreading the virus.  As educators, we tried to continue to educate and train our students so that their journeys were not stopped by our current circumstances.  So, we offered them the opportunity to perform – in front of live audiences.  We instituted a safety plan last fall that has worked throughout the year.  It involves cooperation from everyone involved, from the actors and director to the stage manager and technicians.  It includes our college security and maintenance personnel, and our faculty and administrators.  And it includes our audience.  Our success relies on everyone doing their part to follow the guidelines we have set to seat a limited number of people in the theatre and keep them at a safe distance from each other and the stage.  To continue to wear masks inside the building to ensure the safety of everyone sharing the space.  And to follow the instructions for entering and exiting the theatre.  If everyone does their part, we will continue to find ways to present live theatre, to train our students, and to provide an escape and maybe even a little hope for everyone.  Thank you for coming.  Thank you for understanding.  Enjoy the show.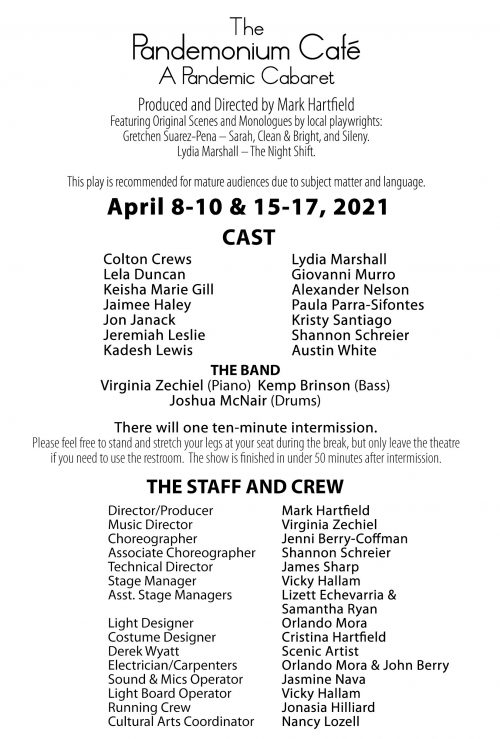 Special Thanks To:
Gretchen Suarez-Pena, Lydia Marshall, Thom Altman, and Dan Chesnicka at Theatre Winter Haven and the Polk State College leadership for their support.
Technical Theatre Class: Rebecca Diaz, Berenise Dominguez, Malcom Jordan, Abigail Mark, Megan Marquart, and Adam Reuther.
Stagecraft Class: Berenise Dominguez, Lela Duncan, Chloe Eggert, Abigail Mark, Adam Reuther, Christian Sabot, Olivia Ulch, and Austin White.
A note from the Director:
If you are looking for a list of numbers and scenes and monologues, you won't find one.  For our show, we have taken songs from popular music and musical theatre and are using them in a different context from their original intent – to fit within the loose structure of our show.  Similarly, the scenes and monologues are all performed within the context of a pandemic world – even if written years ago.  The show is best experienced as it happens – no expectations or connotations positive or negative from seeing a song title or anticipating a specific performance.  Just join us for a brief "return" journey – one that ends with hope and light.