Show Program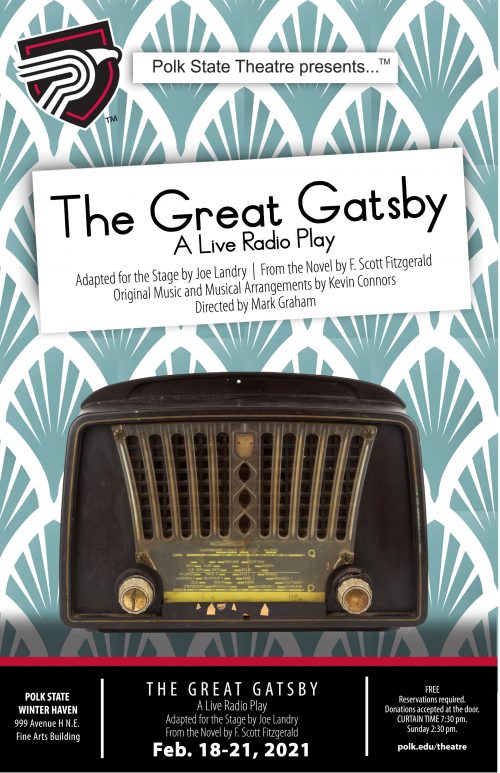 A Note from Mark Hartfield, Polk State Theatre Program Director:
Theatre and all performing arts are having a rough time right now.  It is hard to weigh the benefits of telling stories or performing music or dance that might be uplifting and instructive against the dangers of spreading a virus that has caused so much pain and anguish in our country and around the world.  As educators, we have the additional charge to try and continue to educate and train our students so that their journeys are not stopped by our current circumstances.  In theatre, this means affording them the opportunity to perform – in front of a live audience.  Over the summer, we came up with a plan to allow for that opportunity.  It involves cooperation from everyone involved, from the actors and director to the stage manager and technicians.  It includes our college security and maintenance personnel, and our faculty and administrators.  And it includes our audience.  Our success relies on everyone doing their part to follow the guidelines we have set to seat a limited number of people in the theatre and keep them at a safe distance from each other and the stage.  To continue to wear masks inside the building to ensure the safety of everyone sharing the space.  And to follow the instructions for entering and exiting the theatre.  If everyone does their part, we will continue to find ways to present live theatre, to train our students, and to provide an escape and maybe even a little hope for everyone.  Thank you for coming.  Thank you for understanding.  Enjoy the show.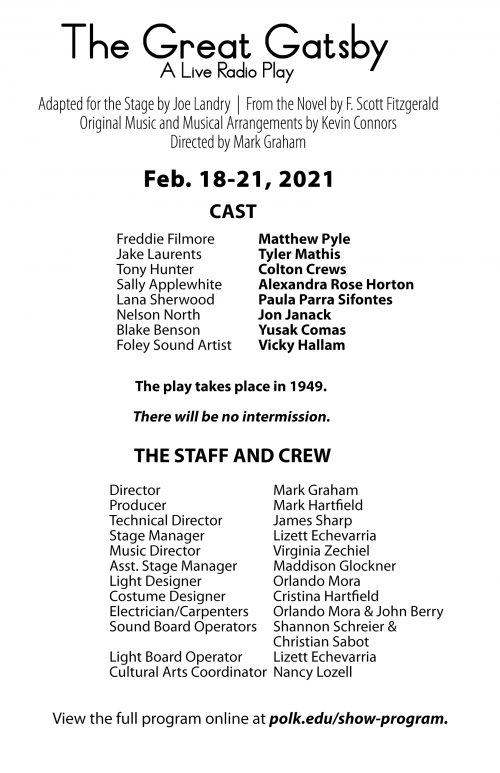 A note from the Producer:
It should come as no surprise that radio drama has made a real comeback in the past year.  With people stuck at home and live theatre shut down, many actors have found a place to work recording plays and re-creating radio broadcasts from the 1930's and 40's – the "Golden Age of Radio".  But part of the fun of those old radio shows was that they were broadcast "live" before a studio audience.  The audience at home got to experience whatever happened in the theatre or studio in real time.  The audience in the theatre got to participate in the production with their laughter and applause which added to the overall experience.  So, here at Polk State Theatre we decided to give our audience a taste of what it might be like to be in that studio during those broadcasts.  To get to see a few actors play many characters and a "Foley" artist create the background sound-effects that help to tell the story.  You may need to close your eyes from time to time to get the full experience.  And we found a wonderful story to tell in Joe Landry's original adaptation of The Great Gatsby by F. Scott Fitzgerald.  We hope you enjoy your trip into the past and thank you for joining us here at Polk State Theatre!