50 Years Of Theatre: Six Things You Didn't Know About Theatre Program Coordinator Mark Hartfield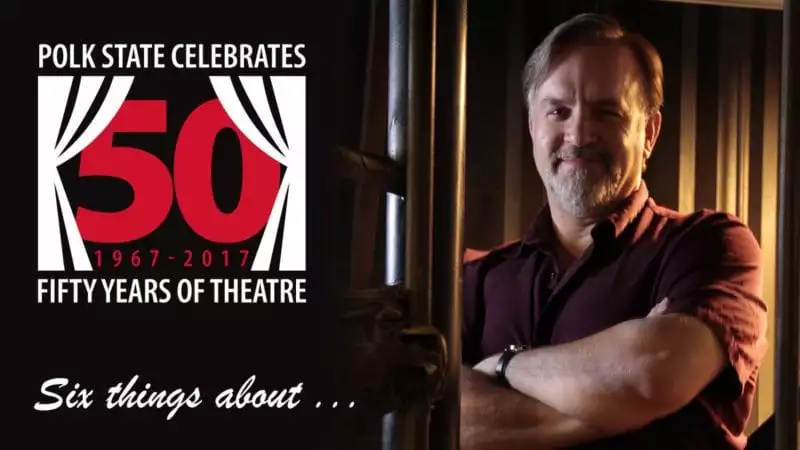 For 50 years, Polk State College has been bringing the arts to life through dynamic and innovative theatre productions.
Since its inception, the Polk State Theatre Program has been growing and staging increasingly complex performances. The faculty-led program performs a challenging slate of shows, from classic comedies to Shakespearean dramas.
This season, Mark Hartfield, Professor of Theater, has assumed the reigns as the Theatre Program Coordinator.
In this role, Hartfield is responsible for all theatre productions, several classes, and building community engagement in arts programming at Polk State. He is certain to propel the program toward 50 more years of success.
With a career spanning more than 30 years and including a variety of theatre productions, theme park entertainment, computer networking, and working with actresses such as Debra Messing, Hartfield brings a diverse skillset and broad array of experience to the College.
He attended Wheaton College and earned abachelor's degree in Speech Communications. He received a Master of Fine Arts from Brandeis University, where he honed his "stage fighting" skills. It is there that he became an expert in swords, knives, and all manner of stage combat.
But Hartfield brings far more to the the Polk State Theater Program. Here is a look behind the scenes at his surprisingly "drama-free" life off the stage.
Hartfield served as the inaugural show director and opened the Universal Islands of Adventure Theme Park in 1999.
Universal Islands of Adventure Park opened in May 1999, but months of work were required prior to the grand opening. As show director, Hartfield was responsible for the casting, staging, costuming, choreography, and production of three massive stage shows that would be performed seven days a week, 365 days a year. Not only did he have to prepare each show's production for the park's opening, he was also the lead, ensuring that each show ran smoothly for the daily entertainment of the thousands of park visitors. His initial shows were "The Voyages of Sinbad," "Poseidon's Fury," and "Pandemonium Cartoon Circus," which was a circus show performed live within a 2,000-seat amphitheater.
He was an Eagle Scout.
Growing up in the wilds of Minnesota, Hartfield traveled extensively through Minnesota and Canada, hiking and essentially surviving by his wits in the mountains. During his Boy Scout days, he attended several survival camps in Ely, Minnesota, where students and campers were exposed to primitive living and survival skills. Classes taught students how to exist, persist, and even thrive with essentially no modern tools or conveniences. As well, Hartfield gained knowledge in igloo building (and how to live in one), Boreal Black Bears, glacial geology, and forest studies, just to name a few specialties.
This thespian is a diehard Minnesota Vikings fan.
Growing up in Rochester, Minnesota, made Hartfield a dedicated and passionate Vikings fan. During the fall season, when he is not rehearsing for his next theatrical gig, he is planted in front of the TV watching his beloved team.
He can sing, too.
Hartfield toured with the musical group Up With People in 1979. Formed in 1965, Up With People was created to inspire young people to make a difference in the world. The global organization brings people together through service and music, introducing students to international travel, service learning, leadership development, and the performing arts. As a member of the 1979 group, Hartfield had the great honor of performing in the  SuperBowl XIV halftime show.
He has served as an actor, director, choreographer, and even general manager during his theatrical experiences.
Hartfield has had the fortune to showcase his talents throughout Polk. He has directed and acted in shows with the Lakeland Community Theater. He also performed at Theatre Winter Haven, and served as its general manager from 1995 to 1997. Hartfield has performed in more than 150 shows throughout his career. He has also performed in the play "The Phantom of the Opera" and, his personal favorite,  "s," in which he played Javert.
He is a well-regarded fight direction choreographer.  
While attending Brandeis University, Hartfield enrolled in a swords and fighting experience course. He became so passionate about ensuring the safety of his fellow actors and crew that he focused more intently on this theatrical art. Shortly after college, he was asked to join a renaissance fair as the fight choreographer. Thereafter, he became the entertainment director and was asked to manage the company. His stunt, sword, and stage-violence work has earned him accolades and credits from around the theater industry. He is a highly regarded choreographer in this medium, even teaching Emmy-award winning actress Debra Messing the art of stage combat. Today, Hartfield is lauded as an expert in the craft.
The Polk State Theater Season opens with "Lend Me a Tenor" Thursday, Oct. 5, through Sunday, Oct. 8. For more information or to secure tickets for the 2017 Polk State Theatre Season, please visit https://www.polk.edu/the-arts/box-office/.