50 Years Of Theatre: 'Lend Me A Tenor' to Open Season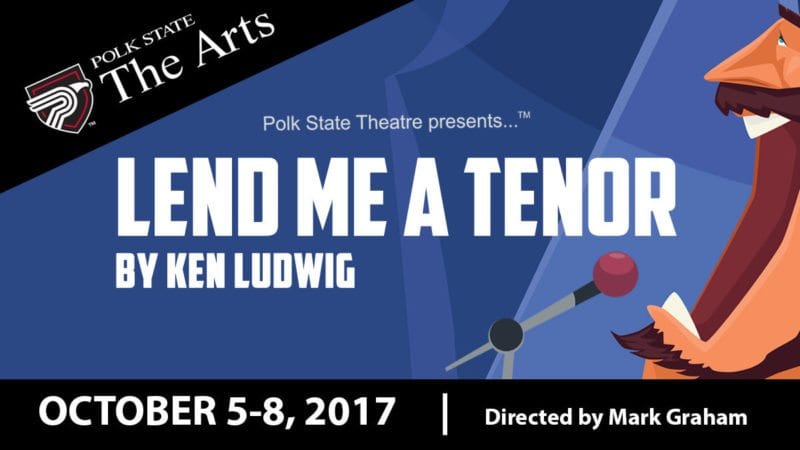 Polk State College continues to celebrate 50 years of theatre and is opening its theatre season next week with "Lend Me a Tenor."
The play, directed by Mark Graham, opens Thursday, Oct. 5, with performances through Sunday, Oct. 8, at the Winter Haven Campus Main Stage Theatre, 999 Ave. H N.E. Curtain time is 7:30 p.m. each day except for the Sunday matinee, which has a 2:30 p.m. curtain time.
Tickets for the general public are $5 each opening night and $10 each for the following performances. The box office opens one hour before curtain time. Seating is limited and it is recommended that reservations be made online at polk.edu/the-arts/box-office or by calling 863.297.1050. The performances are free for Polk State students, faculty, and staff.
"We are very excited to be celebrating 50 years of theatre at Polk State and would love for the community to come out and celebrate with us as we have had lots of community involvement throughout the years," Theatre Program Coordinator Mark Hartfield said.
"Lend Me a Tenor" is a comedy by Ken Ludwig set in 1934 Cleveland, Ohio. The world-famous Italian tenor, Tito Merelli, is set to perform as the star of "Otello" at the Cleveland Grand Opera Company when a mishap causes him to receive a double dose of tranquilizers. General Manager Henry Saunders and his assistant, Max – a nervous, young tenor – figure out a way to save the Opera Company's big night, but not before a series of comedic disasters.