Women of NIA: Participants expect to see more women in leadership positions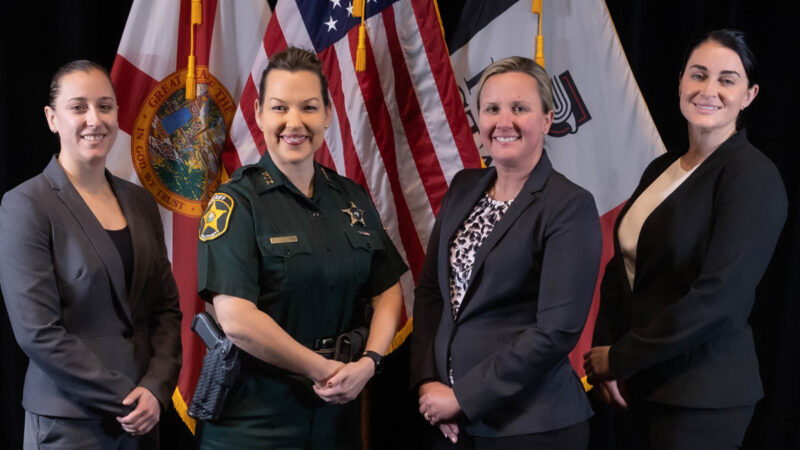 Although women make up just 12% of law enforcement officers and just 3% of law enforcement supervisors, the three female participants from the first National Public Safety Innovation Academy (NIA) cohort are confident that those numbers will continue to rise.
Those numbers are according to the 30×30 initiative – a coalition of police leaders, researchers, and professional organizations. The initiative aims to have women make up 30% of sworn personnel in the U.S. by 2030.
"I absolutely think it will continue to grow," said Lt. Kathleen Ela of the Orange County Sheriff's Office. "I think you'll see more rise through the ranks. There have been influential women in my career who have helped me get to where I am. It's important to see women rise. As we do, I hope we can motivate young women to do the same."
Ela, an 18-year law enforcement veteran and a supervisor for seven years, was one of two female captains to participate in the first NIA cohort along with Capt. Nikki Bosley of the Hillsborough County Sheriff's Office. Cpl. Christina Gurrola of the Caldwell Police Department, an agency with 80 sworn officers in Idaho, is one of two female supervisors.
"Ever since I've been in law enforcement, there has been a push for more women," said Gurrola, who has worked as an officer for 10 years, including three as a supervisor. "I feel like we have a good presence in our department."
NIA is an eight-week executive-level course that helps mid-level law enforcement and corrections personnel to take the next step in their careers. With three women participating in the first cohort, NIA had a higher representation of women (14%) than the law enforcement average.
"For me, the biggest thing has been learning what the next step in my career looks like," Gurrola said. "The most important thing I've learned is to take care of your people. The collaboration has been great. There's a wealth of knowledge and experience. We had a lot to learn from each other to take back to our agencies."
Takeaways
Over the duration of the STEM-based course, participants learn from nationally renowned subject matter experts on a number of topics to be able to craft innovative policies to direct and manage high-liability situations that leaders face in the modern world of criminal justice.
"The tools and knowledge we're being provided will make us better leaders within our agencies," Bosley said. "The presenters are excellent. They have searched nationwide for presenters and that has paid off."
One of three national command schools in the country, NIA challenges participants physically and mentally. The first cohort featured 21 total participants from Florida, Alaska, Texas, Virginia, Idaho, Michigan, Arizona, and Utah. Each of the three female participants arrived with the hope of becoming a better leader.
"My ultimate goal is to be an effective leader for my agency and create a positive environment not just within my agency but also within the community I serve," Bosley added. "This course is providing me with the skills and knowledge to do just that."
As trends and technology changes, NIA will evolve to meet the needs of leaders in the ever-changing world of criminal justice. To remain effective, Ela said agencies must be willing to constantly adapt.
"Our community expects that of us," she said. "We must continue to fulfill our obligations and the promises we made to our community. Everything is going to evolve. If we're not willing to stay at the forefront, we won't be able to stay ahead of the trends."
"Serving the public is our No. 1 priority," Bosley contended. "This program has identified the areas that we really need to pay attention to and focus on. All the topics are very relative to the law enforcement environment we're in today."
The eight-week NIA program is facilitated at Polk State College's state-of-the-art Center for Public Safety. Participants stay at Cabana Cottages in Auburndale – recognized as one of USA TODAY's 10Best Readers' Choice Awards for 2022.
"The first day when we took a tour of this facility, I was amazed at the resources at this college and what can be provided to the students," Bosley said. "It's very impressive what's here to further students' education. I would absolutely recommend the program to other law enforcement leaders. You will benefit from this program and learn something new on a daily basis that will make you better as a leader."
Bosley has worked in law enforcement for 15 years and has served as supervisor for five. She was promoted to captain less than a year ago but felt more equipped as she returned to her agency.
"The entire program has been eye-opening," Bosley said. "It's provided me with different opportunities and knowledge that will help me throughout the rest of my career."
The training not only benefits the participants who are prepared to adopt leading-edge strategies but also the communities they serve. The next cohort begins on Sept. 18. More information and registration is available at www.polk.edu/NIA.
"Programs like this are important for agencies to invest in their personnel," Ela added. "It's also an important networking opportunity that allows us to collaborate with other professionals from across the country. We can learn from one another and mimic what's successful."