U.S. Rep. Daniel Webster Visits Polk State to Discuss Federal Financial Aid, Other Issues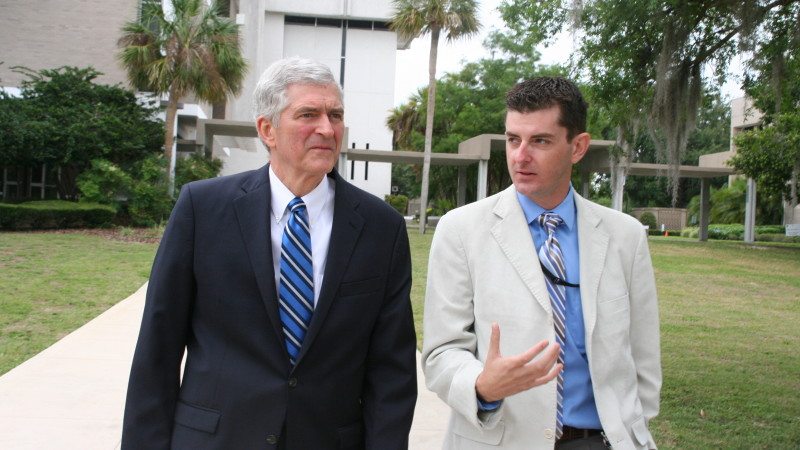 During his tour of Polk State Winter Haven on Monday, College officials gave U.S. Rep. Daniel Webster local perspective on national issues related to Pell Grant funding and veterans' benefits.
Webster, R-Orlando, began his morning by meeting with Polk State President Eileen Holden, Vice President of Administration and CFO Peter Elliott, Associate Vice President of Communications and Public Affairs David Steele, Student Financial Services Director Marcia Conliffe, Controller Teresa Vorous and student Ryan Darley.
College officials used the meeting as an opportunity to explain — in Polk State terms — the critical importance of Pell Grant funding. Ahead of a pending reauthorization of the Higher Education Act, which governs federal financial aid programs, much attention is being given to the Pell Grant system; Pell Grants are awarded based on financial need and do not have to be repaid. Lawmakers, as part of the reauthorization, are debating qualifications for Pell, award amounts and other details.
In her remarks to the congressman, Holden stressed the importance of protecting Pell Grant funding.
About half of all Polk State degree-seeking students — approximately 8,000 students — rely on Pell Grants to pay for their education.
"People in Polk County would not have access to higher education without Pell," Holden said.
For the $10 million the College received in Pell funding in fiscal year 2011-12, another $10 million was spent in the community, Conliffe said. Those dollars went to pay for everything from groceries to child care to transportation, shedding light on the financial challenges many Polk State students face in their pursuit of higher education.
Thanks to Pell funding, Polk State students are able to graduate and immediately begin to stoke the local economy, College officials explained.
The average student Pell award at Polk is $3,853 per year, which allows more than 80 percent of Polk State students to graduate without having to take on any student-loan debt. Meanwhile, Polk State's workforce-program graduates get jobs at the highest rate of any public college in Florida and make 16 percent more than Polk County's average annual wage.
College officials also told Rep. Webster of their frustrations in working with the U.S. Department of Veterans Affairs in processing education benefits.
The College is currently serving more than 400 veterans, but that number is growing at a rapid rate, Conliffe said.
"The commitment we have to veterans is incredible," Conliffe said, adding that the College is in the process of creating a service center specifically for veterans.
However, the College often runs into roadblocks in serving its veteran population, and much of the frustration is related to simply getting necessary information from the VA.
Elliott said an automated information sharing system between the VA and colleges would go a long way in helping meet students' needs.
"(The VA) passes on some information, but they need to pass more," Conliffe added.
Darley, an Army veteran who served two tours in Iraq, offered the student-veteran perspective on frustrations related to ubiquitous delays in the benefit award process.
"You hear that phrase — 'It's the VA' — all the time … it is so difficult dealing with the VA," he said.
"To see Polk State be proactive and want to do better for veterans, it's refreshing."
Webster said he recognizes the difficulties Polk State and other colleges face in working with the VA. He asked that Holden and her staff put together a list of information colleges commonly need from the VA to process veterans' educational benefits.
"If every community college could say 'here's the information (the VA) has and here's the information we need, now provide it,' we'd be on our way," Webster said.
Webster said he would lend congressional pressure in streamlining the information-sharing process between the VA and colleges.
In addition to talking Pell and VA, Webster also received an overview of Polk State's new internship program from Program Coordinator Lynn Chisholm. The program matches students with local businesses to create internship opportunities that are beneficial to students and employers.
Sophomore Sumer Allen, a resident of Winter Haven, on Monday began an internship with The Lakeland Center, a perfect complement to her aspirations of becoming an event coordinator. She shared with Webster her experiences with the program thus far, including working with the City of Lakeland to stage a leadership training event for employees.
Webster's decades-long political career began at the state level, where he served as Speaker of the Florida House and Senate Majority Leader. During his state political career, he was instrumental in establishing the 2+2 articulation program, which guarantees that students who complete an associate's degree at a community college will be admitted as a junior to one of the state's public universities. This experience gives him unique insight into the state's higher education system, including the 28-institution Florida College System, which includes Polk State.
Given his history, Webster said the opportunity to visit Polk State was particularly gratifying.
Because of their close ties with area employers — as evidenced by their workforce-targeted degrees and things like Polk State's internship program — Webster said community colleges play a pivotal role in the areas they serve.
"Universities can train certain people to do certain things, but it's not really a guarantee students are going to stay in the area," he said. "We turned to community colleges to fill local needs — and it's worked."
Webster also met with Winter Haven Provost Sharon Miller and ended his morning with a tour led by Darley, highlighting the College's Health Sciences programs, Fine Arts programs, Kenneth C. Thompson Institute of Public Safety, collegiate high schools and student life opportunities.