Polk State Lakeland Collegiate's top students get degrees for free in high school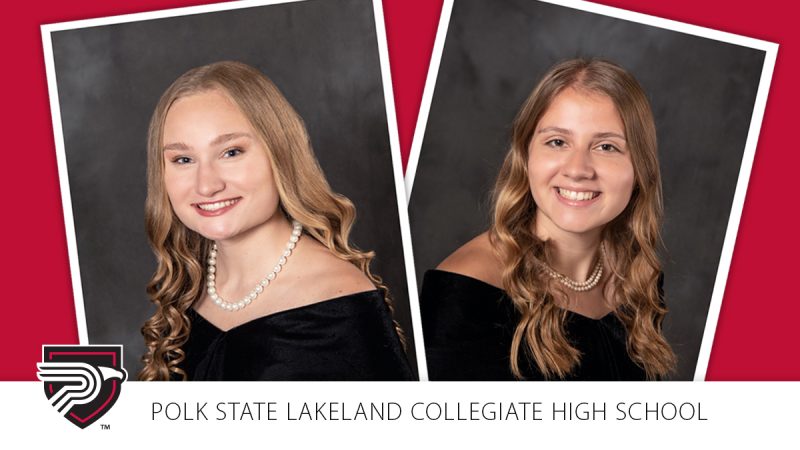 Taylor Rickey and Laura Burse each began their high school careers elsewhere. Now, they're leaving Polk State Lakeland Collegiate High School as valedictorian and salutatorian.
Rickey and Burse spent their first two high school years at McKeel Academy before spending their final two years at Lakeland Collegiate. Although their schools changed, their quest for excellence remained.
Rickey, the valedictorian, will graduate with a 4.73 grade-point average. Once she realized that graduating at the top of her class was a reality, Rickey made it her goal.
"Coming from McKeel, I didn't expect to come in and get such a high rank," she said. "After I learned I had a chance, I was motivated to be No. 1. It means a lot."
Burse, the salutatorian, found a way to balance work, school, and extracurricular activities. Before she took the stage as a high school graduate, Burse walked as a college graduate with a Bachelor of Science in Supervision and Management with a concentration in Business Administration.
"My whole high school career, I wanted to be either valedictorian or salutatorian," she said. "With the number of classes I was taking, I wasn't sure if I would be able to make it."
For Burse, life has been a juggling act, en route to finishing with a 4.72 GPA. During her high school career, she earned 121 college credits. She did so while working part-time and serving as a member of the National Honor Society and as secretary of the Student Government Association at Lakeland Collegiate.
"I maxed out on all the classes that I could take," Burse said. "It wouldn't have been possible without my mom and dad and all the support I've received. I had great friends and I relied on God."
A former cross country and tennis athlete at McKeel, Rickey served as a senior ambassador at Lakeland Collegiate. For her success, she has also credited her family and her friend, Eva Harris, who studied with her and kept her motivated.
"My parents really wanted me to succeed," Rickey said. "My parents have always done well and tried to do everything with excellence. I think they passed that along to me."
After graduating atop her class of 164 graduates, Rickey will attend Trevecca Nazarene University in Nashville, Tenn. Rickey hopes to major in psychology and minor in music. She wants to be a musical therapist, who helps in venues such as children's hospitals, hospice, or oncology centers. Her interest in psychology began when she took an Advanced Placement class at Polk State College in 10th grade.
"I grasped the information pretty quickly," she said. "That doesn't happen with all my classes. I had really good teachers and really enjoyed the classes at Polk State."
With a bachelor's degree already in hand, Burse will attend the University of Florida to pursue a master's degree in Mass Communications. She won't be making the trek to Gainesville, however.
The degree is offered completely online. Currently a cashier at Publix, Burse hopes to qualify for the company's tuition reimbursement program and one day work in its corporate office.
With the impact of COVID-19, much of Burse and Rickey's time at Polk State was spent in hybrid and online formats.
"It was pretty much all online my first year," Rickey said. "There were still opportunities to meet with teachers and students. It could have been really isolated, but the staff made the most of it. They really kept us together."
Burse had attended McKeel Academy since kindergarten and was initially leery about switching schools. In hindsight, she is happy she did.
"At first, I was hesitant to go to Polk State," Burse said. "The staff works really hard and is really helpful. I got four years of college for free and to me, it was completely worth it."