Students, faculty recognized for work on international award-winning archaeological dig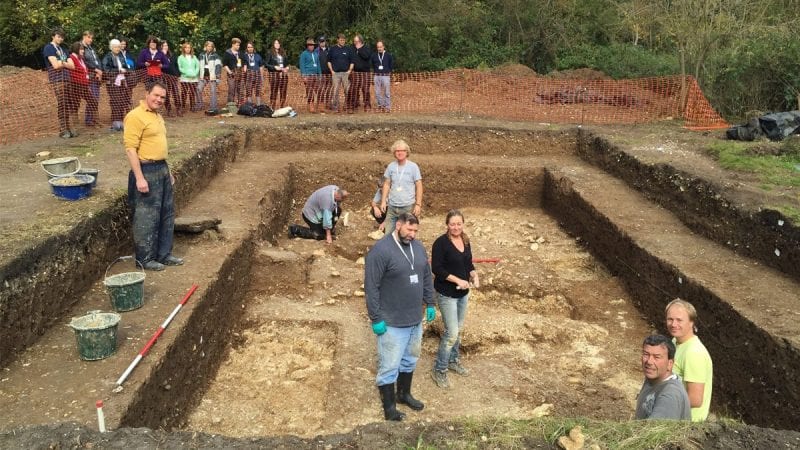 Polk State College students and faculty have received international recognition for their participation in the award-winning archaeological dig, Blick Mead, as they continue to unearth discoveries about the ancient civilization that once inhabited the site about a mile from Stonehenge some thousands of years ago.
The Center for Archaeological Research recently presented Blick Mead with the 2018 Research Project of the Year Award during a ceremony at the University of London, where Polk State Professor of Humanities Lance Russum was invited on stage for the recognition.
"The University of London is a prestigious place we hear about all the time in academia. Some people may think Polk State doesn't belong there, but our involvement in Blick Mead and the project's achievements clearly illustrate that we do," Russum said.
Polk State is the only American educational institution permitted on the Blick Mead site in Amesbury, England.
"There were some major research projects nominated and the team with the only Americans won," he added. "This gives Polk State a unique status among our local peers."
Since 2014, about 20 students, faculty, and community members have had the opportunity to study abroad and participate in the dig under the direction of David Jacques, a former Fulbright professor at Polk State who is now a professional research fellow in Archaeology at the University of Buckingham and director of the Blick Mead Project.
"There were some major research projects nominated and the team with the only Americans won. This gives Polk State a unique status among our local peers," Professor Lance Russum said.
Jacques explained that due to the relationships he developed during his time at Polk State, including those with Professor of English Dawn Taylor, Program Coordinator Kim Simpson, and Russum, he extended the invitation for a group of students to participate in the dig, which has uncovered significant information about life in Mesolithic Britain and evidence of the transition to a more Neolithic way of life.
"The University of Buckingham was keen for me to invite ivy-league students to work on the site," he said, "but my own instinct to encourage students from the community-college sector… and the Polk State group's ability to be positive and 'muck in' on and off site meant that I have been in a positive position to invite Polk State students and staff for all subsequent digs."
"The students, led by Lance and Kim, were outstanding on and off site when they came to Blick Mead," he added. "They were a credit to Polk State, the state of Florida, and America."
Polk State students and faculty have participated in a BBC documentary, interviews with the New York Times, and the team that found the oldest house and occupation layer in the Stonehenge landscape, Jacques said. At the last dig in October, they helped reveal the earliest recorded footprints dating back to 6,500 B.C.
They are also featured in a photo in Jacques's latest book, "Blick Mead: Exploring the 'first place' in the Stonehenge landscape: Archaeological excavations at Blick Mead, Amesbury, Wiltshire 2005-2016 (Studies in the British Mesolithic and Neolithic)," which acknowledges Polk State's contributions thus far to the project.
Russum called witnessing the opportunities Polk State students have as part of the dig the greatest part of the experience.
"It's the best feeling to see the look on students' faces when they are holding tools or pieces of art that haven't been touched in 5,000 years," he explained. "Watching our students do things that they never even dreamed they would have the opportunity to do – experiences that change their lives – is priceless."
Rachel Ford, a Community Development Manager for the American Cancer Society, who received her Associate in Arts degree from Polk State in 2014, said her study-abroad experience to Blick Mead certainly changed her life.
"I came back a different person; a more cultured person; a better, more well-rounded person," she said. "It was my first time traveling overseas, and it was a rewarding learning experience."
Ford has since traveled to 11 countries and received a bachelor's degree in History from the University of South Florida. She encourages students to take advantage of study-abroad opportunities.
"People may think Polk State is a small school where they don't have these kinds of opportunities, but the College offers life-changing experiences for its students," she said. "I never imagined I would have been digging up flint and tools from an ancient civilization. I never knew I would have had the ability to participate in such a significant project. But thanks to Polk State, I was able to leave my stamp on history."
Jacques has been graciously thankful to Polk State and the College's contributions to the project. In 2016, he held a lecture at the College to share the Blick Mead Project's discoveries firsthand, highlighting the positive outcomes of Polk State's partnership, including the College's sponsored carbon dating of wood found at the dig site that confirmed it is the oldest site in Britain, dating back to 2405-2155 B.C.
"This wouldn't have happened without my time here," Jacques said in 2016. "The time I had at Polk State gave me the opportunity to think outside of the box."
Russum echoed a similar sentiment.
"I wouldn't have this opportunity without Polk State," he said. "Thanks to the College and (Jacques), my peers and I are able to continue our research."
"Thanks to Polk State, I was able to leave my stamp on history," said Rachel Ford, who received her Polk State Associate in Arts degree in 2014.
Russum holds a doctorate degree in gender studies and is studying the role of women in the civilization that inhabited the Blick Mead site. He uses his findings and experiences as part of the dig team in his Humanities and Mythology classes, sharing artifacts and unseen pictures of the early Stonehenge landscape.
"For students, the experience is meaningful. They get to hold tools that have been in the ground for more than 5,000 years," he said. "They are awe struck, and it connects them to early days of the human narrative."
"These opportunities, made possible by Polk State, are invaluable for students, faculty, and members of the community."