Students Encouraged to Learn Canvas, Replacing PAL in Spring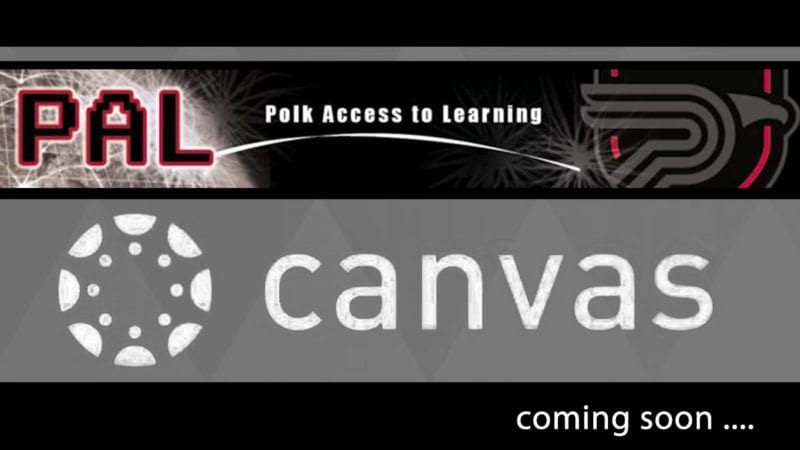 Starting spring 2018, students will no longer use PAL and will instead navigate their traditional, online, and hybrid courses by receiving course updates, submitting assignments, and communicating with professors through Canvas.
Students will gain access to their spring courses in Canvas six days before the start of the semester January 5, but now is the time to become familiar with the new learning management system, with Polk State College offering dozens of opportunities for students to learn new system and win some prizes.
Students can log in at canvas.polk.edu using the following information:
Username: My.polk.edu email address (i.e. if your email address is jdoe@my.polk.edu, then your username is jdoe@my.polk.edu).
Password: Student ID with the first letter capitalized.
If you have trouble logging in, contact the Student Help Desk at 863.298.6839 and select option No. 2.
Students are encouraged to complete Canvas orientation at canvas.polk.edu/courses/1662 and will be entered into a raffle to win prizes at Canvas events on November 29 in Lakeland and November 30 in Winter Haven.
Students also have the opportunity to attend a dozen student-led Canvas preview sessions. Attendance will be taken at each of the sessions and two raffle drawings will take place the weeks of November 13 and December 4 at both campuses for gift cards. Snacks will also be provided.
For a full list of times and locations, as well as more information on Canvas, visit polk.edu/distance-learning/canvas-news.
"Students will have a smooth transition to Canvas, with a mobile-friendly app, 24-7 help desk, and plenty of training opportunities leading up to the launch," said  Nathan Neuman, Director of Instructional Technology and eLearning.
Polk State has used PAL since 2004, but last year a taskforce stemming from the Distance Learning Committee recommended the College move to Canvas because the learning management system's easy-to-use interface and wide use at many Florida public institutions from K-12 schools to the State University System.
The State University System entered into an agreement with Canvas in April 2016 after faculty, students, and staff from all universities and several colleges tested and scored several options. The State University System decided to pursue a common learning management system after 65 percent of students in a survey reported using multiple platforms in the past three years, with almost half of those students reporting it created obstacles to learning.
"The transition to Canvas will benefit students who come to Polk State after using Canvas at their previous institutions, as well as when they transfer from Polk State because Canvas is so widely used elsewhere," Neuman said. "It will eliminate barriers that arise from moving from system to system by creating consistency with the online learning platform."