Soar Healthy Eagles helps hundreds of students fight hunger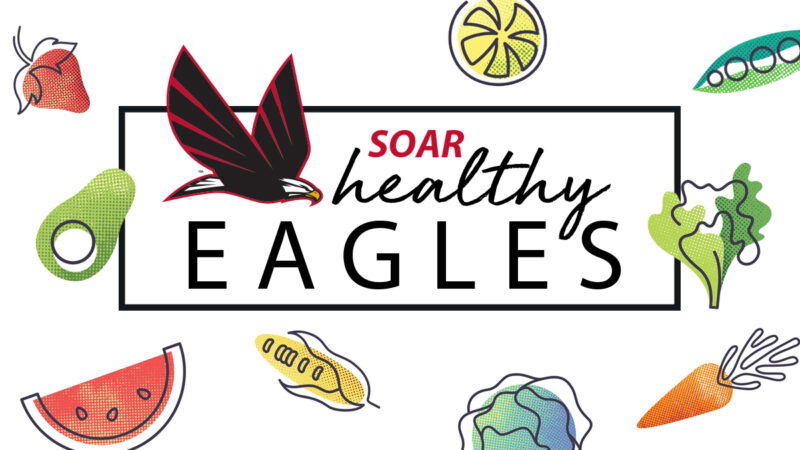 Approximately 40% of college students are facing food insecurity, according to a Temple University study. At Polk State College, there is a measure in place to combat this problem.
Soar Healthy Eagles is a subsidiary of My Brother's Keeper – a food pantry located on the Winter Haven Campus. In 2020, the College launched the program to not only help students fight hunger but give them healthier options. To help fund the program, the College received a five-year grant of more than $320,000 from the Florida Blue Foundation.
The goal of the program is to bring nutrition and wellness education to students and families who are food insecure. Natasha Mohamed, Program Specialist for Polk State's Student Activities and Leadership Office (SALO), said the program helps about 200 students each month.
"We run into every kind of student," Mohamed added. "We've had students sleeping on friends' couches to single moms."
Providing resources and educational supplements for the program have been community-based nonprofits such as the University of Florida-Institute of Food and Agriculture Sciences, United Way of Central Florida, and Feeding Tampa Bay among others. These organizations help by providing grocery bundles, gift cards, educational materials, recipes, and by hosting events such as food tastings and cooking demonstrations.
In addition to food, the program has also worked to provide items such as hygiene products, school supplies, clothing, and more. The program can help students with housing and with applying for benefits such as Florida's Supplemental Nutrition Assistance Program (SNAP).
"We've worked with Financial Aid to identify the number of students who really need these services," Mohamed noted. "It's been great to work behind the scenes. We're able to keep eliminating food security while keeping their confidentiality."
Soar Healthy Eagles sponsors at least one event per month on campus. The events are open to all students, but those enrolled in the Soar, Healthy Eagles program will have the first opportunity to register.
Those in need of the assistance that the program provides will first have to take a survey facilitated by the U.S. Department of Agriculture. Students who wish to take the survey or want to learn more should email salo@polk.edu, or visit My Brother's Keeper, which is located at WST-128 and open from 10 a.m. to 3 p.m. from Monday through Thursday. My Brother's Keeper also accepts donations, which help support the Soar Healthy Eagles program.
"It's been super successful, and it really makes a difference," Mohamed said of the program. "We've seen students come to us in tears and by the time they graduate, they're in a completely different situation in their lives."
Another resource for students facing food insecurity is the donation-dependent Polk State Pantry, located at LLC-2155A on the Lakeland Campus. The Pantry doesn't currently have set hours, but students in need can contact TLCC staff in person, or at 863.297.1044 or by emailing Kim DeRonda, Testing at Tutoring Manager at the TLCC, at kderonda@polk.edu.
"We hope to see a little more foot traffic in the fall," DeRonda said. "We have a lot of students who use every dime they have paying for and getting to classes. We'll continue to be a resource to help them get something in their stomachs before class or to help with feeding their families."