School Bus Driver Plans Move To Classroom With Bachelor's Degree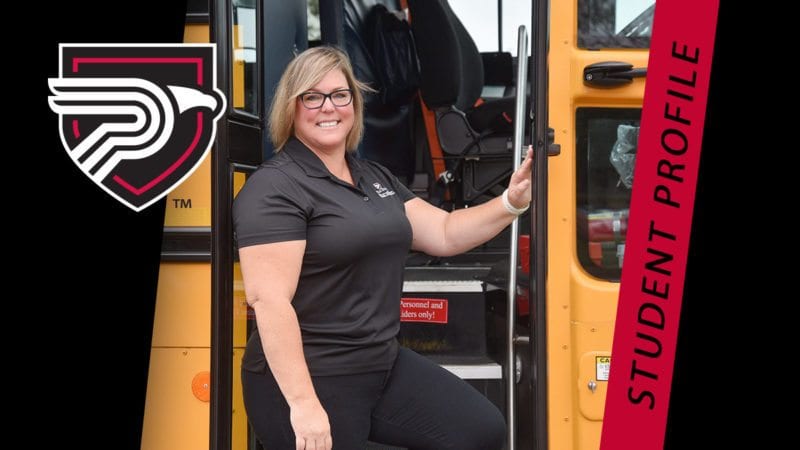 Toni Montoya gets on her Polk County Public Schools bus at 5:45 a.m. each weekday to begin the first of three routes, but when she drops her last students off at 8:30 a.m., Stambaugh Middle isn't the last school part of Montoya's commute.
She drives the big yellow school bus to Polk State College's Lakeland campus, where the 44-year-old takes courses in Elementary Education between routes.
"I'm back on the bus by 1:15 p.m. and on my way to Tenoroc High School to pick up students at 2 p.m.," Montoya said. "It takes a lot of preparation and prioritizing. Without Polk State and the ability for me to fit my classes into my work schedule, getting my education wouldn't be possible."
"Without Polk State and the ability for me to fit my classes into my work schedule, getting my education wouldn't be possible."
Montoya has been a bus driver with the Polk County School District for nine years, but her heart has always been in the classroom.
The Ohio native was an only child of divorced parents. At 6 years old, she moved to Central Florida, where her mother remarried and had three more children. When Montoya was in high school, her mother left the family and Montoya had to step up and be the caretaker for her siblings.
Then, she got pregnant. She gave birth during her senior year and dropped out of school to go to work full time to support her son. She started a retail job with a company she quickly moved up in and worked with for 12 years.
"Even in retail, where I worked in district training, my desire to teach trickled through," Montoya said. "It was a struggle for me when my mom left – not having that person there to teach me and pass down their knowledge – that I've always wanted to be that teacher for others who need it."
But being a mom came first for Montoya, who wouldn't return to school until 2014 after both of her children were out of high school. Montoya married her husband of 24 years and together they had a daughter.
"Being the best mom I can be is very important to me because of my background," Montoya said. "I always contemplated going back to school, but my children needed me. It could have been possible to do both, but I was always worried something would have to give."
She received her General Equivalency Diploma (GED) in 2008 in preparation for returning to school.
Montoya enrolled at Polk State in 2014 and received her Associate in Arts in 2016 – the year Polk State started its Bachelor of Science in Elementary Education and Bachelor of Science in Early Childhood Education.
The need for access to local, affordable Education degree options increased in 2012, when the University of South Florida left Polk County. Today, Polk State is the only public post-secondary institution in Polk County offering state-approved teacher education preparation programs.
"I enrolled at Polk State wanting to do a bachelor's program, but at the time it was on hold because of legislation," Montoya said. "It's almost like it was meant to be with the Education baccalaureates being approved just in time for me to enroll."
Montoya will graduate in August 2018 with the program's first cohort of baccalaureate students.
And thanks to Federal Student Aid and Montoya's ability to continue working while she completes her degree, she plans to graduate debt free.
In the meantime, time management is everything for the full-time bus driver and student. In addition to taking classes between her routes, she also takes a class Wednesday night.
"My evenings are otherwise open for doing homework and for being a mom and wife," she said.
But because she's responsible for transporting "precious cargo," she also has to prioritize when she is able to study and do homework.
"I can't be up all night doing homework like a typical college student – I have to be alert in the morning and ready to drive my kids," Montoya said.
Halfway through the baccalaureate program, Montoya says things are going smoothly.
She didn't realize how intricate elementary education is, she said, but she is certain that Polk State is preparing her for a successful career.
"I'm learning different content and techniques on how to deliver that content," Montoya said. "I'm getting all of the tools I need to be successful – for my future students to be successful."
Polk State's Education programs have built-in measurements for state-mandated standards that were developed in collaboration with Polk County Public Schools to create graduates who are prepared to successfully lead classrooms.
Montoya plans to work for the Polk County School District.
"Polk State is making my life-long dream a reality," Montoya said. "It was scary to go back to an institution to learn after 20+ years, but Polk State took the fear away."