Polk Wins Statewide Competition for Efforts to Unite Educational Institutions, Manufacturing Industry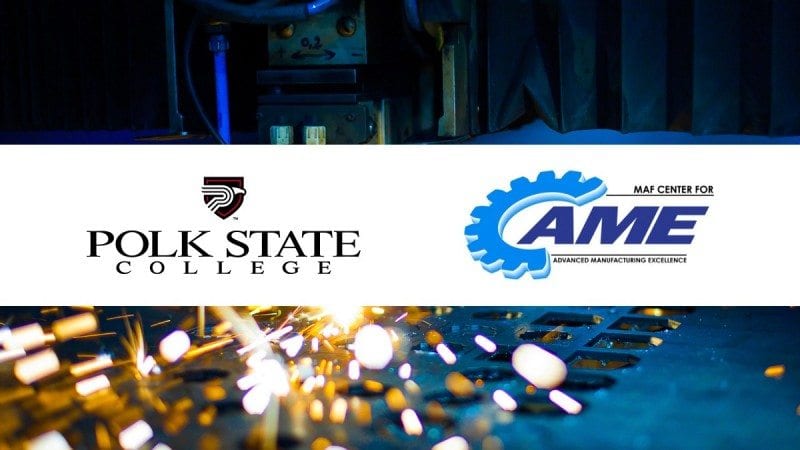 Polk State College has garnered statewide recognition for an innovative approach to manufacturing education that brings schools and employers to the same table.
Earlier this year, the MAF Center for Advanced Manufacturing Excellence, a Tallahassee-based nonprofit that facilitates the development of a more highly skilled manufacturing workforce, announced a statewide competition for schools involved in manufacturing education.
Schools were invited to submit their best practices in the categories of Engaging Faculty, Outreach and Recruitment of Manufacturers and Students, and Manufacturing Programs.
Eighteen applicants were culled to a half-dozen semifinalist schools.
The competition culminated in late May, when the semifinalist schools gave presentations during the state's STEM Manufacturing Forum in Orlando.
Based on its application and presentation, Polk State College won first place for Outreach and Recruitment of Manufacturers and Students.
In vying for the award, Polk State highlighted the Polk Engineering Technologies Education Council (PETEC). Spearheaded by Polk State, PETEC brings together representatives from the local manufacturing industry, several Polk County high schools, Ridge and Traviss career centers, agencies involved in economic and workforce development, and the College.
PETEC allows for better collaboration between education and industry, and is aimed at deepening student engagement through exposure to manufacturing employers. 
"Nobody else in the country is doing a shared advisory council like this," said Eric Roe, director of applied technology at the College. "It lets us look at the county as a whole and make sure that our programs are preparing students at all levels for careers in engineering and manufacturing, and that we're meeting industry needs."
PETEC is just one example of Polk State's efforts to remove the "silos" in manufacturing training. Another example is the College's ETAM (Engineering Technology and Advanced Manufacturing) initiative, which allows workers to earn nationally recognized industry certifications and apply that work to college degrees, if they choose. Polk has received state and national recognition for that effort as well. 
For its first place win in the MAF Center competition, the College receives $1,000 for student scholarships.
Polk State's Engineering Technology associate's degree prepares students for employment and provides additional training in advanced manufacturing and high-tech industries. Polk State also houses the Manufacturing Talent Development Institute, a statewide resource that develops industry-driven training strategies, educational programs and certifications for the advanced manufacturing industry.