Polk State Wins National Recognition for Manufacturing Training Program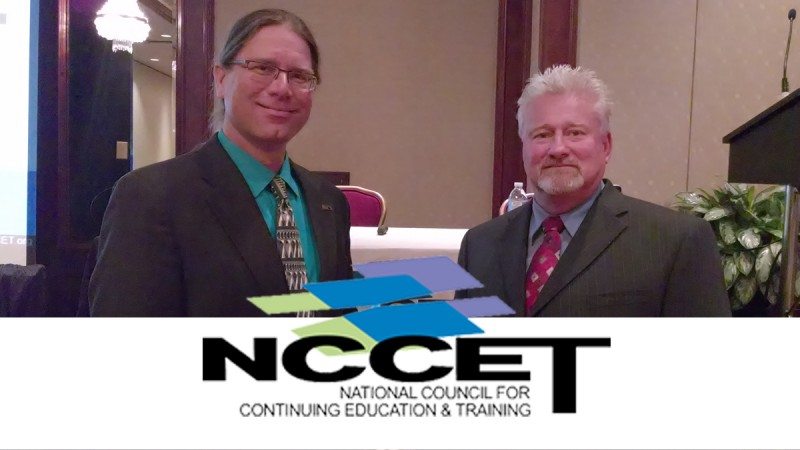 Polk State College has won national recognition for its work to provide the manufacturing industry with a more highly trained workforce.
Earlier this month, the College received the Exemplary Program Award for Workforce & Economic Development from the National Council for Continuing Education & Training (NCCET). Receiving the award on the College's behalf at the NCCET's Annual Conference in Baltimore earlier this month were Director of Applied Technology Eric Roe and Engineering Technology and Advanced Manufacturing (ETAM) Program Manager Howard Drake.
The College was one of four winners selected from nearly 30 proposals submitted nationally.
"The purpose of the NCCET's Exemplary Program Award is to recognize outstanding programs that impact a college's community and that are sustainable, innovative and replicable," said Kirk White, president of the NCCET.
The College received the award for its ETAM initiative, developed with a $2.91 million grant from the U.S. Department of Labor.
ETAM, a partnership between the College, Tallahassee Community College and State College of Florida, created a system of manufacturing training that prepares workers to earn nationally recognized industry certifications — and college degrees, too, if they choose.
"We were able to bridge the credit side of the college with the non-credit side to meet industry needs," Roe said. "The novel thing is we really brought down the idea of 'this is my service area, we can't work together.' We created a way for the three colleges to collaboratively build the workforce the state needs."
By gaining industry certifications — from entry-level to the most advanced areas of manufacturing —workers are able to gain employment and be promoted within the manufacturing workforce.
Manufacturers — both here within the county and state, as well as across the country — are clamoring for more highly trained workers, like those ETAM produces.
A 2011 study from the Manufacturing Institute and Deloitte showed American manufacturing companies couldn't fill as many as 600,000 skilled positions because of a lack of qualified candidates.
Here in Polk County, the need for trained manufacturing workers is especially acute; according to The Brookings Institution, Polk County ranks fourth in the nation in the percentage of manufacturing jobs compared to the total number of jobs.
As part of ETAM, workers may advance themselves even further, applying the work they do toward their earned certificates to the Associate in Science in Engineering Technology degree. With each certificate they earn, they receive more college credit.
After earning their degrees, the workers are prepared for higher-level positions within advanced manufacturing, benefitting not only themselves personally, but also employers clamoring for a more highly trained workforce.
The partner colleges developed a shared curriculum and purchased common equipment to create the seamless training model.
As of June, ETAM had served 995 participants, with 288 having received their Certified Production Technician certificates, an entry-level qualification, 473 earning advanced certifications, and 45 earning their AS degrees. Nearly 250 workers have gained employment or promotions because of their training through ETAM.
ETAM has since served as a model for broader statewide training initiative involving a 12-college consortium.
Polk State's Engineering Technology associate's degree prepares students for employment and provides additional training in advanced manufacturing and high- technology industries. Polk State also houses the Manufacturing Talent Development Institute, a statewide resource that develops industry-driven training strategies, educational programs and certifications for the advanced manufacturing industry.