Polk's Top Grads: Polk State Chain of Lakes Salutatorian to Study Biology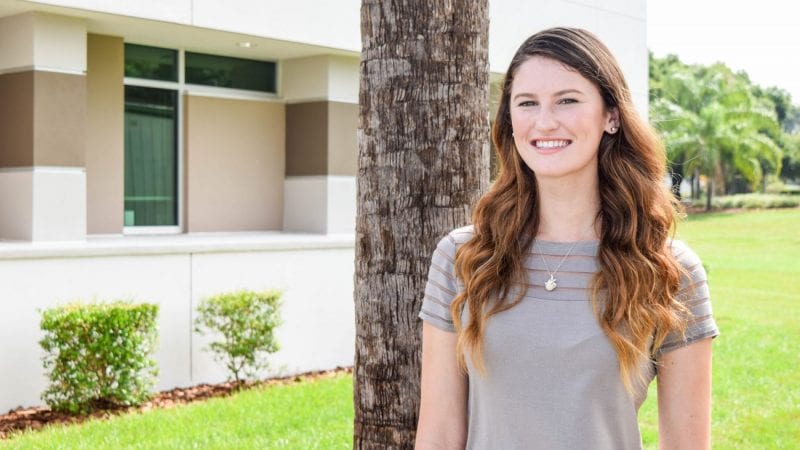 If all goes according to plan for Polk State Chain of Lakes Collegiate High School's 2016 salutatorian, she'll soon be known as Dr. Whiting.
Whiting, a resident of Winter Haven, graduated June 3, with her class's second-highest grade-point average of 4.636. Whiting also completed her Associate in Arts degree while studying at the high school.
This fall, she will continue her education at the University of South Florida, where she will major in cell and molecular biology. Ultimately, she plans to become a physician.
As she moves forward, Whiting is also taking a moment to look back and appreciate the preparation for university-level studies she received while attending Polk State.
At Polk State Chain of Lakes Collegiate, Whiting said she was surrounded by students who were focused on getting a jumpstart on their college degrees. She thrived in that environment and even had the chance to explore her intended career. Whiting was active with the school's chapter of HOSA (Health Occupations Students of America). In 2015, she competed at the state level in HOSA's biomedical debate event.
"HOSA was great for networking opportunities with others who had the same interests," she said.
Whiting also said that studying at Polk State Chain of Lakes Collegiate allowed her to read and research healthcare topics that piqued her curiosity – and she has no doubt that because of this, she'll be more prepared when she begins her studies at USF.
As for incoming Polk State Chain of Lakes Collegiate students, Whiting said:
"It's very important to set aside daily hours for assignments. Once you know you can do things on your own, you'll be fine."
Polk State College operates three public charter high schools, including Polk State Chain of Lakes Collegiate in Winter Haven, Polk State Lakeland Gateway to College Collegiate, and Polk State Lakeland Collegiate. All three high schools allow students to fulfill requirements for their diplomas while also earning college credits.