Polk's Associate Dean of Student Services Yulonda Bell Has Built a Career on Putting Students First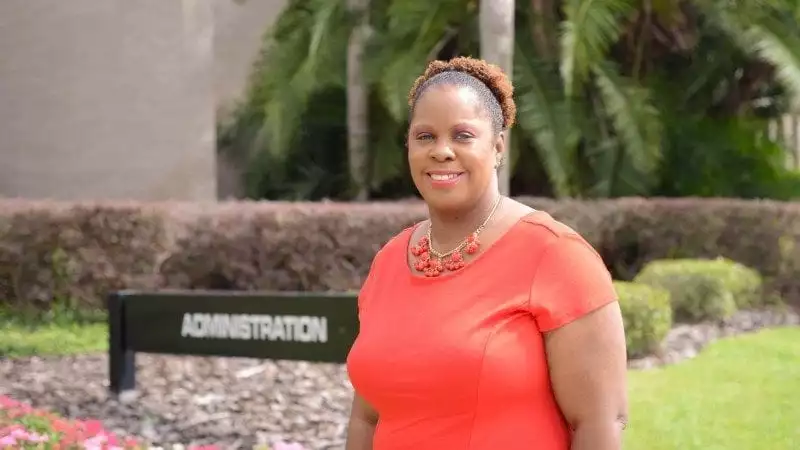 It's a weekday morning and Yulonda Bell has agreed to be interviewed about her new position as Polk State Winter Haven's associate dean of student services.
But sitting down and talking about herself — frankly, she has more important things to do.
"I have a mom on the phone who has some questions about her daughter's financial aid status. Just wait a few minutes," Bell says as she hurries out the door.
It's that selfless dedication to students — who has time to be interviewed when there's a FAFSA in limbo? — that has carried Bell through her 16-year rise at Polk State College and will serve her well in her new job, which she began Sept. 29.
"Yulonda loves Polk State College, but most of all, she loves serving students," said Polk State Winter Haven Dean of Student Services Saul Reyes. "She is very steady in her service to students; she never wavers. She is also very calm and kind, and I think students know that when she says she's going to help them, she really will."
As careers — and lives, for that matter — have a way of doing, Bell's took twists and turns that must have seemed random at the time, but that all led her to where she is today.
She was born and raised in Bartow. Her father worked in the phosphate mines. Her mother worked as an administrative assistant for an insurance company.
"I had a typical childhood. My parents worked. We didn't have a lot of money, but we had enough, and we had each other," Bell said.
Growing up, Bell and her brother often played school, and it was in those early games that her interest in education first emerged.
"I was always the teacher," she said. "At Sunday school, I watched my teachers and learned a lot from them, and knew immediately I was going to be a teacher. I just felt like I had something to teach people."
Bell's interest in teaching was reinforced through her school years, especially by her senior English teacher and guidance counselor at Bartow High School.
"They saw potential in me and knew I was going to make something out of my life," she said.
By the time she graduated from high school, Bell was already a mother to a young son. She got her diploma and went right to work providing for her baby.
Her first job in education was as a paraprofessional at a Bartow elementary school, where she was often assigned to work with students sent to in-school suspension.
"I would just sit with them and talk to them. I took an interest in what was going on with them," Bell said.
Bell eventually left the public school system to take a job as an administrative assistant for what is now called the state's Department of Children and Families. This move meant detouring from her interest in education, but also a bigger salary for her son and the chance to help children in a totally new way.
"I got to see abuse from a different perspective," Bell said. "At the school, I had seen the behavior that often results from trouble at home. When I left (for the administrative assistant position), I saw kids who were being abused, but from a different side. I would often clean them up after they came to us. I would give them hugs and try to tell them it would be OK."
In 1998, Bell joined the staff at Polk as an administrative assistant for the Health Sciences programs. Here she found a place to grow, and a place where she could return to her interest in education.
"Not only had I worked with children who came from less-than-ideal circumstances, but being a single mom myself, and being a nontraditional student, I've been able to relate to many of our students in very personal ways," Bell said.
"Many of them are facing big challenges, either with previous academic trouble, or with trying to juggle school and families. I understand those things."
As she advanced — from administrative assistant, to assistant registrar at Polk State Lakeland, to her most recent promotion — Bell said she found students were really looking for only one thing: "They just want someone to listen to them," she said. "Having someone listen, and maybe getting a little advice, can carry them a long way."
While she was listening to students and climbing the ranks at Polk State, Bell was also advancing her own education.
She received her Associate in Arts degree from Polk, and continued on to Warner University for her bachelor's degree in organizational management and Webster University for her master's in management and leadership.
In attaining her degrees, Bell became the first in her family to graduate from college. The younger of her two sons, Deonté, is following her example as a student in Polk's Bachelor of Applied Science in Business Administration.
In her new position, Bell replaces Sylvester Little, who was recently named dean of student services at the Lakeland campus. Bell oversees four academic advisers and a student services specialist.
Though her career didn't take her where she thought she wanted to go, it has led her right where she wants to be — to a position where she can make a difference for the students who come to her for help.
"In my current position, I help students, and I believe I help more students than I would in the classroom. I see different students all day, every day, and I get to contribute to their success," said Bell.
"My staff and I are here for students. We're here to listen. We're here to help them get past whatever obstacles they're facing. We're here to help them be successful. I can't imagine a better job."
At Polk State Winter Haven, Bell's office is located in WAD 176.