Polk Dean Focused on Accessibility: "We Have to Help Students See Themselves Here"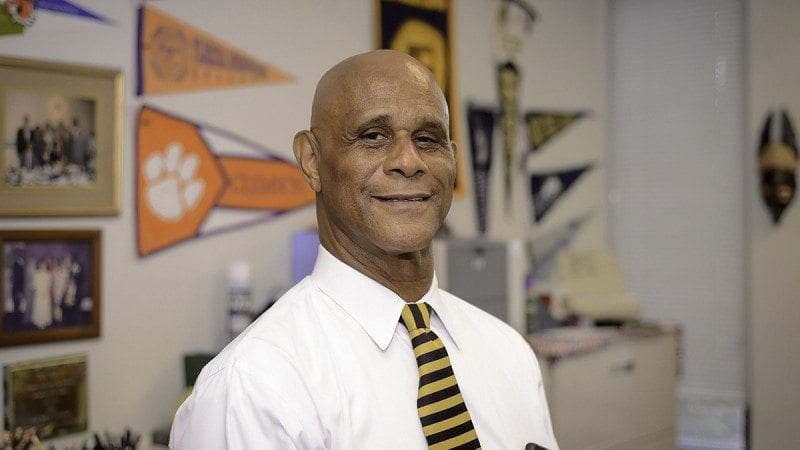 For Polk State's Sylvester Little, education — literally overnight — saved him from poverty.
In the decades since, he's helped countless students believe in their own potential, achieve their goals, and transform their lives.
He'll continue that work — and take it to new levels — as Polk State Lakeland's dean of student services.
He starts July 1.
"Everything I do is about pulling education off the top shelf, handing it to the students, and helping them understand that it really is achievable," said Little, 57, a Lakeland native.
"I had a few key educators in my life who did that for me, and it made all the difference."
In his new role, Little will oversee all student services functions on the Lakeland campus, from financial aid to admissions. He will report to Polk State Lakeland Provost Steve Hull.
"We are extremely pleased to have Sylvester Little as our new dean of student services on the Lakeland campus," Hull said. "His 25-plus years of experience in student services will allow him to hit the ground running. Sylvester's passion for student success will also serve him very well in his new position."
Little's passion for helping students succeed is certainly inspired by his own odds-defying, education-driven rise.
He grew up about as poor as anyone can imagine. His home was a public housing unit in the former Washington Park on North Florida Avenue in Lakeland. His mother, Gurdie Mae cleaned other people's much nicer houses to support her eight children.
But the household, poor as it was, and as hopeless as it must have seemed at times, was never without discipline.
Every afternoon, while his mother was working, neighbors watched the apartment, making sure all eight kids stayed safely inside. Every afternoon, just as their mom directed, the children gathered together to do their homework. Some were practicing the alphabet while others were writing essays. Some were just starting to add while others were mastering long division. No matter, they studied together, and together they got to the next chapter of the text, the next skill level.
Three days a week, after their homework, the boys had to rake the yard — even if there were no leaves.
"Sometimes, we'd try to get away with not raking, but she'd come out and look for the lines in the patches of sand where the grass didn't grow," Little said. "She'd always know if we hadn't done our job. We had the nicest yard, but really it was about occupying our time so we stayed out of trouble."
Other days, the children had to run errands or do jobs for their neighbors.
"It was how we repaid the neighbors for watching over our apartment every afternoon," Little said. "But it also taught us about volunteerism and community."
His mother's emphasis on education, discipline and hard work paid off child-by-child. Little's siblings went off to college, all on athletic scholarships, becoming a corporate accountant, teachers, even a deputy school superintendent.
Comparatively, Little lagged. He was an average student. A handful of teachers — Latha Speed in the first grade, Pearl Joel in the fourth — saw his potential. Others thought his tendency to speak his mind was disruptive and were quick to send him to the principal's office.
"I was labeled pretty early on as being challenging, or the class clown, or a smart alec, or sometimes a problem child," said Little, who also names former Lakeland Junior High School Principal and Polk State trustee Neriah Roberts and former Polk State Director of Counseling Ulyssess Johnson as key influences.  
While attending Lakeland High School, Little completed a vocational program in graphic arts and printing. After graduating, he had a good job, his mother kept reminding him that if he really wanted out of the housing projects for good, he had to get an education.
"I was one of those kids who hated living in the projects. I cried about it. I wanted out of there," he said.
While working at a print shop, he enrolled at Polk State College, paying a neighbor $5 each day to drive him back and forth between Lakeland and Winter Haven.
"I really just came here to give it a try," he said. "I didn't really want to be here initially. But at some point, I got interested in deviant behavior. I had been labeled as a student who caused problems, and I wanted to learn more about why that was, and how counseling could help students like me."
Little stayed in school, graduating from Polk in 1977. He then earned a full-ride scholarship to Florida Southern College, a deal that came with a paid position in FSC's print shop and free housing.
"I was sleeping in the project one night and the next night, I was sleeping in the dorms at Florida Southern," said Little. "I left and never looked back."
He earned a bachelor's degree in sociology in 1979. He went on to work as a teacher, a mental health specialist, and a vocational instructor in the prison system before returning to Polk 27 years ago. Here, he began as a program manager, working his way up to his most recent position as associate dean of student services.
In his new job, Little, who also holds a master's from Nova Southeastern University, will be most focused on accessibility. He is especially interested in expanding online student services.
"We have to make sure we're delivering very student-centered, student-driven services," Little said.
"We have to help students see the institution and understand it. We have to make the institution more transparent. That's how we help students to see themselves here — to see a way out of their current circumstances. The first step to getting students to enroll is to help them believe that they can come to college and earn a degree."
On the Lakeland campus, Little's office will be located in LTB 1287.