Class Reunion: For Early African-American Employee, Polk Was an "Oasis"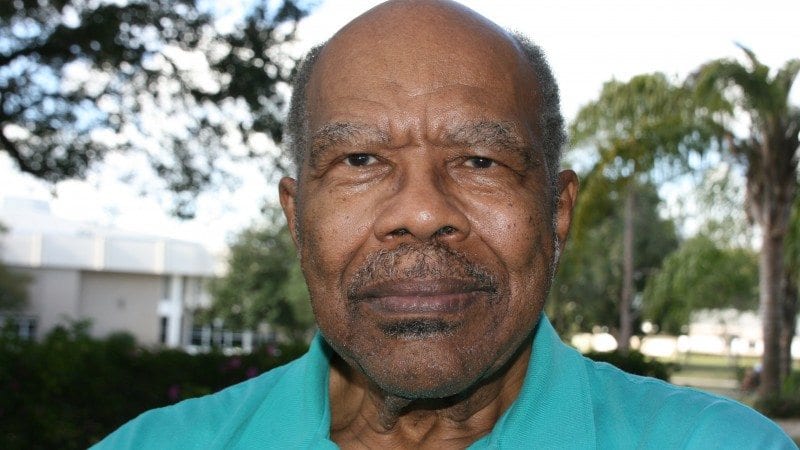 For Ulysses Johnson, Polk State College will always be an "oasis in the desert."
Johnson, 84, a lifelong resident of Winter Haven's predominately black Florence Villa neighborhood, grew up during segregation. He went to "black" schools, drank from "black" water fountains.
His parents worked a variety of menial jobs to send their children to college, but even for all their labor, Johnson had no choice but to attend a "black" institution. He earned his bachelor's degree in education from the historically black Fisk University in Tennessee, a master's degree in media services from the University of Denver, and a doctorate in Student Services from Tennessee Technological University.
Over the course of two generations, as he achieved the higher education that eluded so many of his childhood friends, Johnson watched as Polk State College transformed what it meant to be African-American in Polk County. The College brought newfound opportunities and an entirely new way of thinking about the future.
In 1969, Johnson went from just watching the College's impact to playing a part in it, when he was hired as a counselor, becoming one of its first African-American employees. He worked at the College for more than two decades, retiring in 1992.
Here, Johnson recounts just how dramatically Polk State College changed the lives of African-Americans in Polk County, and just how special it was to be part of making that change happen.
What made you decide to join the staff of what was then Polk Junior College?
At the time, Polk County's public schools were still segregated, and I was working at one of the black high schools in Lakeland. Polk Junior College had opened in 1964, and from the start it was integrated. My first interaction with the College was sending over transcripts, helping black students enroll in their local college. When I was working at the high-school level, I was the head counselor, but I was told that in 1969, when the public schools were going to integrate, I was going to have to go to a different school and become an assistant counselor. I found out Polk had an opening, and I decided I'd rather come here and be a part of this place than move backward by staying at the high-school level.
What were the feelings surrounding Polk Junior during those first years of operation?
It was one of the best things educationally to ever happen to this area. Founding President Fred Lenfestey believed that all groups of people could do the same things. So that's how he started the College out, as a place where anyone could come and have the same opportunities.
What did the College mean to the black community?
Colleges, at the time, were also segregated. I was born in Winter Haven. My dad fought in World War I, and he paid his taxes. My parents had four kids and always pushed us to go to college, but the nearest college we could attend was Bethune-Cookman University, which was 100 miles away, or Florida A & M University, more than 200 miles away. That was cost-prohibitive to most black families. There were kids I graduated with, whose minds were just as good as mine, but they never had the chance to go to college. When Polk State came, it was possible to get higher-education right here at home. That did something positive for the self-esteem of black residents. They had a way to make a better life for themselves and their families. It was a boost to the whole community. I always describe it as an "oasis in the desert" for the black residents because they got opportunities here they couldn't get anywhere else.
What were some of the changes you witnessed in the African-American community as a result of the College?
Black people were now able to get their education and get hired at businesses that previously were out of reach. There were people who had never had a job above maid, clerk, or chauffeur, and now they had education and were working in an office environment.
What did the College mean to your family?
When I was growing up, the schools were segregated, and going to college meant going to one of the "black" schools far away from home. By the time my granddaughter was in school, she was able to attend the integrated Winter Haven High School and earn college credits by dual enrolling at Polk State. She was a member of Phi Theta Kappa before she even graduated high school.
What was it like being one of the first African-American employees at the College?
I think it meant a lot to the students to see that someone who looked like them could get hired here. At first, there were people who didn't think I should be in that position just because I looked different from them. But over the years, the number of black employees expanded quickly. That showed the black students that they had a voice, and they had role models for where they could end up if they worked hard in the classroom. The black students saw that it really was possible to move up in the world if they got their education.
What's the first word that comes to mind when you think of Polk State?
Opportunity.
Polk State College opened its doors in 1964 to offer the students of Polk County accessible, affordable higher education. Since then, it has awarded nearly 40,000 degrees. Class Reunion is a recurring series to highlight the life-changing, generation-spanning difference Polk State has made in the lives of its graduates. Send your Class Reunion story suggestions to news@polk.edu.