Polk Mourns Loss of First President: Fred Lenfestey Remembered for Vision and Courage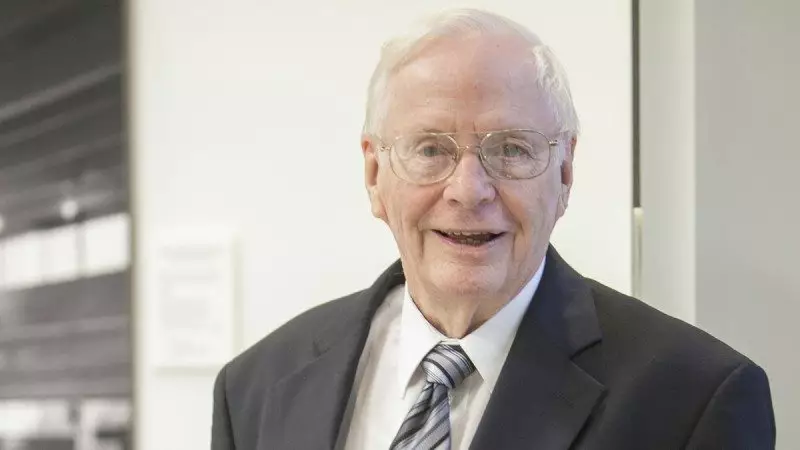 Frederick T. Lenfestey, Polk State College's founding president, who oversaw two decades of remarkable growth, and who even at the height of the country's civil rights struggles insisted the College be "color blind," died Wednesday. He was 92.
"We are all mourning the passing of President Lenfestey today," said Polk State President Eileen Holden.
"His leadership during his 18-year presidency, and his support after he retired, helped shape this institution into what it is today. He led with integrity and a strong commitment to academic excellence and student success. He meant so much to this place and to the tens of thousands of students it has served — even if he never met them personally, his impact certainly touched their lives. This is a very sad day."
Lenfestey was born in Tampa in 1920, and earned his first college degree in Mechanical Engineering from the University of Tampa. An Army veteran who served in the Battle of the Bulge and during the Korean War, he went on to earn master's and doctoral degrees in Education from the University of Florida.
His career in higher education initially took him across state lines, when he accepted a position as an associate professor in Georgia. However, it was in Florida that he emerged as a leader in higher education, serving as vice president of what was then Pensacola Junior College.
In 1964, he began his tenure as the first president of what was then Polk Junior College, having beaten out 40 other applicants from around the country for the job.
He took on the assignment with a simple, direct goal, as he recalled in a 1974 interview at the College:
"(School board members) asked when they employed me, 'What is your ambition? What do you hope to do ultimately?' And I am not sure whether I gave them the right answer … but I said, 'I know that you want me to say that my ambition is to become president of Harvard.' But I said, 'Right now, my ambition is to start up a fine institution in Polk County and beyond that, I have no ambition right now."
With that in mind, Lenfestey got straight to work, turning the grounds of the Bartow Army Air Base — where just a few years earlier Air Force pilots had trained — into the county's first source of public higher education. He and his faculty and staff had just eight months between his hiring and the first day of classes.
Holden said she has often thought back to the challenges her predecessor faced in building the College from nothing, and never fails to be amazed by what has grown from those humble beginnings.
"What most impressed me about President Lenfestey, from the first moment I had the opportunity to meet him, was his abiding passion for public higher education and his unshakable conviction that access to an affordable college degree would be a game-changer for the people and communities of Polk County. I have also been profoundly impacted by the legacy of his courage. It's hard for most of us to fully grasp the vision that was involved in 'starting up a college from scratch' at a time in which higher education was thought by many to be a luxury item," she said.
The key to getting the College off the ground, Lenfestey said years after it opened, was pure hard work:
"Because we had this kind of 'gung-ho' attitude, we managed to do things in short order that just never would have been done had it been done in a university framework of, 'Let's all get together and discuss it and have a scholarly philosophy before we really get at it,' Lenfestey recalled in the same 1974 interview, adding that some of the College's first employees worked nearly 24 hours a day to prepare for the opening, and one even slept on a cot in his office.
The efforts all paid off in September 1964, when Polk welcomed 1,107 students, nearly twice the number expected.
"It was kind of like opening a store and selling out on the first day," Lenfestey said in 1974.
From the start, Lenfestey insisted that Polk's open-access policy be taken in the most literal of terms — it would never deny education to anyone who sought it. Even as the country was embroiled in the civil rights movement, Polk became the first public institution in the county to be integrated.
"He and his colleagues here at the College understood that higher education wasn't a luxury — it was a necessity for our region," Holden said. "He was a pioneering advocate for the values of integrity and diversity we talk about today. He believed in 'access for all' at a time when that belief itself involved courage. Because of him and people like him, the College is a better place — and so are the communities we serve."
Polk opened and proceeded "on the basis of telling anybody that came out to enroll, if they met our minimum enrollment requirements, why then they can come in. We didn't stipulate any color of the skin," Lenfestey said in a 1975 interview.
In a 1989 interview, he recalled his admonition to the College's first faculty members: "You are color blind."
That early dedication to integration is perhaps best typified by a story Robert Henne recounted Thursday. Henne was one of the first faculty members hired at the College, and also its first athletic director.
Soon after the College was founded, it was invited to participate in a basketball tournament in Orlando, Henne said. However, none of the other teams were integrated, unlike Polk.
Henne took the situation to Lenfestey, who insisted that if all the players — even the one African-American — couldn't play, none of them would.
Organizers of the tournament, Henne said, reluctantly agreed to allow Polk to participate.
"To me that meant he was a good person, a good Christian, and he believed what he was doing was right," Henne said.
"He was trying to accommodate the entire community, and there were many African-Americans who needed the ability to go to a junior college. They couldn't afford a university. Polk was there for them."
Henne also recalled that Lenfestey once commented that integration within the athletic teams was more important than winning seasons.
Lenfestey's presidency was also marked by rapid growth. During his 18-year tenure, according to The Ledger, enrollment grew to nearly 6,000 students. The College also moved from its Air Base beginnings to a permanent campus in Winter Haven, and by the time Lenfestey retired, it was also holding classes in Lakeland. Planning for the Lakeland campus — now the College's largest — was also under way.
Lenfestey also oversaw the incorporation of the Polk State College Foundation in 1976.
Even as the College grew and served an ever-increasing enrollment, its first students cherished their interactions with Lenfestey, who always had time to stop, talk and listen to them.
"I was a member of the Student Government Association," said Dan Dorrell, vice chair of the College's District Board of Trustees and a member of its first graduating class. "I remember one night, he invited all the SGA officers over to his house for dinner. That was not something college presidents were known for typically doing.
"The impact he had on this community is as large as anybody has ever had, when you think of the thousands and thousands of students who have gone through Polk State."
Lenfestey retired from the College in 1982, saying at the time: "The College is in good financial shape, we have a good faculty and good administration. The only thing that is happening is that I'm getting older."
Even after his retirement, he continued to support and advocate for the College, and his name — which students and employees see every day on the exterior of the Winter Haven Student Center — will always be inextricably linked to Polk State and its impact in the community.
According to Lenfestey's obituary in The Ledger, Lenfestey's family asks that donations be made in his name to Good Shepherd Hospice.