Polk Students Still Reveling in Experiences at Stonehenge Archaeological Dig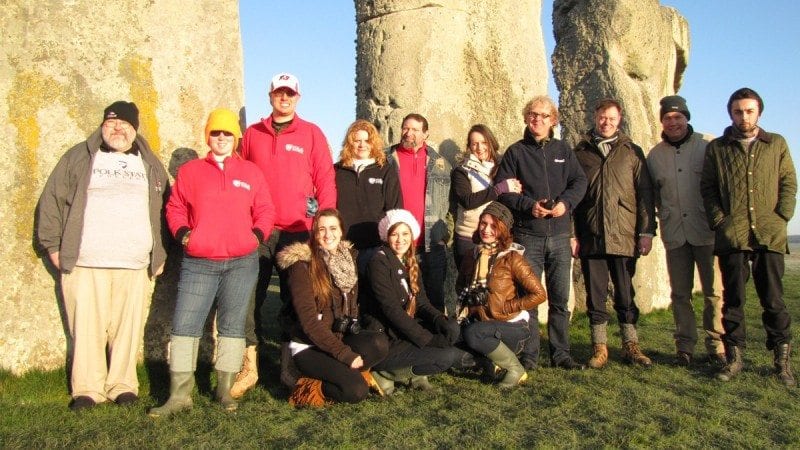 When Kimberly Myers was a little girl, she used to dig in her grandmother's gravel driveway and dream of one day becoming an archaeologist who would travel to far off lands in search of ancient artifacts.
Two decades later, with the help of Polk State College, Myers has lived that dream.
"I'm so thankful to the College for allowing me to take part in this experience," said Myers, a resident of Auburndale. 
"I got to really be part of history, not just witness it."
Earlier this spring, Myers and a handful of other students from the College, along with Biology Professor Logan Randolph and Humanities Professor Lance Russum, traveled to Amesbury, England.
Waiting for them on the other side of "the pond" was David Jacques.
Jacques was a Fulbright professor at Polk State in the 1990s. He is also a senior archaeology research fellow at the University of Buckingham and project director of an internationally significant dig site just a mile from Stonehenge, the prehistoric, mysterious and iconic monument in England.
In his career, Jacques has discovered the oldest settlement in the Stonehenge area and communities that were responsible for building the first monuments at Stonehenge.
This spring, for new perspective on his research, Jacques invited the group from Polk to join him at his dig site. He said his experience at the College through the Fulbright program was a big factor in involving Polk.
Polk State College is the only American institution that has been permitted at Jacques' dig site.
"I knew firsthand how interesting and interested the Polk State students would be, that many of them live real and full lives, which could only help to develop an academic line of inquiry in archaeology," Jacques wrote in an email to News@Polk.
"In archaeology, you often have to 'read' the culture of real people from the past through thinking about their use and choice of objects. I was sure that Polk students would be especially well placed to think about those things, and they were. They weren't over-awed by Stonehenge either. They got right in there and started to develop original ideas."
Myers, for instance, was able to shed new light on a hole in one artifact. The original presumption was that the hole was put in the piece after it was made. However, Myers, who has long studied art, and pottery in particular, took a closer look at the hole and determined that by its shape, it had to have been made before the pot was fired.
Therefore, if the hole was intentional, the artifact may have served an entirely different purpose than originally thought. 
"I went there expecting to shadow. I didn't expect to touch artifacts that are thousands of years old," Myers said. "But we were right there next to (Jacques and other researchers), finding things and thinking about how they were once used. When we had an idea, the researchers listened to what we had to say."
Myers added that even beyond her childhood imaginings, the trip took on personal significance. Her dad died a few years ago, and she wears a locket with his picture of it. During the trip, Jacques led the Polk State group on a walk from River Avon to Stonehenge, the same walk that thousands of years ago was made to mark the passing of life.
Making the walk is a rare opportunity.
"No one gets to do it," Myers said. "I just so happened to wear my locket on the trip, and I got to take part in this amazing opportunity to celebrate my dad."
The excitement continues for the Polk State students who participated in the Stonehenge trip. Just a few days ago, Jacques emailed Randolph with results from carbon dating conducted on artifacts found at the dig site that confirm it is the oldest site in Britain.
"It was really life-changing and a once-in-a-lifetime opportunity," said Cori Large, another student on the trip who also works at the College as an administrative assistant at the Winter Haven Learning Resources Building.
In response to the carbon-dating news, Large said:
"To hold Mesolithic artifacts in my bare hands was so unreal. I never thought that someone who grew up in Winter Haven, Fla., would have the chance to rewrite history."
Large said she is combining her Stonehenge experience with her work in the College's Winter Haven Library to build a special collection on the monument.
At Jacques invitation, Polk State is exploring a return trip to England in October, when the next dig is scheduled.
"I am sure that any students who come on the digs in the future will learn something about the United Kingdom that they weren't expecting to learn, that they will discover skills and ways of seeing that they couldn't have dreamed of discovering on a dig, and that they will learn something about themselves," he wrote in his email.
Students or members of the community who are interested in participating in a Stonehenge trip should contact Kim Simpson, program coordinator, at 863.669.4917 or ksimpson@polk.edu.
Polk State is offering students an increasing number of international study options. Recent trips have included South Africa, the Bahamas and Europe.