Polk State's Top Grads: Inspired by Robotics Project, Chain of Lakes Valedictorian to Study Engineering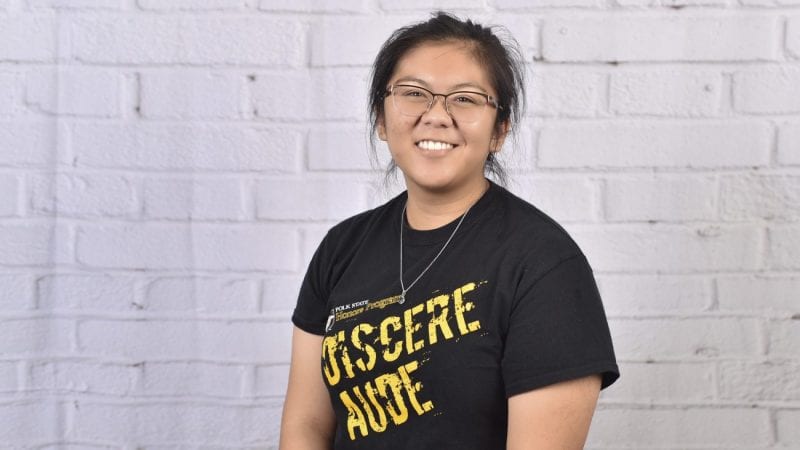 Polk State Chain of Lakes Collegiate High School's 2016 valedictorian Rene Respicio is headed to the University of Florida, where, inspired by her experiences at Polk, she will study biomedical engineering.
"Coming to (Polk State Chain of Lakes Collegiate) was one of the best decisions I've made," said Respicio, who graduated Friday with a grade-point average of 4.724.
When she was a sophomore at Haines City High School, Respicio learned of Polk State's collegiate programs. Her interest piqued by the idea of college-level coursework and the opportunity to earn college credits, Respicio made the decision to apply to Polk State Chain of Lakes Collegiate.
In the two years since, she's been glad she did. Respicio not only earned college credits, she completed her entire Associate in Arts degree. She was also active with the school's chapter of HOSA (Health Occupations Students of America). In 2015, she placed second in the Medical Math competition at HOSA's state competition, and fifth in Medical Math at the regional level that same year.
Respicio, a resident of Winter Haven, also served as an ambassador for the College's collegiate high schools, sharing her experiences with sophomores and juniors interested in attending.
But it was her experience with an underwater robotics project earlier this year that may have had the biggest influence on Respicio's future, both as a student and a professional. During the spring semester, professors and students across the College teamed up to build an underwater robot that will be used in science classes to collect water samples that students will study to learn about the effects of pollution and other topics.
Respicio was involved in the building of the robot. She said it was an unexpected opportunity that exposed her to what it would be like to be an engineering student.
"For me, I feel a lot more confident going into engineering after the robot project," she said. "It really encouraged me to go after what I want to do."
Respicio will start at the University of Florida this fall, and hopes to eventually use her education to solve problems in either a hospital or a research facility setting.
As she prepares to leave Winter Haven for Gainesville, Respicio shared this advice with incoming Polk State Chain of Lakes Collegiate High School students:
"As long as you listen, pay attention, and take good notes, you'll set yourself up for success. You've got to put your heart into it," she said. "Remember what's important and don't lose yourself in the bells and whistles in life."
Polk State College operates three public charter high schools, including Polk State Chain of Lakes Collegiate in Winter Haven, Polk State Lakeland Gateway to College Collegiate, and Polk State Lakeland Collegiate. All three high schools allow students to fulfill requirements for their diplomas while also earning college credits.