Taking a Deep Dive: Polk State Students Build Underwater Robot, Learn About Real-Life Applications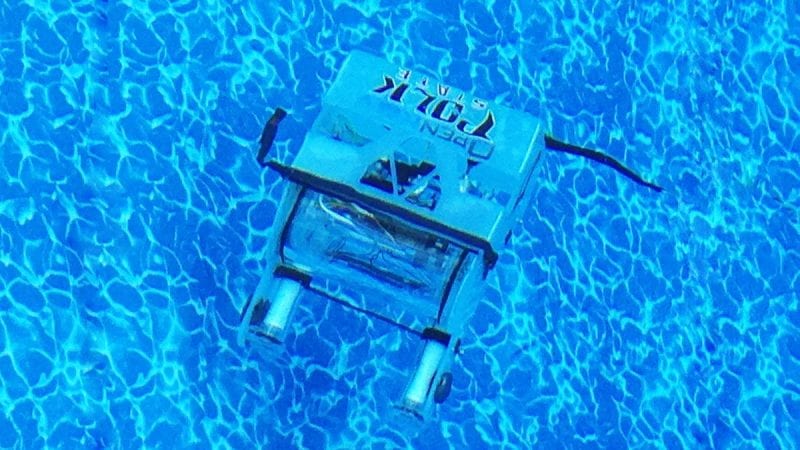 An innovative project at Polk State College has students getting hands-on experience with underwater robotics, and a firsthand look at career options the field has to offer.
"We've learned about robotics, but also about how what we're doing is so much bigger than just a high school project," said Rene Respicio, a senior at Polk State Chain of Lakes Collegiate High School who aspires to be a biomedical engineer.
"For me, I feel a lot more confident going into engineering after this project. It's really encouraged me to go after what I want to do."
The multifaceted underwater robotics project began at the start of the spring semester. Since then, students have built an underwater robot, taken field trips to collect water samples and tour businesses utilizing underwater robotics, and attended guest lectures on topics such as hyperbaric medicine and microplastics pollution. Arts-minded students have filmed the various phases of the project, creating a documentary that they plan to enter into a competition.
"The goal of this project was to be as interdisciplinary as possible and to incorporate many different types of learning," said Polk State Biology Professor Joey Maier, the lead professor on the project. "The idea has been to inspire students, and to show them that they can be candidates for the companies and schools that are specializing in this type of work."
At the center of the underwater robotics project, of course, is the underwater robot itself, which students in Polk State Chain of Lakes Collegiate's STEM Research course built using a kit and open-source software from California-based OpenROV. Anatomy and Physiology Professor and STEM Coordinator Suzanne Ramjattan Halverson teaches the STEM Research course.
The building process required students to use a variety of techniques, including soldering and acrylic welding, which involves using a chemical solvent to adhere pieces of the chassis together. The students also used Polk State Chain of Lakes Collegiate High School's 3D printer, purchased with funds from the 2016 Polk Education Foundation STEaM Grant, to print parts that will be used for water collection.
Completed about a month ago, the robot, which sports a Polk State decal on its top panel, weighs about 5.7 pounds, and measures about 12 inches long, 8 inches wide, and 6 inches tall. It includes a high-definition webcam and streams video to a surface laptop via an ultrathin, two-wire tether, according to openrov.com. It can collect video and water samples from as deep as 300 feet. So far, the robot has been tested in the pool behind Lakeland's Scuba Etc., and used to explore a sunken boat at Blue Heron Bridge in Rivera Beach.
Throughout the semester, as the robot was taking shape, students in Halverson's STEM Research class, as well as students studying anatomy and physiology, biology, oceanography and physics attended guest lectures presented by professors of wide-ranging areas of expertise. For instance, Biology Professor Tammy Cronan presented on fecal coliform detection; Florida Sea Grant Extension Agent Maia McGuire presented on microplastics; Biology Professor Anthony Rizzo presented on hyperbaric medicine;  and Earth Science Professor Natalie Whitcomb presented on water sampling procedures.
Students also took field trips during the semester, including to the Polk State Clear Springs Advanced Technology Center 3D printing lab, for a more in-depth look at the possibilities of the technology, and to Triton Submarines LLC, a manufacturing operation in Vero Beach, to see for themselves real-life applications of underwater robotics.
Two video projects captured the semester-long dive into underwater robotics. A  summary video was presented at We Robot, a conference on legal and policy issues related to robotics, at the University of Miami in early April. A longer documentary is still in the works but is planned to be submitted to the 2016 Blue Ocean Film Festival & Conservation Summit.
While students are finished building the robot, the documentary is in its final stages, and the semester is coming to a close, Maier said the learning opportunities the underwater robot presents are just beginning.
Maier and Whitcomb anticipate using the robot in classes for many semesters to come, allowing students to collect and study water samples from varying depths, thereby enhancing their understanding of the complicated effects of pollution.
"The pollutants we think of as surface pollutants might actually be affecting things much deeper below the surface," Maier said.
In the future, Halverson said her students will be able to use the robot to participate in robotics competitions.
"My goal is that STEM scholars will take away that STEM is not just one discipline. STEM is integrating various disciplines and applying them toward a common goal to solve real-world issues. For instance, using an underwater robot to collect water samples from the ocean, then testing that water sample for fecal coliform or other types of microplastics, will show our students that STEM disciplines work together and will assist them as they move forward in their careers," she said.
Polk State College operates three public charter high schools, including Polk State Chain of Lakes Collegiate in Winter Haven, Polk State Lakeland Gateway to College Collegiate, and Polk State Lakeland Collegiate. All three high schools allow students to fulfill requirements for their diplomas while also earning college credits.