Polk State's BSN Program Receives National Accreditation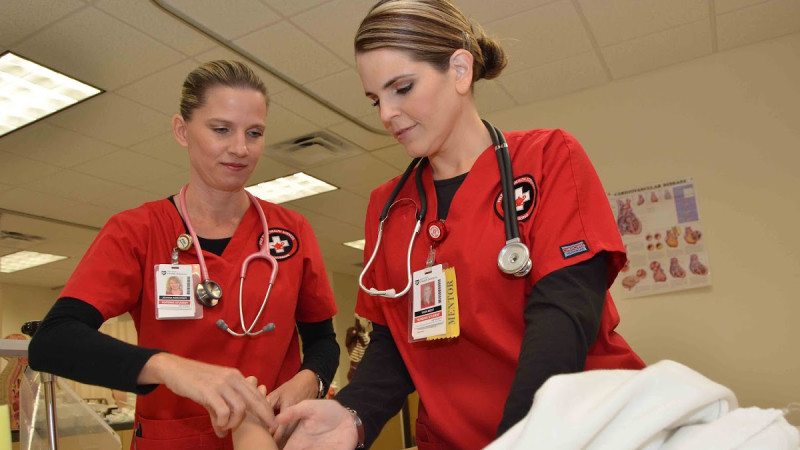 Just a year into its existence, Polk State's Bachelor of Science in Nursing program has received accreditation from the National League for Nursing Accrediting Commission (NLNAC).
"What this means is that Polk State is meeting strict national standards for everything from its curriculum to its facilities to its resources," said Polk State Nursing Director Annette Hutcherson.
"It's very unusual for a program to get accreditation in its first year of operation, and of course we are very proud."
Polk State's BSN program launched in fall 2011, and NLNAC site assessors visited the program in October 2012, when they recommended accreditation be granted.
In March, the NLNAC's commissioners met and approved the recommendation for accreditation, which was granted retroactively to the 2012 site visit.
Therefore, Hutcherson explained, accreditation was achieved just a year after the launch of the program.
"On behalf of the Board of Commissioners, we thank you for your commitment to quality nursing education," wrote Sharon Tanner, chief executive officer of NLNAC in a letter to Hutcherson announcing the accreditation.
Hutcherson said the recently acquired accreditation is more than a point of pride for the College, it also directly aligns with its ultimate mission of helping students to succeed.
"This is huge news for our students. We graduated our first class of BSN students in December 2012, so now even our very first class can say it graduated from a nationally accredited program," Hutcherson said.
"One of the requirements for many graduate nursing programs is that students have a baccalaureate degree from a nationally accredited program."
The NLNAC is nationally recognized as the accrediting agency for all types of nursing education by a host of government agencies, as well as employers.
The news of Polk State's accreditation elicited positive reactions from members of the area's healthcare industry.
"Achieving accreditation through the NLNAC gives Polk State's BSN Program a nationally recognized mark of excellence. I'm not surprised that the BSN Program was able to quickly achieve accreditation, as quality is what has long characterized Polk State's Nursing Program. Polk State College provides an educational climate that supports the students to achieve the knowledge and skills necessary to become an effective professional nurse.  We are fortunate to have such a high-quality nursing program in our community," said Janet Fansler, executive vice president, chief operating officer and chief nurse executive at Lakeland Regional Medical Center.
Added Brenda Sponsler, chief nursing executive at Bartow Regional Medical Center:
"National accreditation is proof that a program knows what it is doing. This accreditation is significant because Polk State is right here, down the road for the area's nurses. To be able to get a bachelor's degree from a nationally accredited program without having to travel or do an online program, that's huge," she said.
Sponsler said the BSN's accreditation is further evidence of the exceptional job Polk State does in training nurses.
"Polk State is fabulous. I would hire from Polk State any day. I think it stands head and shoulders above other programs in the area," she said.
The Polk State BSN's initial accreditation is effective for five years, which is the maximum amount of time NLNAC allows for its initial approval. The College's Department of Nursing will then have to undergo another self-assessment and site visit to receive reaccreditation. If reaccreditation is granted, Polk State will have to renew its accreditation every eight years.
The College's associate's degree in Nursing has been accredited by the NLNAC since the 1980s.
Hutcherson credited the success of the BSN program to its partnerships in the area healthcare community and its faculty members, including coordinator Mavra Kear.
Polk State's BSN program was created in response to demand from area hospitals for more highly trained nurses, and enrollment has exceeded projections every semester since it launched.
The BSN program emphasizes creative and critical thinking to help nurses improve the care they provide to their patients.
"Graduates of the BSN Program possess professionalism, leadership skills, and advanced awareness of not only their role as nurses but of the healthcare system overall," Hutcherson said.
Polk State's Nursing Program is one of several Health Sciences programs offered by the College. The Nursing Program offers Associate in Science and Bachelor of Science degrees, and serves approximately 400 students in any given term. Approximately 60 percent of Polk County's Registered Nurses graduated from Polk State. Other Polk State Health Sciences programs include Cardiovascular Technology, Diagnostic Medical Sonography, Emergency Medical Services, Occupational Therapy Assistant, Physical Therapist Assistant, Radiography and Respiratory Care.