Polk State's 115th Commencement Ceremony is December 14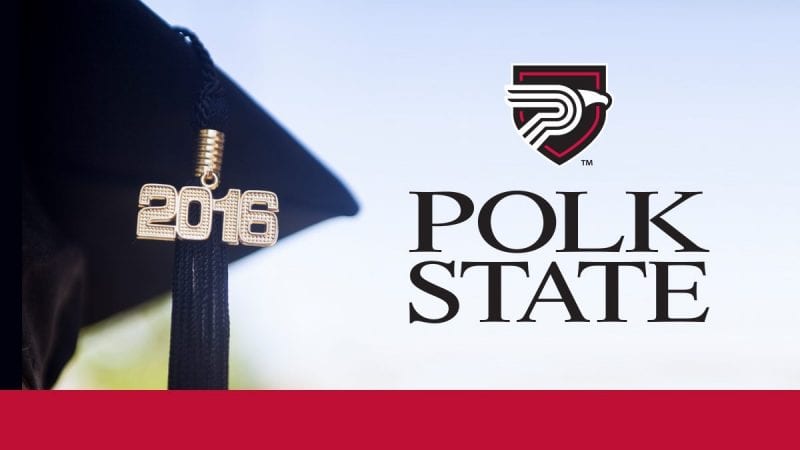 Polk State College's 115th commencement ceremony will take place at 6:30 p.m. on Dec. 14 at The Lakeland Center. The ceremony will feature remarks by Twanna Dewdney, who will receive the College's Distinguished Alumnus Award.
Dewdney, a Winter Haven business owner and community activist, graduated from Winter Haven High School and attended Polk State (then referred to as Polk Community College) on an athletic scholarship. In her first attempt as a college student, personal choices caused her to veer off course and drop out of college before earning her Associate in Arts degree. After a series of temporary jobs and several life changes, she completed cosmetology courses at Ridge Career Center and opened her salon, Salon Ashanti, named for her daughter. Her salon features far more than hair and nails – she uses her salon as a location for free HIV/AIDs testing and Project Park Bench, a collection site for blankets and clothing to be donated to The Mission of Winter Haven for distribution to the homeless. As her business and community involvement grew, Dewdney returned to Polk State for her Associate in Arts degree. She earned her Bachelor of Science in Supervision and Management in the fall of 2013.
Dewdney's story is one of resilience and redemption – and should serve as an inspiration for this year's graduating class.
For the 115th commencement ceremony, 1,355 students have qualified to march and celebrate with the fanfare of this prestigious event. Of these graduates, 196 will receive the Bachelor of Applied Science in Supervision and Management degree, which prepares them for advancement in a variety of business-related fields, including Business Administration, Business Information Technology, Healthcare Administration, Public Administration, and Public Safety Management. Another 56 graduates will receive the Bachelor of Science in Nursing, 37 will receive the Bachelor of Science in Criminal Justice and 4 will receive the Bachelor of Science in Aerospace Sciences. The majority of graduates — 687, or 51 percent — will receive the Associate in Arts degree, which is parallel and fully transferable to any four-year institution in the State University System. Another 276 graduates, or 20 percent, will receive Associate in Science degrees in specific areas of workforce study such as diagnostic medical sonography, radiography, or engineering technology. The remainder of the graduates will receive Associate in Applied Science degrees or specialized workforce certificates.
Of the graduates, 20 will receive the College's Honors Program distinction on their diplomas. Honors Program graduates must complete a minimum of 18 credits of college coursework with the Honors designation, as well as maintain high academic standing.
Here is a more detailed look at this commencement's graduating class:
Approximately 653 students plan to march in the commencement ceremony.
153 graduates have earned the academic distinction of Summa Cum Laude, with a GPA of 3.9 or higher; 60 have earned Magna Cum Laude, with a GPA of 3.75-3.89; and 32 have earned Cum Laude, with a GPA of 3.5-3.74.
Fifteen students have a 4.0 GPA.
Graduates range in age from 18 to 64.
In addition to Florida, graduates in this cohort live in Connecticut, Georgia, Maryland, Missouri, New Jersey, Oregon, Pennsylvania, Tennessee, Texas, and Puerto Rico.