Polk State Students to Travel to South Africa for Golden Key Conference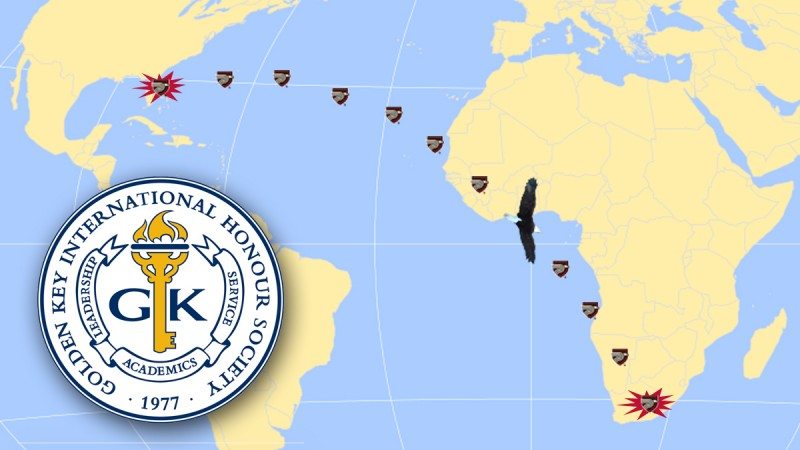 It's been an international year at Polk State College — and it's not over yet.
In recent months, students have studied in the Bahamas and Europe, and now another group is preparing to travel to Cape Town, South Africa, to attend the Golden Key International Honour Society's South African Conference.
Golden Key is the world's largest collegiate honor society, with more than 400 chapters in eight countries. Membership is by invitation only, limited to the top 15 percent of college and university sophomores, juniors and seniors.
Polk State's Golden Key chapter was chartered in 2011. Membership is limited to high academic performers studying in the College's bachelor's programs.
Golden Key members from all over the world will descend on Cape Town on Sept. 20 and 21 to hear guest speakers, attend workshops, network and take part in other learning opportunities.
Representing the College at the event will be students Melissa Altamirano, Haines City; Janis Davis, Haines City; Joshua Moore, Lakeland; and Debra White, Lakeland.  All the students are studying in the Bachelor of Applied Science in Supervision and Management program.
Golden Key faculty adviser Herb Nold will also travel to South Africa.
Nold said none of the students has ever left the United States, and he's sure they will all return home forever changed.
"This is an opportunity to engage with top students and future leaders from around the world and expose our students to the differences in cultures, which is critical in today's global world," Nold said.
"The opportunity to network with peers in other countries could prove invaluable as our students' careers develop and unfold."
Davis is one of 20 students to receive a $2,000 travel grant from Golden Key to help pay for the trip. Other recipients attend institutions such as Brigham Young University, Rutgers University, University of Missouri-Columbia, University of Wisconsin-Madison, University of Saskatchewan and University of South Australia.
Davis works as property manager of Southern Dunes Storage in Haines City and executive director of Keep Winter Haven Clean and Beautiful.
Davis and the other members of the Polk State contingent won't just be attending the Golden Key conference, they'll also conduct a workshop on the impact an organization's culture makes on its ultimate success.
The students' trip to South Africa is being made possible in part by funding through the Polk State Foundation, as well as a number of other donors.
Polk State has made offering international opportunities to students an ongoing initiative. Just this past summer term, students took part in a first-ever science field study to the Bahamas. The College also sent its second class of exchange students to Polytech Marseille, a French university, and still another group of students traveled to Germany, Italy and Switzerland.
The College is continuing to add opportunities for students to study abroad, with programs being developed to send students to other parts of France, Peru, Germany and Ireland.
Those interested in participating in upcoming trips should contact Program Coordinator Kim Simpson at ksimpson@polk.edu.
News@Polk will be posting dispatches from the students during their trip to South Africa. Check back later this month for updates.