Polk State Student is 'Change Agent' for Environment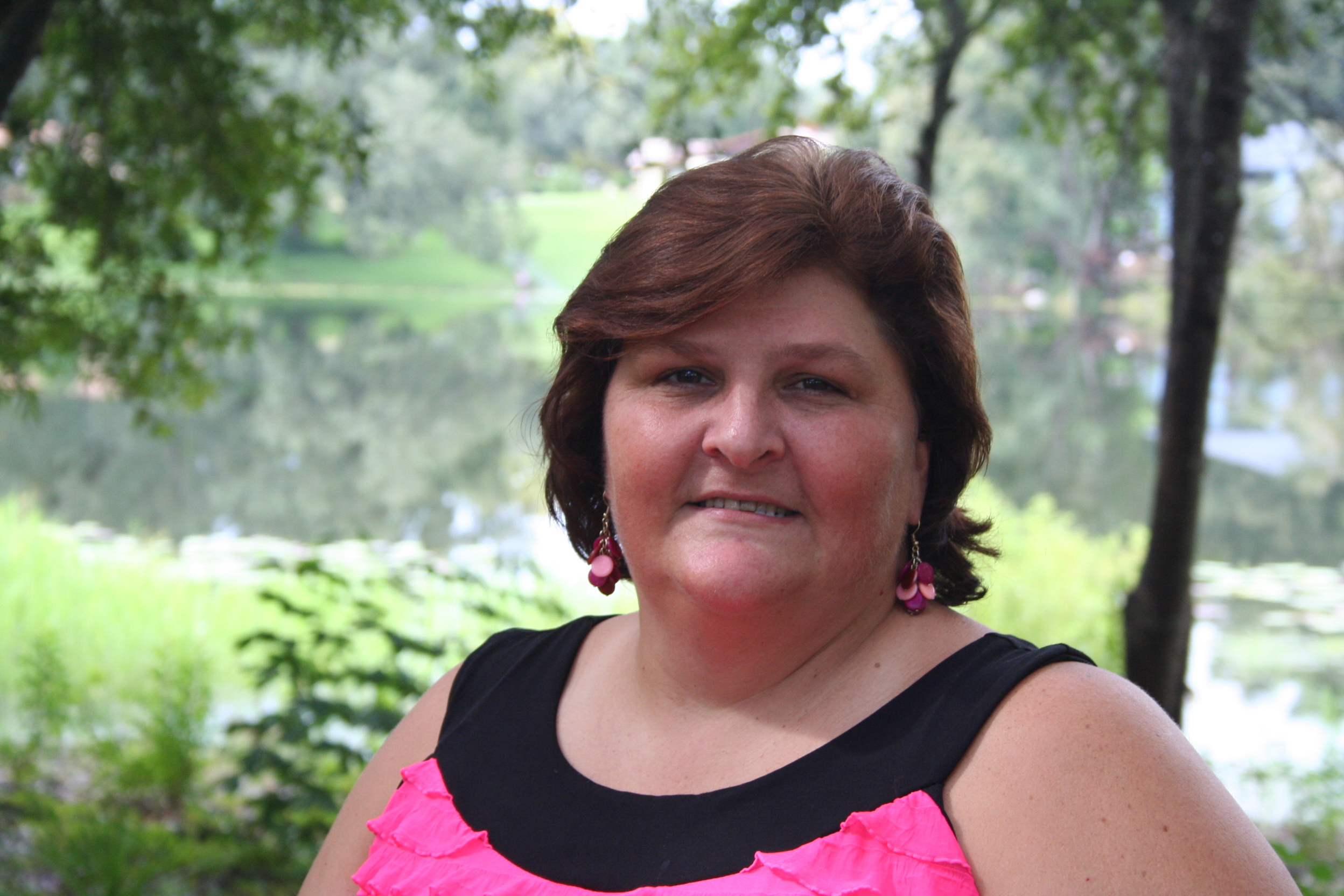 Polk State's alumni rolls are filled with examples of post-graduation greatness, those who began at this institution and went on to achieve higher degrees, professional success, positions of influence.
Then there are those like Janis Davis, whose impact on our community began while still in a Polk State classroom, well before her graduation day.
Davis, 39, a resident of Haines City, is studying in the College's Bachelor of Applied Science degree program. Earlier this summer, she was named executive director of Keep Winter Haven Clean and Beautiful, an all-volunteer organization dedicated to removing litter from the city's streets, parks and waterways. Each year, Keep Winter Haven Clean and Beautiful conducts numerous cleanups, partnering with other organizations such as the Polk County Sheriff's Office, the Florida Fish and Wildlife Conservation Commission, Lakes Education Action Drive, and schools and neighborhood organizations.
Davis had served as a volunteer for Keep Winter Haven Clean and Beautiful for several years, spending her weekends at countless cleanups. Earlier this year, the organization transitioned from a paid staff, and found itself in need of an executive director who didn't require a paycheck.
Once again, Davis volunteered.
"I grew up in Polk County, and it's up to the people who live here to protect it. (Keep Winter Haven Clean and Beautiful) is a great organization, and when they needed me, I was glad to step up," said Davis, who also works full time managing a self-storage facility in Haines City.
Susan Stewart, chairwoman of the organization, said she is excited about Davis' new role.
"(Protecting the environment) runs through her veins. It's part of who she is," said Stewart, also solid waste coordinator for the City of Winter Haven.
Johanna Martinez, executive director of Lakes Education Action Drive, said in Davis Keep Winter Haven Clean and Beautiful has found a balanced form of leadership.
Davis is an adept networker with a broad base of contacts throughout the county, but also is especially skilled at persuading others to volunteer, Martinez said.
"She's very energetic and she brings incentives to the table for her volunteers," Martinez said. "She volunteered at an event for us earlier this year and she organized a barbecue for the volunteers she'd recruited afterward. She has a way of exciting others and finding incentives for them to volunteer."
Memories of the Lakes
"Stepping up" for Polk County's environment is something Davis has been doing since childhood.
She grew up in Babson Park before moving to North Lakeland while in high school, and many of her childhood memories are tied to Polk County's lakes — boating and fishing with her family on Crooked Lake.
"My dad taught us that everything ties back to the water. He would make us pick up trash, even if it was in a parking lot nowhere near a lake, because in Polk County everything eventually drains to the lakes," she said.
Though stewardship of Polk County's natural resources was instilled in her at an early age, it took Davis time to adopt that mission as central to her life.
In high school, following her parents' divorce, Davis went to live in North Lakeland, where she graduated from Lake Gibson High School — while pregnant with her first child.
The children came in quick succession thereafter, and by her early-20s Davis was a mom to three. Her then-husband worked days while she tended to the babies.
"I could have said, 'that's it, I'm done,'" she said. "But I couldn't settle. Just because I had kids, that didn't mean I couldn't have everything else. I knew it was never too late."
Davis enrolled at Polk State, studying in its Emergency Medical Services program, putting in 12- to 14-hour days, caring for her children, commuting from Lakeland to the Winter Haven campus, cleaning house, doing homework, and juggling all the other tasks that come with motherhood, marriage and student life.
The months passed and Davis struck the balance between wife, mother and student, but near the end of her EMS studies, all her plans changed when her third son, Steven, died of SIDS.
"Something like that, it just changes your whole life," Davis said, explaining that she could no longer envision a future in emergency medical services. "I couldn't save my own son, so I couldn't put myself in a position of trying to save others."
Back to Her Roots
In the years that followed, Davis had a daughter, and worked a variety of jobs while taking occasional classes at the College — though never completing a degree.
In the midst of all this, she volunteered one year for the Great American Cleanup, an annual nationwide event, and realized that her early appreciation for Polk County's natural resources was something deeper than a childhood lesson.
"Everything changed for me," she said. "I just kept volunteering and volunteering."
Davis went on to work as executive director of Keep Polk County Clean & Beautiful, even helping the organization to earn the 2006 Business of the Year Award for Education from the Tampa Bay Business Journal for its "Litter Bugs Me" campaign.
She left Keep Polk County Clean and Beautiful in 2007, and two years later she returned to Polk State full-time — determined to finally get the degree that had eluded her through the years.
Lake Gem
In the three years since returning to Polk State, she's earned her associate's degree and is now just two semesters away from her Bachelor of Applied Science in Supervision and Management.
She also serves as president of the College's Green Club, recently earning its Most Valuable Member award, and she's played a leadership role in efforts at the College and within the Club to clean up Lake Gem, which sits just feet from the Winter Haven campus.
"She was really the spark for that project," said Winter Haven Provost Sharon Miller.
"She brings a level of energy and compassion to change things. She is really a change agent."
In the two years since the Lake Gem project began, through collaborations with the Polk County Sheriff's Office, the City of Winter Haven, area homeowners, and other organizations, students and other volunteers have hauled away tons of trash — everything from tires to shingles to phone books — and removed invasive plant species. The vision is to eventually create an outdoor classroom space and walking trail around the lake.
The Lake Gem project is one that will outlast Davis' time as a Polk State student, and she plans to remain involved even after she graduates.
Davis is excited to realize her long-held goal of earning a bachelor's degree before her daughter, Stephanie, graduates from high school, and she now dreams of serving in elected office, working in environmental public relations — or both.
As she told herself nearly 20 years ago, there's no reason she can't have it all.
"If I can do it, anyone can do it. I am proof that it's never too late," she said.