Polk's International Summer: Students Study in Bahamas, Europe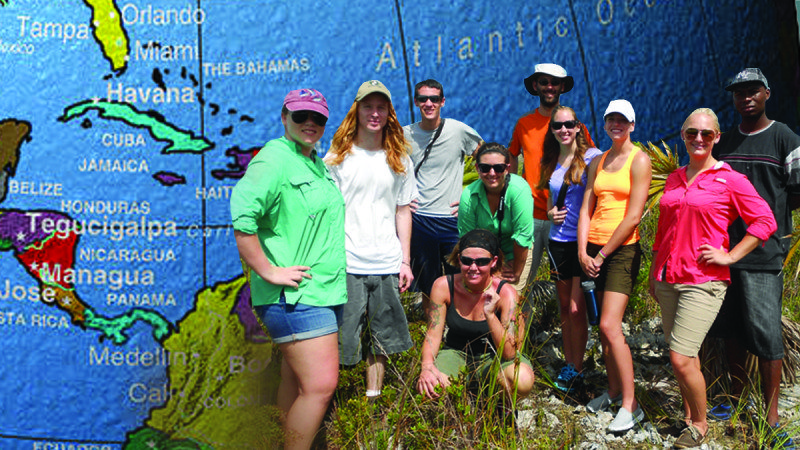 It's been an international summer at Polk State College, with students having recently traveled far from their Central Florida homes.
One group of students just returned from a first-ever science field study in the Bahamas, while earlier this summer Polk's second class of exchange students ventured to French university Polytech Marseille. Yet another group toured Germany, Italy and Switzerland.
The trips were all part of an ongoing initiative at the College to connect students with foreign cultures — and they represent huge progress in that direction.
Naomi Boyer, associate vice president for strategic initiatives, touts the pedagogical value of the overseas adventures.
"To learn while embedded in and surrounded with a cultural, content-rich environment can be transforming for those who get the opportunity to participate in one of our programs. Whether it is the immersion of French language and humanities topics or the living, breathing environmental lab of the Bahamas — stepping out of the traditional classroom into the world shifts perspectives about our individual roles in the global arena and marketplace."
Eight students and three professors traveled to Andros, the largest but least developed of the Bahamian islands, for two weeks of experiments and research. The trip counted as the lab portion of courses in Environmental Science and Introduction to Marine Biology; before taking the trip, students completed six weeks of online coursework.
The group was based at Forfar, a research station operated by International Field Studies, a nonprofit for teachers who run field study programs. Each day consisted of eight to nine hours studying topics such as the Andros Barrier Reef, erosion patterns and the effects of climate change.
"We really got to open the students' eyes to differences in the world," said Biology Professor Anthony Cornett, who led the trip along with Biology Professor Logan Randolph and Earth Science Professor Natalie Whitcomb.
"Coming from a fairly homogenous cultural and environmental background, a lot of students don't really know any different than what's around them. Now they have a better understanding of a different environment and culture that's so unlike what they're used to."
Perhaps the most enduring lessons for students came from a series of interviews they conducted with Bahamian residents about climate change and efforts to conserve the conch, an important food source and cultural symbol for the country.
Students visited a half-dozen settlements on the island, conducting interviews at each stop, and in the process learned about the different ways of life around Andros.
"In each settlement, they saw how people live differently, and how some of the outlooks change from settlement to settlement," Cornett said.
Added Randolph:
"We can teach these courses from an American perspective, but this allowed the students to also see the sciences from a different cultural perspective."
The students will now spend the next few weeks compiling their videotaped interviews into a documentary that they will offer to the Bahamas National Trust a an educational tool. The Bahamas National Trust manages the country's national parks.
Student Kristiana Heath, a resident of Babson Park who recently completed her Associate in Arts degree at Polk, described the trip as deeply enriching.
"I was learning constantly. Even if it wasn't necessarily 'instructional' time, the professors would still constantly point things out, from different types of mangroves to limestone formations," she said.
"I learned a lot about the Bahamian culture. They are truly amazing people. It is very touching to meet people who have way less than we do here in the states and they are still some of the most giving people. I was often gifted with fruits and sponges — just because. Being around the Bahamians really puts things into perspective. Many of them are peaceful people who respect the environment. I feel we could learn a lot from them if we would just try."
The group traveling to Marseille had plenty of their own cultural discoveries, too, of course.
In May, nine students spent 11 days in Marseille, leveraging Polk State's relationship with Polytech Marseille. Last summer, the College sent its first exchange students to Marseille, and later in the year hosted Polytech students for several days that included tours of Polk State's locations and on-campus events.
Led by Polk State Humanities Professor John Barberet, this year's exchange students spent the majority of their time exploring Marseille, the second-largest city in France, located on the Mediterranean coast. In addition to Marseille, the students also took side trips to Arles, once the home of Vincent Van Gogh, and Paris.
While in Marseille, students toured the campus of Polytech Marseille, visiting a robotics class and research labs, where graduate students were conducting experiments using electron microscopes.
The trip was full of new experiences, from the French cuisine to the subway system. However, for all the new things they experienced, Barberet said perhaps the most important realization for the students was just how similar life in their country is to life in France, even despite thousands of miles and the different languages.
"They learned that other people are a heck of a lot like us," he said. "Their day-to-day lives are different in some ways, but also very much the same. They discovered how much they have in common with those in a different culture, and that's an important realization to make."
Barberet added that the practical lessons of traveling and staying in a foreign country will last a lifetime for the students.
"There is a confidence that comes with this kind of experience. Our hope is that one day our students are at work and the boss says, 'I need someone to go to Paris for a week for a conference,' and our students will raise their hands and say, 'I can do that,'" he said.
Student Jacob Wilson, a Lake Alfred resident who also graduated with his Associate in Arts degree in May, said the trip was a chance to prove to himself that he can work with those from different cultures.
He will go to the University of South Florida this fall to study Biomedical Sciences and hopes to become a physician's assistant, a field he knows will require him to collaborate with those from a variety of backgrounds.
"Being able to experience a different culture, and not quite fit in but assimilate in such a way that you're not stepping on anyone's toes or insulting the culture, is an important skill," he said.
"We live in such a global society now. One day, I may be working with a doctor who is from India, or another country, and there will be certain things I shouldn't do because they could be offensive. I took away from the trip (the realization) that I have the ability to do that."
Students who traveled to Marseille earned college credit in Humanities.
Also in May, Polk State College Professors Rosalinda Rivera Collins and Penny Morris led a group on a 10-day tour of Germany, Italy and Switzerland. The itinerary for the trip included tours of Munich, Venice, and Lucerne, and a visit to the Swiss Alps.
Boyer said the College is continuing to add opportunities for students to study abroad, with programs currently being developed that will send students to other parts of France, Peru, Germany and Ireland.
Those interested in participating in upcoming trips should contact Program Coordinator Kim Simpson at ksimpson@polk.edu.