Polk State Students Bring Home Top-10 Finishes from National Phi Beta Lambda Conference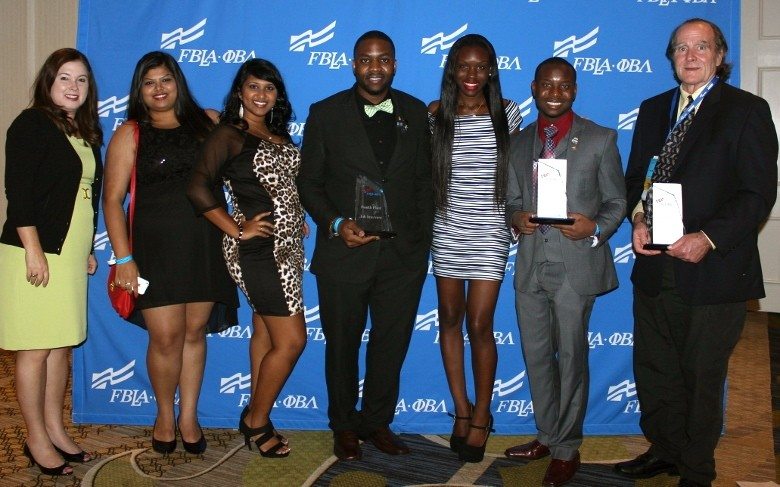 Members of Polk State College's chapter of Phi Beta Lambda captured a handful of top-10 finishes at the organization's recent National Leadership Conference.
Future Business Leaders of America-Phi Beta Lambda (FBLA-PBL) is the nation's oldest and largest education association, with 250,000 student members preparing for careers in business or business-related fields. FBLA-PBL has four divisions; PBL is the division for postsecondary institutions.
The 2014 National Leadership Conference took place in Nashville late last month.
At the event, students from colleges and universities from across the country and two countries competed against one another in events focused on topics such as accounting, business law, and public speaking.
Polk State snagged three top-10 finishes at the conference.
Jim Harmon, a Lakeland resident studying in Polk State's Bachelor of Applied Science in Supervision and Management program, won first place in Computer Concepts. He received $500.
Cedriss Saint-Louis, a Winter Haven resident pursuing his Associate in Arts degree, won second place in Help Desk. He received $100.
Jamie Butler, a Winter Haven resident also studying in the Bachelor of Applied Science in Supervision and Management program, placed fourth in the Job Interview category.
Polk State's chapter of PBL is open to all students, regardless of their course of study. For more information, please contact Kim Simpson at ksimpson@polk.edu.
Polk State offers the Bachelor of Applied Science in Supervision and Management, which offers concentrations in Business Administration, Business Information Technology, Healthcare Administration, Public Safety Administration and Public Safety Management. Polk State's Business Administration associate's degrees offers specializations in Healthcare Administration, Insurance, Management and Marketing.
Phi Beta Lambda is one of more than 50 clubs and organizations offered through the College's SALO (Student Activities and Leadership Office).