Polk State SGA president uses platform to raise sickle cell awareness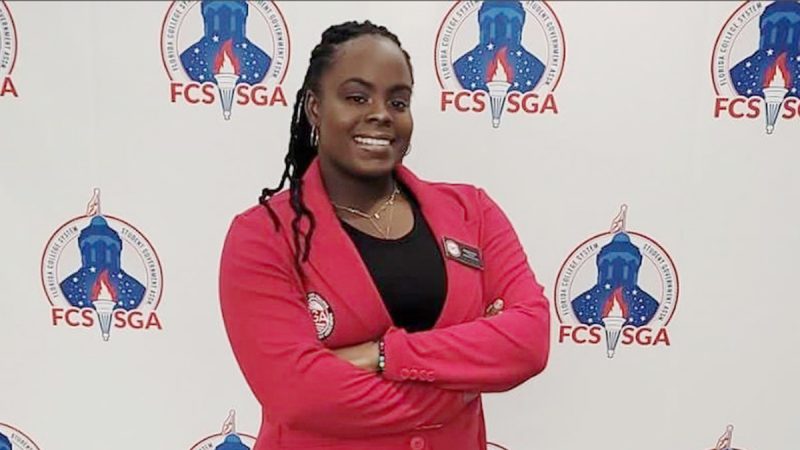 Sickle cell disease (SCD) is the most common inherited blood disease in the U.S. and comes with many complications. Aaliyah Jones, president of Polk State College's Student Government Association (SGA) on the Lakeland Campus, has used her platform to raise awareness, address misconceptions, and inspire her peers.
September is National Sickle Cell Awareness Month. According to the National Heart, Lung, and Blood Institute, SDC affects about 100,000 Americans. Symptoms include anemia, pain, swelling, frequent infections, and vision problems.
"I've utilized social media, mainly my TikTok, to give tips and to educate people," Jones said. "There is a lot of stigma and discrimination associated with having sickle cell."
Examples of discrimination associated with sickle cell disease (SCD) include in the workplace and in the emergency room. As patients, Jones noted, those with SCD are often viewed as drug or attention seekers. For employers, applicants with SCD are commonly dismissed as unreliable.
"Without her, I wouldn't have not known anything about sickle cell," said Amanda Paige-Morris, Coordinator for the Student Activities & Leadership Office (SALO). "I am her No. 1 cheerleader, and I will always support her through her good and bad days, dealing with the disease. SALO has always been a family environment and we all welcome her into this family with open arms."
Jones is currently pursuing a Bachelor of Applied Science in Business Administration with a concentration in Human Resources Management. She wants to one day run a nonprofit donated to sickle cell research. Unlike with cancer, Jones noted, there are few major foundations dedicated to curing or reducing the effects of SCD.
"Everything is a business now," she said. "I want to help educate people in the medical and hiring fields. There is so much misinformation out there when it comes to sickle cell."
With SCD affecting the major organs, Jones noted that carriers must live their lives more cautiously. For example, what can be a simple cold for others can become pneumonia for those with the disease.
Jones' gallbladder needed to be removed at the age of 3. Her spleen was removed when she was 5. The oldest of four children, two of Jones' three siblings also have SCD. In July, Jones was diagnosed with Category 3 pulmonary hypertension.
"It's not easy," Jones said. "There are a lot of challenges. Simply getting on an airplane can lead to stroke."
Jones began her fourth year at Polk State in August and is in her second year as SGA president. A native of Lakeland, Jones graduated from Kathleen High School in 2018. She also served as student government secretary there and a member of National Honor Society.
"In SGA, we always say you're a student first and a leader second," Jones said. "I've always had this gift of being extremely open. SGA teaches you a lot of life skills. I'm most proud of the way we've advocated for students. We've done a lot up in Tallahassee."
Jones has been motivated by the support of Polk State staff and her family. She mentioned SALO Director Melvin Thompson, Paige-Morris, and SALO Program Assistant Anthony Bates. Her aunt KeAndrea Abrahams, who is an ER doctor in Alabama; her sister, Suamone Jones-Harris; her boyfriend, Tyree Andrews; and her hematologist have also been there for her.
"She is always involved, even when she was in a hospital bed," Thompson said of Jones. "She leads by example. She is always checking on her executive team, motivating and supporting them. Aaliyah is always friendly and welcoming to students and treats people she meets like she has known them for 20 years; it's amazing. She does this while holding down a full load and an on-campus job."
Her biggest supporter, however, was her mother. A single mother, Nikia Leonard-Jones died from complications from sepsis on Thanksgiving 2015 when Jones was just 16 years old. Leonard-Jones spent time as a student at Polk State College and often emphasized the importance of education to her children.
"When it came to school, my mom always pushed me to be great," Jones said. "I became a perfectionist. As an African-American female, I knew it would be twice as hard."
Another misnomer, Jones said, is that SCD affects only Black people. While one in every 13 Black Americans carry the sickle cell trait – as both of Jones' parents did — and one in every 365 born have the disease, one in every 16,300 Hispanic Americans are born with SCD as well, according to the National Heart, Lung, and Blood Institute.
"That's vitally important to remember," Jones said. "Sickle cell is not just an African-American disease. It affects all people of color."
During her time as a student, Jones has worked at a pace that is manageable, taking two or three classes per semester. While working to raise awareness about the disease, Jones has refused to let sickle cell prevent her from doing the things she loves. Jones grew up in dance, spending many years with "Crystal's World of Dance" while performing in numerous events.
"Aaliyah Jones is strong, vibrant, bubbly student who brings laughter and smiles to SALO," Paige-Morris added. "When she first came to our department, we hadn't met anyone like her, but after a semester, we knew she was going to be a great fit. Through the semesters, she continues to impress us with her courage in dealing with sickle cell as well as her passion to inform everyone about the disease and how someone like her can survive and thrive as a college student."
Jones enjoys learning about different genres of dance and traveling. She also played the viola in her high school orchestra.
"My mom was my biggest cheerleader and I've always tried to make her proud," Jones said. "I know she would be. I hope to one day change the world."