Polk State saves students more than $1 million in textbook costs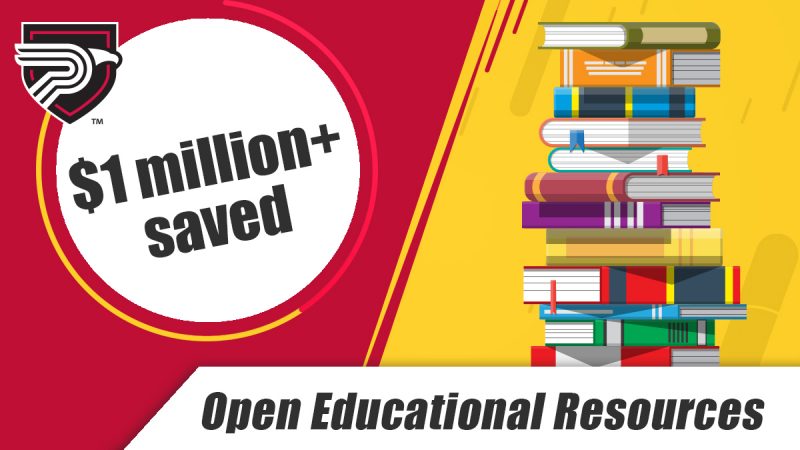 Polk State College's faculty and staff have exceeded their goal of saving students $1 million in textbook costs by 2021 through the Open Educational Resources initiative, reaching savings of nearly $1,118,000 benefiting 13,445 students since 2017.
Open Educational Resources (OER) are teaching, learning, and research materials available in the public domain or released under open licenses that permit free access, use, and adaptation, as well as redistribution by others with no or limited restrictions.
"Our long-term goal is to develop OER materials to fully support the Associate in Arts degree program so that students can take all the classes they need without the financial burden of purchasing textbooks," said Cody Moyer, Director of Learning Technology and Co-Chair of the OER Initiative Team.
Nearly 20 faculty members have implemented OER materials into 53 courses, including face-to-face, online, and hybrid classes for the AA degree and in the Criminal Justice Program. A $60,000 Complete Florida grant and internal Staff Professional Development funds assisted with the development of 23 of these courses.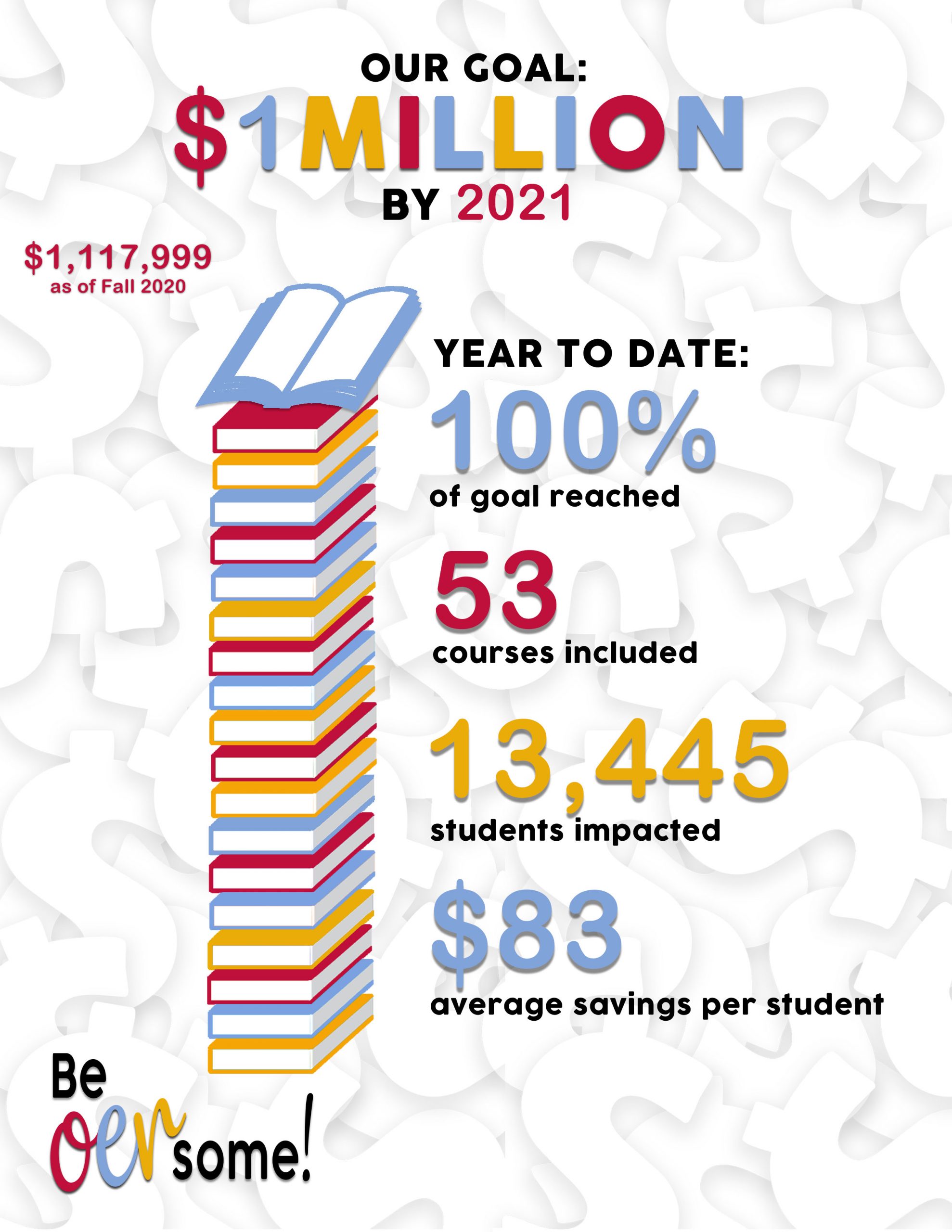 Von McGriff, Professor of College Success, leads the College with more than $174,000 in textbook cost savings to her students in College Success, First-Year Seminar, and Developmental Reading and Writing courses.
"I find it important for students to have access to quality learning materials without having to purchase a book because I understand the community in which we live," McGriff explained. "I know that many of our students struggle economically and I know that if someone is stressing about finances, it is difficult to focus on anything else."
The First-Year Seminar traditionally offered a $21.50 handbook for students.
"Believe it or not, it was difficult for some students to pay that," she added. "It is a bigger relief than some may think for students to enroll in a class and realize they don't need to purchase a book."
McGriff emphasized that quality is not lost and, in some instances, is gained through using OER materials. For the First-Year Seminar course, curriculum is created by a committee and the team pulls together all its resources to offer online at no cost to the students. Through a rigorous research and peer-review process, the College utilizes OER materials that are credible, comprehensive, and provide opportunities for deeper learning.
Richard Decker, Professor of Mathematics, developed one of the first OER courses in the nation in 2013 and now teaches strictly OER classes.
"I do it because I want to do my part for solving the national student debt crisis," Decker said.
He has saved his students more than $137,000 in textbook costs since 2017 alone. While he has taught seven OER courses – four of which he created the content for himself – he explained that "it's not as hard as it sounds."
"I encourage all faculty to do it and to know that it is not a one-shot deal – they can use the content in future courses and departments can share content among their faculty," he said. "When the pandemic hit, I shared my OER materials with my colleagues and I believe that one good thing that has resulted from the pandemic is the reevaluation of online education and an appreciation for the benefits of OER."
Taylor Dalton, a student who took Decker's College Algebra course, shared his appreciation for the class, Decker's instruction, and the OER resources he has created.
"It was really cool not having to worry about buying or renting a textbook, or having to return a textbook during the pandemic," Dalton said. "Money is tight for people in certain circumstances right now. It gave the class a stress-free feel and provided a calming, safe environment."
These were motivating factors for Sgt. Chris Shea, Director of the Criminal Justice Program, to shift materials to OER.
Several courses for both the associate and baccalaureate degrees utilize Open Educational Resources and the program's advanced technical certificate is almost fully converted to OER materials, with only one more class needed to make it possible for students to complete the certificate in one semester without purchasing textbooks.
"We were noticing that some students weren't purchasing textbooks because of financial reasons or because they felt there was other research out there that they could rely on while saving their money," Sgt. Shea explained.
The Criminal Justice Program heavily relies on peer-reviewed journal articles and e-books through the Polk State Libraries. Some courses also provide an option for purchasing textbooks for approximately $15 for students who prefer printed materials.
Because of the constantly evolving nature of the Criminal Justice field, Sgt. Shea shared that developing OER materials for some courses can be tedious and needs to be revisited as current events take place.
"It's an ongoing process. If you are teaching a Critical Issues in Criminal Justice class, critical issues two years ago may not be critical issues today," she explained. "But our faculty are also practitioners who rely on personal experiences and real-world cases that they can utilize instead of textbooks. Paired with quality OER materials, we are able to lessen the burden on our students."
The Criminal Justice Program has saved students approximately $100,000 in textbook costs within five semesters.
All Open Educational Resources developed at Polk State are shared through Canvas for all faculty members to access if they wish to utilize them in their courses.
"Cost savings will continue to increase every time those open sources are used, and those courses are offered," Moyer said.
Students can see within course notes on Passport if a class uses OER materials and does not require purchasing a textbook.