Polk State Respiratory Care receives Distinguished Registered Respiratory Therapist Credentialing Success Award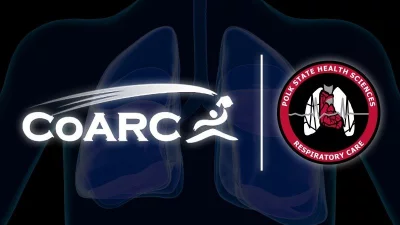 For the sixth consecutive year, Polk State College's Respiratory Care Program has received the Distinguished Registered Respiratory Therapist (RRT) Credentialing Success Award from the Commission on Accreditation for Respiratory Care (CoARC), highlighting the program's accomplishments including its 100 percent credentialing rate.
The award is presented as part of CoARC's continued efforts to value the RRT credential as a standard of professional achievement. With a focus on program effectiveness, the CoARC views the RRT credential as a measure of a program's success in inspiring its graduates to achieve their highest educational and professional goals.
"Our program is rigorous, and our curriculum is advanced. We are honored to receive this recognition," said Shana Kent-Smith, Director of the Polk State Respiratory Care Program. "I congratulate our graduates and thank our faculty and clinical partners whose support makes this award a reality for our program."
When selecting programs for the recognition, the CoARC Board used objective criteria based on key accreditation metrics documented in the 2019 Annual Report of Current Status. These programs are required to: (1) have three or more years of outcome data; (2) hold accreditation without a progress report; (3) document Registered Respiratory Therapist (RRT) credentialing success of 90% or above, and (4) meet or exceed established CoARC thresholds for certified respiratory therapist (CRT) credentialing success, attrition, and positive job placement.
Polk State's 100 percent credentialing success far exceeds that national average of 93 percent for CRT and 80 percent for RRT for the 2016, 2017, and 2018 years evaluated for this year's award. Additionally, Polk State Respiratory Care boasts a 100 percent job-placement rate, further illustrating the program's success in preparing highly skilled respiratory care therapists for the workforce.
"Our graduates are serving on the frontline and our community can trust that they are highly skilled and well prepared," Kent-Smith said. "We are dedicated to training our students to be the exceptional respiratory care therapists our community needs."
More information about the Polk State Respiratory Care Program is available at www.polk.edu/respiratory-care.