Polk State Respiratory Care students & grads prepared to save lives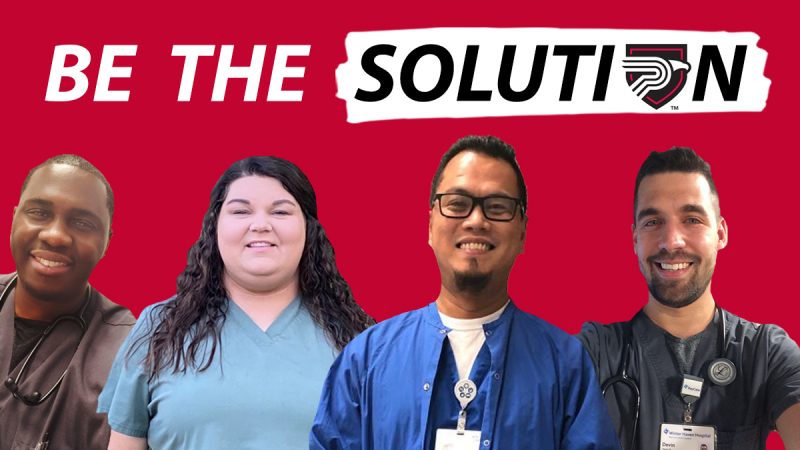 Polk State College's Health Sciences programs prepare students for the frontline and in just one week, Respiratory Care seniors will be graduating and taking the next step to becoming the healthcare professionals local hospitals need.
Respiratory therapists work with patients who have a variety of lung and heart disorders. They are integral members of their medical teams, serving as life-support specialists who perform an array of therapeutic, diagnostic, and patient management duties. They are also the health care clinicians who are educated and trained in mechanical ventilation, which is critical as COVID-19 attacks the lungs and respiratory system of patients.
Polk State's Respiratory Care Program, which has a longstanding reputation of excellence and boasts a 100 percent credentialing success rate, has extended its application deadline for fall 2020 to May 15. More information is available at www.polk.edu/respiratory-care.
May graduates will move on to take their credentialing exam and begin seeking employment. In fact, some members of the graduating class are already working in other departments of local hospitals and some have completed interviews with specific employers, Program Director Shana Kent-Smith shared.
"They're ready," she said. "I asked our clinical coordinator, Tanya Bird, if she felt like our seniors are ready to save lives, and she said yes without hesitation."
Despite the disruption to College operations due to COVID-19, programs including Respiratory Care have quickly adapted to ensure students continue to have access to quality education and workforce training. They continue to study online about the pulmonary and cardiovascular systems, and how to adequately ventilate and oxygenate patients.
"Students can be assured that their best interests are at heart and we know that the life-saving skills that we are teaching cannot be shortchanged," Kent-Smith explained. "I tell our students that one day, they may have to save my life. Our program is rigorous and our curriculum is advanced. The students have been very receptive to and successful in the online environment we have had to transition to."
Jessica Hignight, who is on track to graduate with her Associate in Science in Respiratory Care in May, commended faculty and staff for the smooth transition and expressed confidence in moving into the field.
"The situation is not stopping us from reaching the finish line," Hignight said. "Our instructors have done a great job transferring everything online and we keep moving forward. It's scary almost being a new grad and knowing that we are going to work with [COVID-19] patients, but at the same time it will be great experience for us as new respiratory therapists."
Devin McGuire, who achieved his Polk State Associate in Science in Respiratory Care in 2019, called it a "good teaching moment" for students transitioning into the field.
"They're going to see just how prepared they really are," McGuire said. "It may be a very hard time for healthcare workers, but it's a good motivator for students to get out and use their skills to help people."
McGuire serves as a respiratory therapist at Winter Haven Hospital – BayCare, where he interned as a respiratory care technician while he completed his education at Polk State. Kent-Smith called the partnership between the hospitals and Polk State pivotal, allowing students to sharpen their skills and receive additional hands-on training.
She added that these partnerships extend beyond the workforce pipeline, with one example being the recent signing of a memorandum of understanding between Polk State and Winter Haven Hospital – BayCare to include the College in the hospital's contingency plan. The agreement will allow the Respiratory Care Program to lend its ventilators to the hospital if the spread of COVID-19 worsens and the need for equipment increases.
"Our hospitals are phenomenal supporters of our program. They have been flexible with our clinical assignments and managers continue to call to check the status of our students," Kent-Smith said. "We continue to support one another as our partnerships show that they trust and believe in us and our students."
Erin Carr, a 2012 graduate of the program who serves as lead respiratory therapist at Lakeland Regional Medical Health, said she looks for Polk State graduates during the hiring process because of the quality of healthcare professionals the College produces.
"I know from experience because the Respiratory Care Program was rigorous and I know that these grads are coming to us with top skills," Carr said. "Most important is the ability to adapt and think critically, because in the current situation, things are changing daily, even hourly, and we must remain fluid."
The employment of respiratory therapists is projected to grow 21 percent from 2018 to 2028, much faster than the average for all occupations, according to the U.S. Department of Labor's Bureau of Labor Statistics, illustrating the great demand for qualified professionals.
Edward Restor, a senior in the Respiratory Care Program and an intern at Winter Haven Hospital – BayCare said he is confident that the rigorous training he has received at Polk State and the field experience in his internship has prepared him for his future career.
While colleges and hospitals have suspended in-person classes and clinicals due to COVID-19, Restor is a paid intern with the hospital and continues to show up for duty.
"Through COVID-19, everyone has remained in high spirits, and morale is still there," Restor said. "We are more worried about our families when we come home, but no one is giving up. They are wearing their masks, putting on their PPE [personal protective equipment], and breathing deep sighs, then going to do their part."
His experience in the hospital and witnessing the resiliency of healthcare workers in the field have motivated Restor to persevere on his path to his degree, credentialing, and the frontline.
"Especially with COVID-19 affecting the respiratory system, respiratory therapists are at the forefront working to save lives or to sometimes even bring people back to life," he said. "Our role is very serious and I put my heart into studying because it can be critical for someone's life. The more knowledge I have, the greater chance I can save a life."
Hubert Decilian graduated from the Respiratory Care Program in 2015 and serves as a preceptor and backup lead respiratory therapist at Winter Haven Hospital – BayCare. He is also a clinical instructor with Polk State's program.
Although clinicals have been suspended, students and interns remain eager to learn, he said.
"Some are uneasy, which is expected, but they are all extremely motivated," Decilian shared. "My advice to them is to be calm, be logical, and use all that we have learned to the best of our ability to improve patient outcomes. Everything we have learned is really coming into play with COVID-19."
He added that although this is a time for respiratory therapists to shine, it is important to note that every healthcare worker has a piece of the pie and through teamwork, they become a whole.
"One patient will see 10 to 15 clinical experts during their hospital stay," he said. "Respiratory therapists are a critical part of the clinical team, specializing in the hearts and the lungs. We are just as important as any other field, but we are only a part of the whole and it takes a team."
Students and graduates of Polk State Respiratory Care agreed that the program has prepared them to be highly skilled healthcare professionals and assets to their teams.
Kent-Smith shared with her students that while this is an unprecedented time for everyone, responding to a crisis is an area covered on the respiratory care credentialing exam the seniors will soon tackle after graduation.
"Crises are going to happen," she said. "It's how we save lives and overcome it that matters."
"I am proud to be a registered respiratory therapist teaching the next generation of respiratory therapists as the program director of an outstanding respiratory care program."