Polk State puts aviation career in reach for graduating Eagle being commissioned as U.S. Airforce officer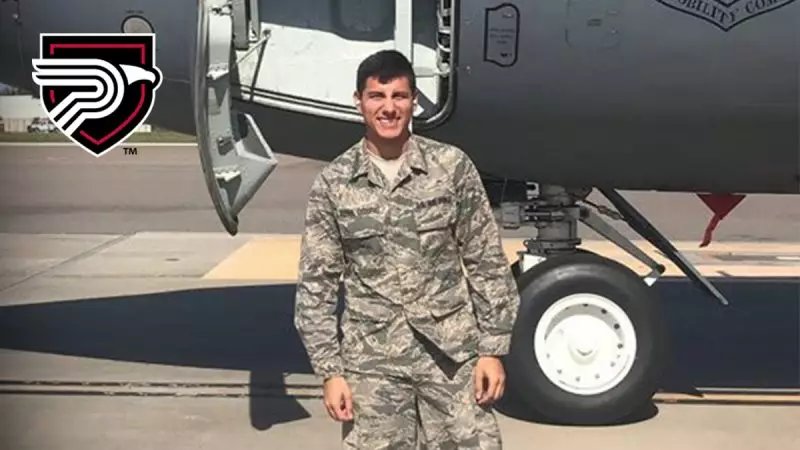 Stephen Pena Osorio has dreamed of a career in aviation ever since he was a little kid visiting the United States with his family from their native Colombia.
He will receive his Bachelor of Science in Aerospace Sciences with a concentration in Aerospace Administration with Polk State College's 124th graduating class in May and commission as a second lieutenant with the U.S. Airforce serving in nuclear and missile operations.
"When I came to the U.S. from Colombia, my favorite thing was to see airplanes, and ever since I was little, I loved everything about the field and the technology and development behind it," Pena explained.
"I thought I would go to a private aeronautical university, but my family didn't have the means to afford that. I had a scholarship, and it still wasn't enough," he added. "That's when I found Polk State and when my career in aviation finally seemed within grasp."
Polk State Aerospace's associate and baccalaureate degree programs with concentrations in pilot science, aerospace administration, and aviation maintenance provide quality, dynamic training and education at the fraction of the cost of private schools.
In fact, Polk State has been ranked second in the country as a Best Value School, particularly for the affordability and quality of its Bachelor of Science in Aerospace Sciences.
Pena recalls flying a plane for the first time in 2017 when he enrolled at Polk State. Although he will not be flying aircraft when he starts with the U.S. Airforce, he explained how he has acquired valuable knowledge and skills at Polk State that will benefit him in his future endeavors.
"My initial flight just felt right," he said. "It felt like it was what I needed to be doing in the moment even if I didn't know exactly what I was going to be doing in the future."
He explained that although his parents are both college-educated, school is very different in Colombia where they had obtained their degrees. He had to navigate applying for college, registering for classes, and searching for scholarships on his own but had the help of Polk State's faculty and staff.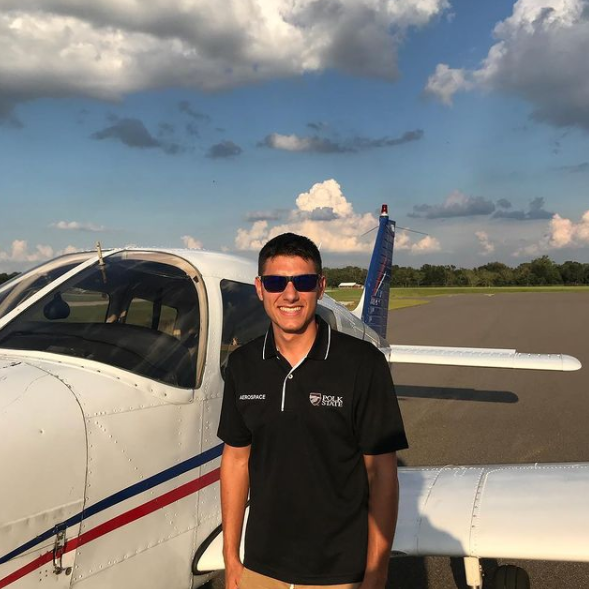 "With it being a smaller program, Polk State Aerospace feels like a family," Pena said. "Everyone knows everyone, and you are always working with the same people. You build a strong rapport with your professors and peers and have a lot of one-on-one time."
While attending Polk State, Pena has also participated in the Reserve Officers' Training Corps (ROTC) at the University of South Florida.
He was inspired by his interest in technology and development within the aviation field to join the reserves and pursue a career with the military.
On May 9, he will commission with the U.S. Air Force and start an eight-year contract. He will be working in nuclear missiles and operations, managing and maintaining the nation's nuclear weapons system.
"The military was the best path to go for me not only financially, but also because working within the military won't feel like a job at all," Pena said. "I wanted something with excitement."
He will start with training for eight months in California before being stationed at one of three bases in Wyoming, North Dakota, or Montana.
Being from a very small village in Colombia, Pena says he will be able to easily adjust to being in a small town in the U.S. It may be more difficult getting used to the cold, he joked.
"But I feel prepared and confident going into my career field," Pena said. "I am grateful for the opportunities and knowledge Polk State has given me."
He also expressed appreciation for his family's unwavering support.
What he has learned during his time at the College may even fuel a future opportunity for Pena when he completes his service with the military.
For his capstone course, he completed a project about charter airplanes and aircrafts used for nonprofit humanitarian trips.
"I would like to do something along the lines of starting my own business or company that could offer services for those organizations and trips," said Pena, who noted a business-starter opportunity through the military that he could potentially benefit from.
Paired with the skills and knowledge he has acquired through Polk State Aerospace, Pena is set to soar to great heights in both the military and beyond.