Polk State professors bring science back to the labs safely for students during pandemic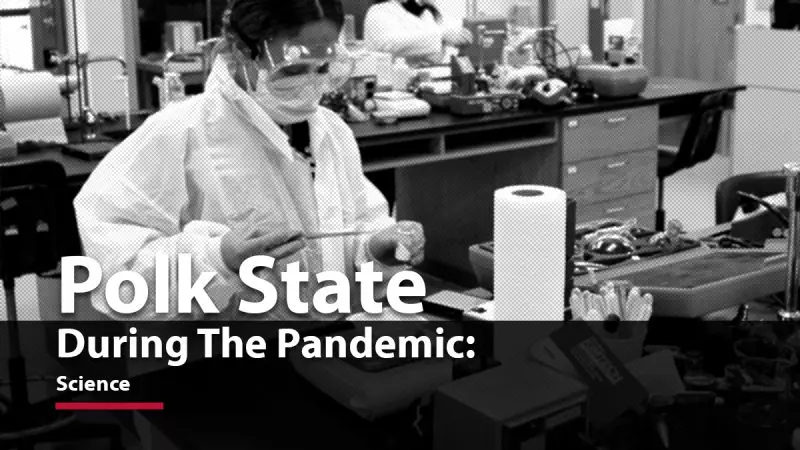 It's alive! The Polk State College science lab experience, that is. Professors have worked tirelessly to create safe, in-person opportunities that bring students onto campus for hands-on learning during the pandemic.
Their hybrid courses integrate online lessons students participate in from home with time in the classroom where they receive face-to-face interaction with professors and peers – socially distanced, of course. Additionally, students have access to state-of-the-art lab spaces and equipment that faculty and staff ensure are sanitized and organized in ways that allow for not only sufficient distance between individuals but also minimal movement around the lab.
"We are trying to give students the best experience possible and to take care of everybody's comfort level with a fully online version and a hybrid version," said Dr. Jess Jones, Professor of Chemistry. "With the hybrid version, we are minimizing possible exposure and creating as safe a situation as possible. If you feel comfortable, we have room here at Polk State College."
When registering for classes on Passport, students should check the course descriptions for specific details about class formats and expectations and contact the professor with any questions.
Jones splits his Organic Chemistry II class into two groups that alternate coming into the lab every other week for hands-on experience. During a recent lab, four students experimented with the synthesis of methyl benzoate.
Student Franci Jose commended Polk State for implementing safety guidelines as part of the College's Return to Campus Plan and expressed appreciation for faculty members who have put in the extra work necessary to provide in-person learning opportunities for students during COVID-19.
"There are regulations so that we feel more comfortable on campus. I like the environment – classes are very small and there are not a lot of students in the classroom at one time," Jose said. "The teacher has the time to take care of you and make sure you understand the topics – that's my favorite thing about Polk State College."
Before coming to the lab, students are prepped with online lectures that faculty have designed to be as close to in-person lessons as possible, Jones explained.
"Whether it's using PowerPoint or filming in front of a projector screen and a whiteboard, we have tried to simulate the lecture experience as well as possible without having the audience there," he said. "In the lab, we are trying to give them the most exposure to necessary techniques they will need to carry on to the next classes. Students are in the lab problem solving and building apparatuses so that they have those skills to be successful in later classes."
That's important for students like Natalia Roque who is currently on a pre-med track to a biology degree.
"It's been great to be able to come to class and work hands-on. At my lab station, I'm alone and always six to 12 feet apart from other students," Roque said. "It is really important to know that Polk State is taking precautions to keep everyone safe. The environment is positive, and the teachers are really helpful throughout everything including the pandemic."
Students in Dr. Natalie Whitcomb's Oceanography class on the Winter Haven Campus echoed similar appreciation for their professor and the safe environment Polk State is fostering.
"There are a lot of things they are doing so that we can keep getting our education," student Stephanie Santiago said.
"Life started to happen, and I needed something close to home [with] the resources and the people who really care about their students," she added about her decision to enroll at Polk State and continue her education during this uncertain time.
Whitcomb's hybrid classes alternate between live online sessions and in-person labs each week. Five students participated in a recent lab, where they washed their hands upon entering the space, sat at distanced workstations, and kept their masks over their noses and mouths.
They are learning about microplastics and participating in the evaluation of water samples from local lakes to be submitted to the citizen-science Florida Microplastic Awareness Project.
"Hybrid is a combination of online and face-to-face, and depending on the class, it can look different," Whitcomb explained. "I use a combination of written materials supplemented by video to address different learning styles. We have online office hours where students can use [written] chat or [meet by video through] Zoom or Big Blue Button. We have a student teaching assistant who is online twice a week to tutor our students and to help them with lab questions. We also have success coaches who work with students and help them with strategies to make them successful."
"We have a lot of support here at Polk State, we really do – it's amazing," she added.
Polk State offers a variety of academic support services and has a comprehensive list of resources to assist students in online and hybrid learning environments. Additionally, the College's learning management system Canvas, where students access their courses, is a hub where they can find tutoring, library services, assistance with technology, and more.
Faculty and students noted that the variety of ways to access courses and support services – online, on campus, or in hybrid formats – allows students to tailor their Polk State experience to their needs.
"We offer a variety of formats that fit different people's lifestyles, schedules, and learning styles," Whitcomb said. "There's a lot of help here at Polk State. You're not going through this by yourself. There are all kinds of people here just waiting to help you."
"If you want to go to school, you should enroll," said Hunter Pruiett, a student in Jones' Organic Chemistry II class. "Polk State is making it easy and accessible for everybody, even during the pandemic."